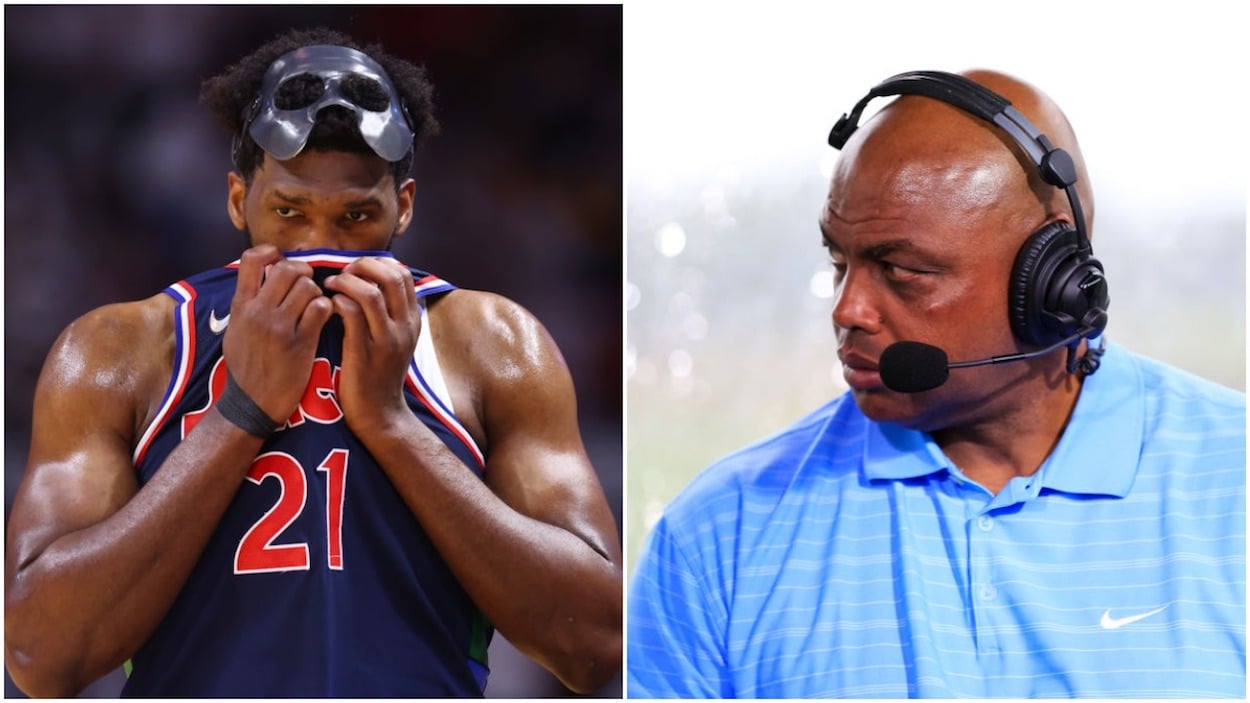 Charles Barkley Is Doing Joel Embiid Dirty by Creating a 'Distracted' Narrative Around the 76ers Star
Charles Barkley makes plenty of comments on TNT, but a recent one plays into an unfair narrative about Joel Embiid.
When Joel Embiid returned to the Philadelphia 76ers' lineup in Game 3, it seemed like he turned the tide of the series. Philly fought back to even the series at two wins apiece and seemed to have the momentum as the teams traveled back to Miami. When they hit the floor on Tuesday night, however, all of that energy had vanished.
The Heat cruised to a comfortable victory, and the Sixers simply looked bad. Embiid and Harden seemed out of sorts, over-matched, and unable to make a difference.
While there could have been a variety of factors at play, Charles Barkley pointed his finger squarely at the Philadelphia big man. After the game, he suggested that Embiid was "distracted" by news that he lost the NBA MVP race and allowed that to affect his game. While there's no way to know what was in the center's mind, it's unfair to overlook his physical condition to focus on a hypothetical burden.
Charles Barkley thinks that Joel Embiid was thinking about his NBA MVP race rather than Game 5
Before the 76ers' game tipped off, both Charles Barkley and Shaquille O'Neal discussed how they wanted to see Joel Embiid send a message. Since reports had confirmed what we'd long suspected — Nikola Jokic claiming the NBA MVP crown — the two TNT panelists expected the 76ers star to play with some anger and show that he was an elite talent.
That, as we now know, never happened.
The entire Sixers squad, including Embiid, struggled. The center was 7-of-12 from the floor and finished the contest with 18 points. He only pulled down five rebounds, and Philadelphia was -29 when he was on the floor.
As Ernie Johnson suggested, plenty of factors could have been affecting the big man. He's been playing through a torn thumb ligament, seemed to have tweaked his back, and was hit in the mask when battling for a rebound. The Heat also deserve some credit for playing tough defense.
Charles Barkley wasn't interested in those possibilities, though. In his mind, Embiid simply didn't have his head in the game.
"You know, I said at halftime [that] Joel was so distracted by this MVP stuff. He came out with no energy, distracted, and the rest of the team followed," Chuck said. "Ernie, I'm just telling you what my opinion [is]. Because he wasn't aggressive. I don't mind a guy having a bad game. He was shooting fadeaway jumpers; he shot a three. He wasn't aggressive. I'm trying to figure, he only shot the ball 12 times. … He made some plays in the second half, but the game was out of control. He was distracted. The other players, you know, they gonna follow him, just like they did in Philly when they won the last two games. And he was just out of it. And, man, I feel bad because he's a great kid, but sometimes things happen that bother you. And tonight, he was clearly not there, and the rest of the team followed."
It seems unlikely that Embiid would be distracted by the MVP race, but Barkley is creating that narrative
While no one knows what's going on in Joel Embiid's head, it seems unlikely that he would have been thrown off by news that he wouldn't be named MVP. Just about everyone in the basketball world has assumed Jokic would claim the title. According to ESPN's Tim Bontemps, the Sixers star even acknowledged that reality.
"No," Embiid said, when asked if he was surprised when ESPN's Adrian Wojnarowski reported Monday that Jokic would again win the award. "I mean, this is something that I knew weeks ago, even probably two weeks before the season ended, after those games against whether it was Denver and Milwaukee, and when [ESPN did its] straw poll or whatever. I just knew it wasn't gonna happen.

ESPN's Tim Bontemps
That's not to say that Embiid wouldn't be bothered by falling short of the crown — he is a human being, and plenty of athletes have been known to 'take things personally' — but the timeline doesn't seem to match up. If the center was going to be distracted, wouldn't it have happened when the votes were rolling in, not during a must-win playoff contest?
As Ernie Johnson suggested, it seems more likely that the postseason is simply taking its toll on the big man. He's playing through two separate injuries and was struck in the face during the game. He did manage to play well in Games 3 and 4, but that doesn't mean he couldn't struggle on Tuesday night. Pain, unfortunately, doesn't always move in a straight line.
Circling back to the TNT analysis, though, Sir Charles should be doing better, especially given his position. He's a famous pundit who, for better or worse, shapes public opinion. He's overlooking obvious mitigating factors and, in effect, suggesting that Joel Embiid is weak, soft, or whatever word you'd prefer. The center isn't being affected by obvious physical challenges; instead, he's mentally weak and distracted by an individual accomplishment.
While it's not fair to lay the entirety of the blame at Barkley's feet, these are the sorts of comments that drive players to risk their health to hit the court. They're the sentiments that inspire fans to view athletes as little more than gladiators who fight for our collective amusement. They set the stage for more and more incidents of abuse, as some fans don't see the men and women in uniform as actual human beings.
As Embiid himself said, the big man is trapped between a rock and a hard place. If he doesn't play, he's soft; if he plays and struggles, he's distracted or otherwise weak. Frankly, it's not fair, and you'd think that three guys who played in the Association would understand that.
Subtly and nuance, however, don't draw viewers in or get clicks on social media. Unfortunately for the players, in this case, Joel Embiid, they're the ones who pay the narrative price.