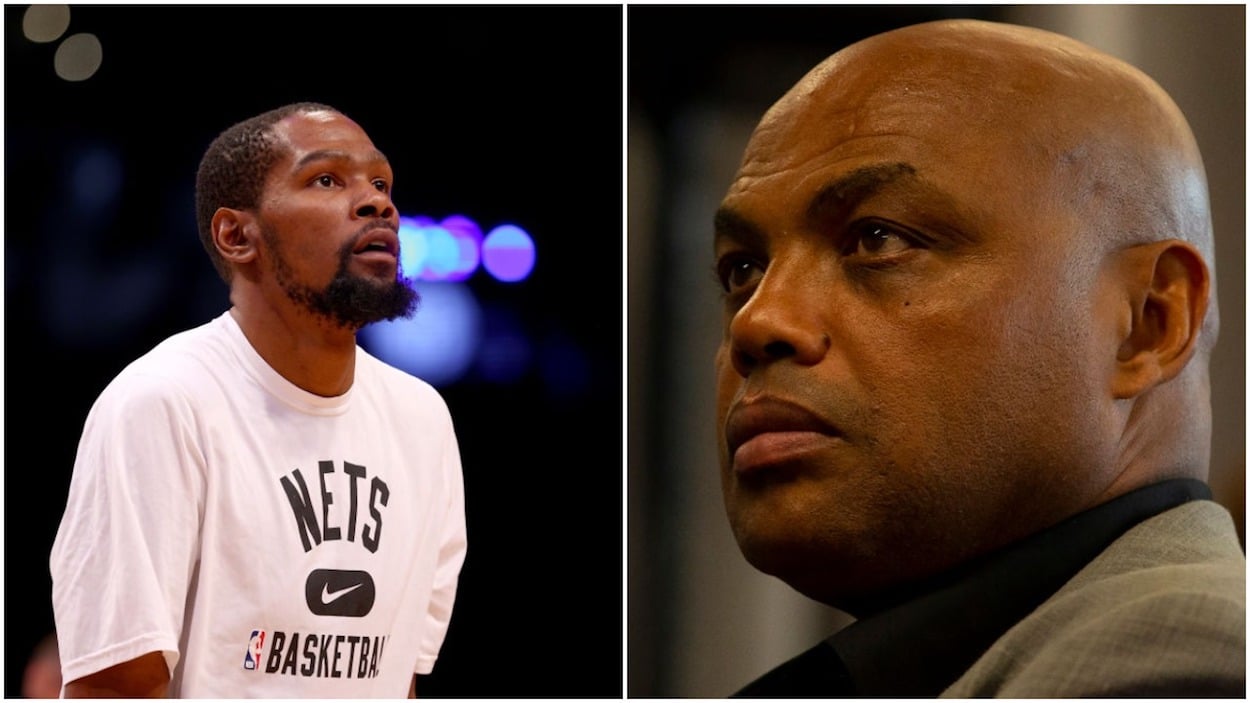 Charles Barkley's Latest Kevin Durant Claim Perfectly Highlights a Blind Spot Among Sports Fans
While Charles Barkley's latest take might not be ideal, it does highlight a collective failing shared by many sports fans.
In basketball media, Charles Barkley occupies a unique place. On the one hand, Chuck is a living NBA legend with a wealth of experience and a willingness to speak candidly. On the other, that candor can sometimes go a bit too far; Sir Charles is no stranger to hot takes and less-than-ideal arguments.
During some recent media availability, Barkley showed that duality by saying that Kevin Durant's inability to win a championship on his own will affect his legacy. That comment managed to be both naive and astute at the same time, shining a light on a blind spot that's common among many sports fans.
Charles Barkley reiterates his previous comments about Kevin Durant's legacy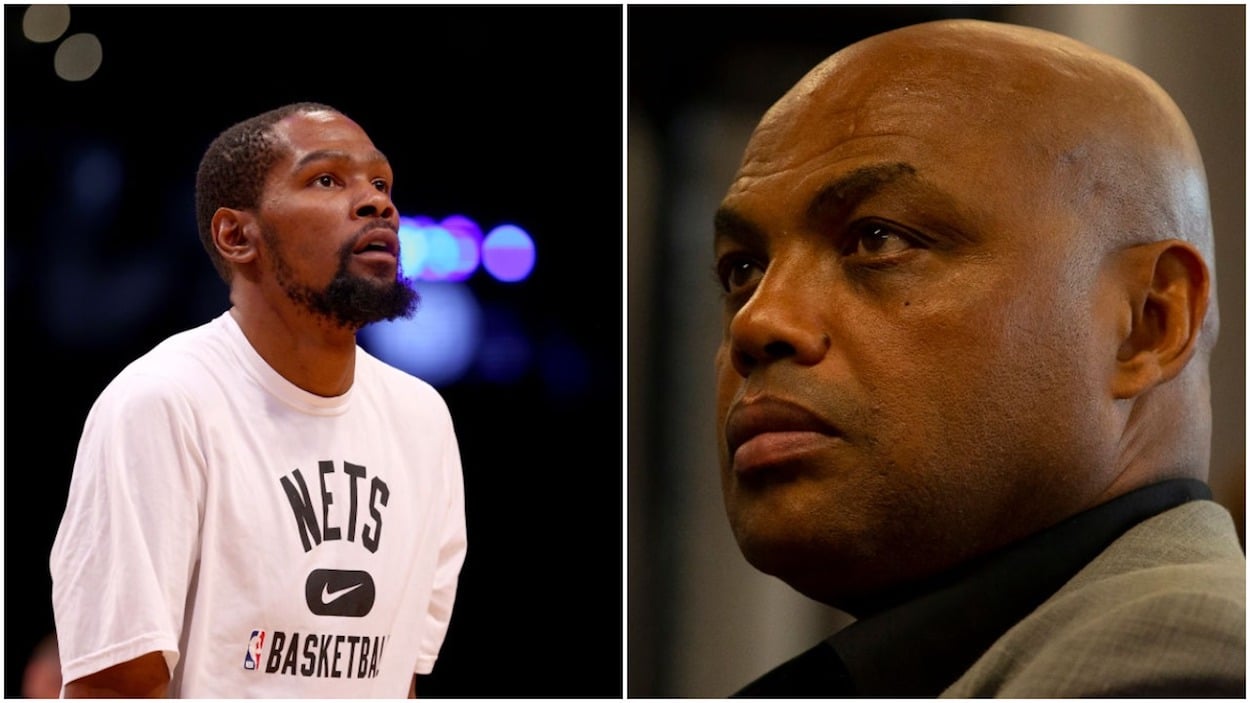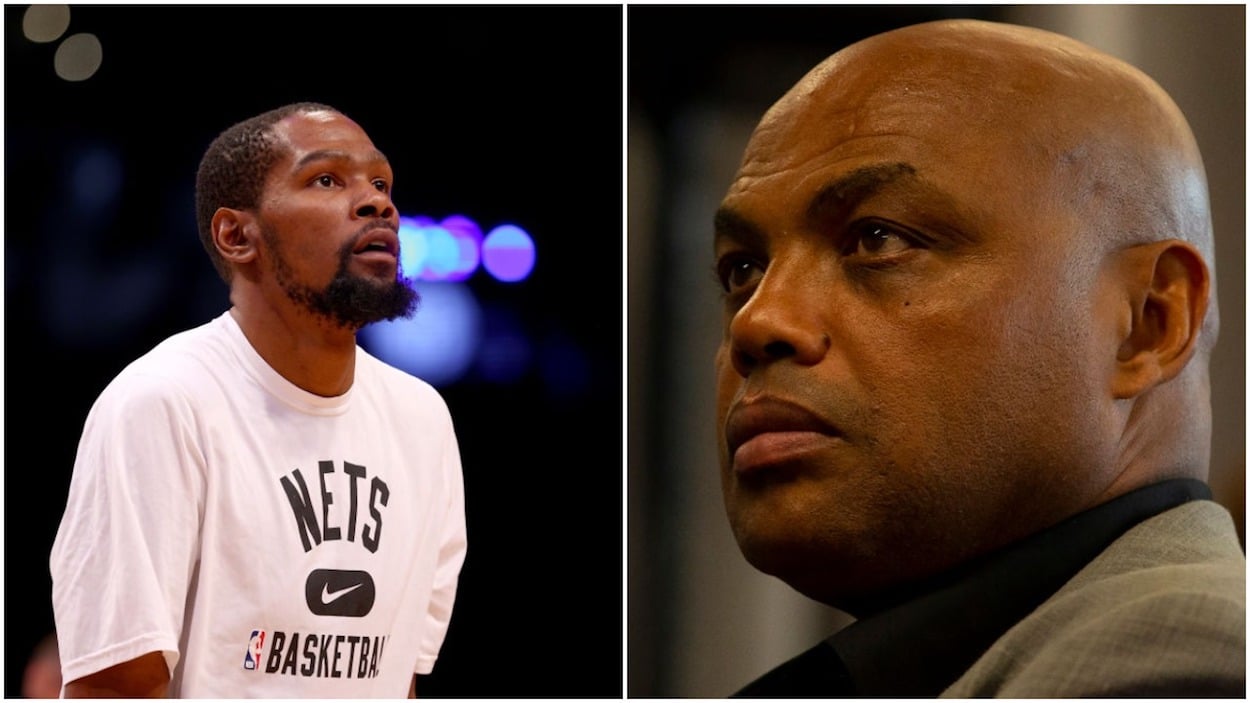 During the 2022 NBA Playoffs, Charles Barkley made headlines by referring to Kevin Durant as a "bus rider" rather than a "bus driver." While some time has passed since he uttered those words, the TNT analyst hasn't changed his mind.
"You know it has an effect on his legacy," Barkley said of Durant's time in Golden State and Brooklyn, according to Stefan Bondy of the New York Daily News. "If you go back and look, and I talked about it on the [TNT] show, LeBron has said it before — he said, 'I had to win a championship without Dwyane Wade and Chris Bosh.' And Kobe's said it before, Rest in Peace, 'I've got to win a championship without Shaq.' So Kevin and Kyrie [Irving], before we elevate them among the old guys, they're not going to get the credit they deserve until they win a championship by themselves and be The Guy."
Sir Charles also acknowledged that being 'The Guy' on a championship team is a high standard, but one that exists nevertheless.
"We grade harshly. And rightfully so. They get to give me s–t because I didn't win a championship. Rightfully so. We know how this works," Barkley continued. "This ain't got nothing to do with the media. This ain't got nothing to do with the fans. This has to do with your peers. This 100 percent has to do with your peers. And we're going to judge you on that. And people are going to get mad. They can tweet at me and whatever they want to. But that's just the standard. When you jump on somebody else's boat and win, we don't count that. You got to be the driver of the boat or the bus. Simple."
Barkley says that the standard is higher among players, but many sports fans still fall into a similar trap
If we take Sir Charles at his word, but "bus driver" standard is how NBA players judge their peers. While there's no way that someone like me can judge the accuracy of that claim, I do feel confident in saying that his sentiment has spread beyond the NBA locker room.
When someone like Barkley talks about career legacies, it matter of factly is part of the media landscape. When things are discussed on Inside the NBA, they become part of the discourse. Fans, as much as we may like to think we're savvy and knowledgeable, base a good amount of our ideas on the truisms that are repeated over and over again. At this point, it's fairly standard for a player's legacy to be tied to his number of championship rings. That's simply the reality.
Hearing Chuck say everything so plainly, however, highlights the shortcomings of that mindset.
To use Barkley's specific examples, let's pretend that LeBron only won those two championships in Miami. If he had the exact same body of work that he does today, barring the two additional titles, would he be any less of a legend? Similarly, wouldn't Kobe Bryant still occupy a place in the NBA pantheon with three rings, even if those were all won with Shaq's help?
You can answer those questions for yourself, but I would argue that they'd still be pretty special players.
We can even apply Barkley's logic to Chuck himself to expose the shortcomings. As anyone who's ever watched TNT's NBA coverage knows, Sir Charles failed to win a championship ring. Is it fair that his decorated NBA career is reduced to one punchline about falling short at the final hurdle?
To bring things full circle, the same can be said for Kevin Durant. At this point in his career, the Slim Reaper's stat lines speak for themselves. Does winning two championships on a super team and then falling short in some bizarre Brooklyn circumstances invalidate that? (Also, when you say players need to win championships to be great and say they can't join super teams, you're creating a 'damned if you do, damned if you don't' situation, but that's an entirely different post.)
That's not to say that we should lower our collective standards and simply say every good player is equally good. Championships do matter when it comes to overall legacies, but there needs to be a bit of critical thought involved. It takes more than just talent to win a ring; there's also plenty of luck at play. While it might sound a bit Pollyanna, only one team can win a championship each year, and, by Barkley's logic, there will only be one bus driver on that squad. It's simply not possible for every elite player to make that happen.
So, as the NBA Finals wind down, keep that perspective in mind. A championship shouldn't be the only barometer of a successful pro sports career.
Like Sportscasting on Facebook. Follow us on Twitter @sportscasting19 and subscribe to our YouTube channel.