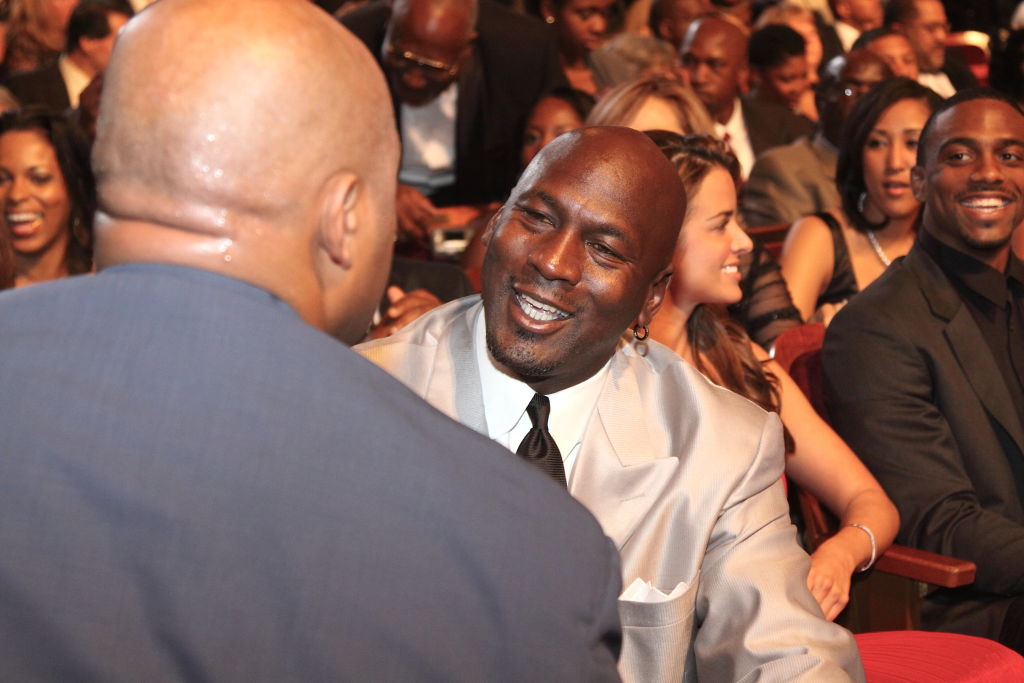 Charles Barkley Once Said Michael Jordan Was Rich Because He Was so Cheap
Charles Barkley once went on the air and said the reason why Michael Jordan is so rich is because he is so cheap.
It's no secret Charles Barkley isn't shy. Sir Charles always speaks his mind, always has.

From saying he wanted to punch Draymond Green in the face, to giving a TNT crew member $1,000 to cut his hair after telling the man "a man bun is not a thing," Barkley is always talking. Sometimes his talk provides great comedy, sometimes it gets him in trouble. Either way, he'll keep talking even if that means calling Michael Jordan, arguably, the greatest basketball player ever, one of the cheapest people he knows.
Charles Barkley was always a trash talker during his playing days
Charles Barkley was known as one of the biggest trash talkers during his playing days. But Barkley, who averaged 22.6 points and 11.7 rebounds through his 16-year career was usually funny and playful with his talk. He just wanted to get under your skin. Barkley's talk, he said, was never controversial. "I don't create controversies," he once said. "They're there long before I open my mouth. I just bring them to your attention."
At 6-foot-6 and 250-plus pounds during his NBA days, Barkley was not the typical size for a big-time rebounder. His size didn't matter, however, as he led the league in rebounding at 14.6 per game in his third season in the NBA.
"Barkley is like Magic [Johnson] and Larry [Bird] in that they don't really play a position," Bill Walton said in a SLAM magazine issue ranking NBA greats. "He plays everything; he plays basketball. There is nobody who does what Barkley does. He's a dominant rebounder, a dominant defensive player, a three-point shooter, a dribbler, a playmaker."
Barkley still speaking his mind as a television analyst
As a television analyst for TNT, Charles Barkley still finds himself speaking his mind. In a game last month, Barkley called his former team, the Philadelphia 76ers, soft on the air.
"I think they are the softest, mentally weakest team that had a bunch of talent," Barkley said. "They are the Cleveland Browns of the NBA. They have a lot of talent, and they talk the talk, and that's it. They just talk. They are weak mentally and physically."
Barkley also got into a well-publicized war of words with Golden State Warriors forward Draymond Green. It got to the point where Barkley said he wanted t punch Green in the face. It began when Barkley criticized Green for getting ejected in a game and the feud continued for about a month. Barkley compared Green to the least important person in a boy band.
"Draymond Green is a nice guy. You know what he is? He's like the guy in the boy band who's the least important member," Barkley said. "He doesn't realize he's standing next to Justin Timberlake. He's the least famous person in the boy band, and he thinks he's a star. And he's not. He's lucky to be in the boy band. He thinks all the girls are screaming for him. No, they're screaming for Justin Timberlake.
"Enjoy being in the band because you're never gonna have any hit singles … I like messing with him."
Sir Charles once blasted Michael Jordan for being so cheap
Charles Barkley once went on national television and explained to everyone how cheap Michael Jordan was. During an interview with late-night show host Conan O'Brien, Barkley came out and said Jordan was very cheap and never tips.
"There's nobody cheaper than Scottie Pippen and Michael Jordan," Barkley said. "Oh yeah, [Jordan is] cheap. I always give homeless people money and he will always slap my hand [and tell me], 'If they can ask you for spare change, they can say, 'Welcome to McDonald's, can I help you, please?'"
Barkley went on to talk about his own tipping style.
"I think it's important when you're successful, the waiter, the waitresses, the blackjack dealers, they work extremely hard, they don't get a great salary," Barkley told O'Brien. "The more successful you are, the more you should tip, I truly believe that. … I never went overboard. I tipped $25,000 before. I won about $700,000 at a blackjack. You have to tip. I probably should have tipped more to be honest with you.
"I think that's why [Tiger Woods and Jordan are] rich. They don't tip. That's their secret to being rich, they don't tip."
Two years earlier, Barkley joined ESPN Chicago with Waddle and Silvy and laid the same claim about Jordan being so cheap.
"First of all, let me tell you something, Michael is as cheap as they come, trust me," he said.