Charles Barkley Actually Received More First-Place MVP Votes Than Magic Johnson in 1990 but Didn't Win the Title
While receiving 38 first-place votes is usually enough to seal an NBA title, Charles Barkley learned the hard way that nothing is guaranteed.
While voting for MVP may seem straightforward, things can be tricky when you get down to brass tacks. Some voters believe the best overall player deserves the award; others try to nail down the concept of value and look for the star who meant the most to their team. That reality may have caused Charles Barkley some problems during the 1989-90 season.
During that campaign, Chuck and Magic Johnson battled it out for the NBA MVP crown. And while Barkley took more first-place votes than his opponent, that wasn't enough. Magic ultimately took home the prize.
So, with the benefit of hindsight, let's revisit that ballot and assess the voting.
Charles Barkley and Magic Johnson battled it out for 1990 MVP honors, and Chuck ultimately fell short
During their time on the hardwood, both Charles Barkley and Magic Johnson were incredible talents. That was obvious during the 1989-90 NBA season; despite the presence of Michael Jordan, the two aforementioned men were at the center of a tight MVP race.
On the West Coast, Johnson's Lakers lost Kareem-Abdul Jabbar but didn't otherwise miss a beat. Los Angles finished the year with 63 wins, topping the entire Association. And, as you'd expect, Magic was pulling the strings, leading the offense with his passing and scoring prowess.
Across the country, Barkley led his Philadelphia 76ers to a 53-29 record and a place atop the Atlantic Division. Chuck paced the team in scoring and rebounding; with the likes of Moses Malone and Dr. J gone, he was the franchise.
When it came time to tally up the MVP votes, Barkley claimed 38 first-place votes. That was 11 more than Johnson earned, but it still wasn't enough. On the strength of second and third-place tallies, Johnson claimed the title by 22 points, edging Chuck out 636-614.
Did Magic Johnson deserve the MVP crown over Sir Charles?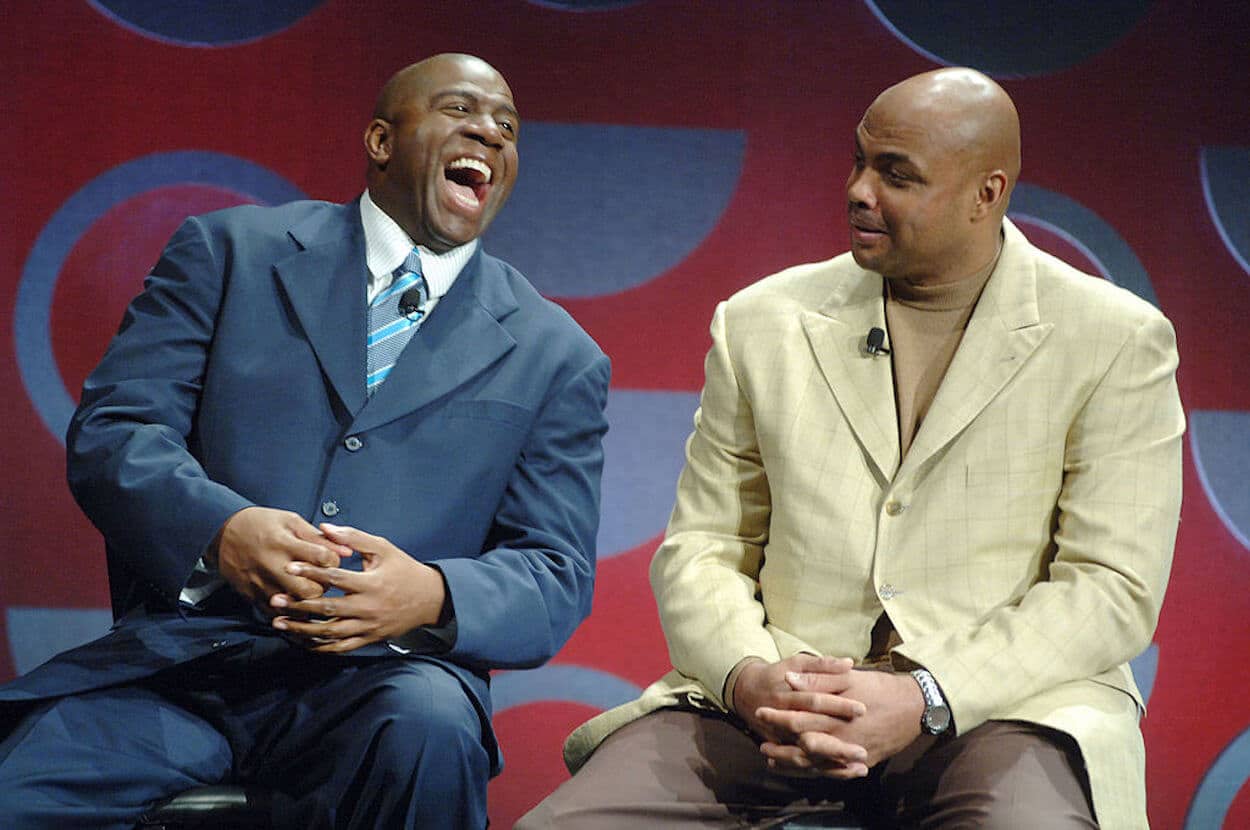 Sometimes you'll see postseason award decisions that simply don't make any sense. The 1990 NBA MVP ballot may be somewhat controversial, but it doesn't cross over into the absurd.
From a statistical perspective, both Magic Johnson and Charles Barkley posted strong seasons. The former man averaged 22.3 points, 6.6. rebounds, and 11.5 assists per outing; the latter tallied 25.5 points, 11.5 rebounds, and 3.5 assists in the same number of appearances.
Based on those numbers, you could give either man the edge. The same can be said for their respective team situations.
Focusing on the Lakers, Johnson presumably got credit for helping the team shine without Kareem Abdul-Jabbar. It is worth noting, however, that the guard still had a strong supporting cast around him. James Worthy averaged 21.1 points per contest that season, and Byron Scott, A.C. Green, Orlando Woolridge, and Mychal Thompson also averaged double-digit points. The squad was also led by Pat Riley, who wasn't a slouch on the bench.
Moving to Philly, their record was undeniably worse than the Lakers. At the same time, though, Barkley also had less help. Chuck's number-two option was Hersey Hawkins, with Johnny Dawkins, Mike Gminski, Ron Anderson, and Rick Mahorn rounding out the double-digit scorers.
That puts us in a "beauty is in the eye of the beholder" situation. Do you think Sir Charles was more valuable to the 76ers since he was the one driving the bus? Or do you want to reward Magic for his strong performances, especially after the departure of a living legend, en route to a fantastic regular season finish?
The two positions are, by the nature of voting, incompatible, but neither is egregiously wrong.
Charles Barkley still seems a bit upset about his defeat
And while we've established that it wasn't an incredibly out-there decision to award Magic Johnson the 1990 NBA MVP crown, that's little consolation to Charles Barkley. Decades have passed, but the forward is still annoyed that he didn't get a few extra votes to push him over the top.
During the Inside the NBA broadcast that saw Joel Embiid win the 2023 title, Ernie Johnson made mention of Barkley's role in the 1990 race. As you might expect, that prompted the ever-candid forward to speak his mind.
"I shoulda won," Chuck quipped. "Yeah, [I got more first-place votes] and I didn't get any other votes. That's the only thing that pissed me off to this day. I'm just gonna tell you what bothered me about it. If I got all the first-place votes, shouldn't I at least get second and third-place votes? … I didn't get enough of them."
And while it's easy to call Barkley petty — Shaquille O'Neal certainly did — it's understandable why he's annoyed. As established above, the forward put together an impeccable season and had a legitimate case for MVP honors. It's also worth considering overall legacy. Chuck, as we all know, never won an NBA championship. Would the 1990 MVP crown have changed that? Not necessarily, but his resume would look different with that extra accolade. Winning what is now called the Michael Jordan Trophy multiple times puts you in rarified air.
At this point in time, though, the ballot is set in increasingly aged stone and simply cannot change. Like it or not, the 1990 NBA MVP race will be an eternal thorn in Charles Barkley's side, just like his lack of championship rings.