Charles Barkley Reveals the 1 Issue He Thinks Can Stop the Golden State Warriors From Winning Even More NBA Titles
Charles Barkley thinks the Golden State Warriors can win even more titles in the coming years, unless this one thing gets in the way.
Charles Barkley once said he didn't believe a jump-shooting team could win an NBA championship. Eight years and four titles later, Stephen Curry, Klay Thompson, and the Golden State Warriors have proved Chuck wrong. Moreover, the Warriors have made a believer out of Barkley, and he believes they can win even more titles. However, the all-time-great-turned-analyst does think there's one thing that can stop them: "Dollars."
The Golden State Warriors are the best team in the NBA and set up nicely for the future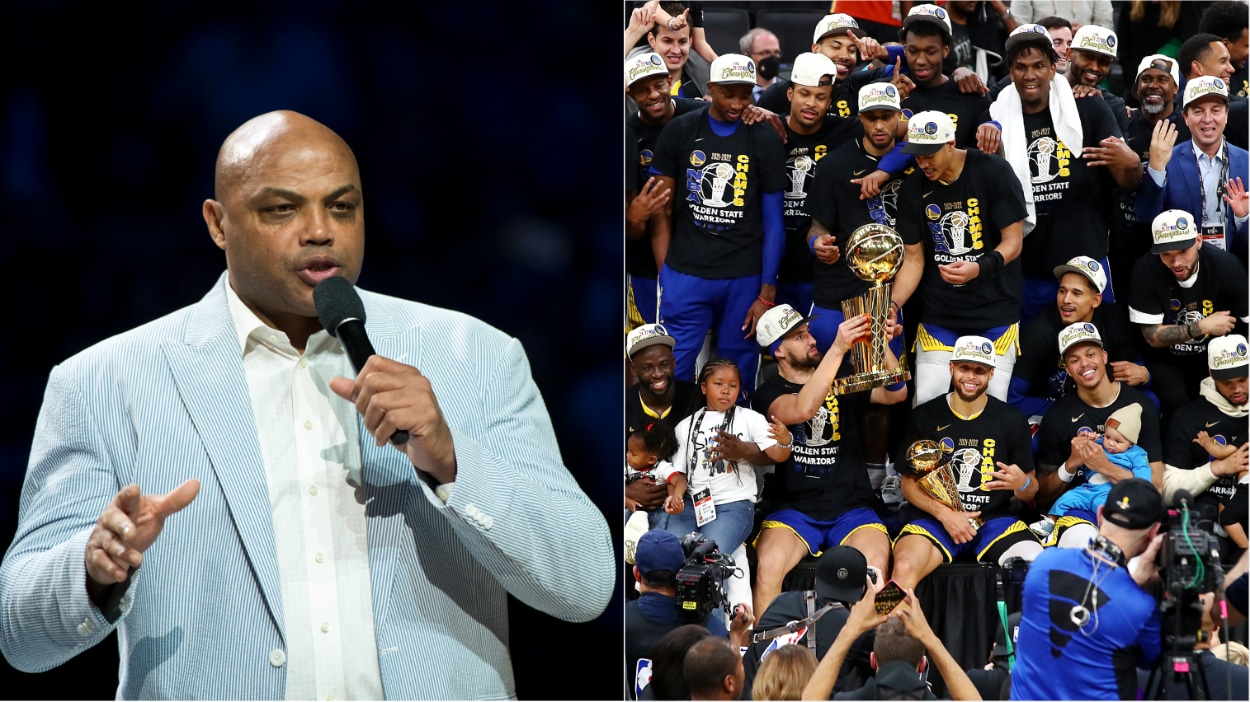 NBA Deputy Commissioner Mark Tatum handed Golden State Warriors owner Joe Lacob the Larry O'Brien trophy on Thursday and cemented the team as the best of the 2021-22 season.
This title was Stephen Curry, Klay Thompson, Draymond Green, and coach Steve Kerr's fourth (with six Finals appearances) in eight years. Despite what Bill Simmons may think, this is a dynasty.
What makes this title even more impressive is the depths the Warriors came back from after their last NBA Finals appearance in 2019. Curry played just five games, and Thompson played none that next season. The team went 15-50, the second-worst record in the NBA that season. A year later, the team improved to 39-33 but still lost in the NBA Play-In Tournament.
The silver lining of these tough seasons is that they allowed the Warriors to restock with young talent.
In the last three seasons, Golden State has added Jordan Poole (who turns 23 on June 19), James Wiseman (21), Jonathan Kuminga (19), and Moses Moody (20).
Poole became a star this season, averaging 18.5 points, 4.0 assists, 3.4 rebounds, and shooting 36.4% from behind the arc. He also stepped up big in the 2022 NBA Playoffs. In his first-ever playoff game, he dropped 30 against Denver Nuggets and had a 31-point performance in Round 2 vs. the Memphis Grizzlies.
Wiseman, Kuminga, and Moody haven't done what Poole's done yet, but they are young and loaded with potential.
In addition to the core of Curry (34), Thompson (32), and Green (32), the franchise also had several key role players step up. Andrew Wiggins (27), Kevon Looney (26), and Gary Payton II are all in their prime and should continue to improve and help the organization continue its winning ways.
Charles Barkley thinks the only thing that will stop the Warriors from winning more titles is money
Charles Barkley joined the Pat McAfee Show the day after the Golden State Warriors won the 2021-22 NBA title to discuss the big W.
McAfee asked Barkley what could stop the Warriors from winning more titles. He mentioned the team rebuilding with high picks the last few years, Curry's dominance, and Thompson returning to form after missing two seasons.
Barkley said that winning more titles "will come down to the young guys" with the core getting older. More than that, though, it's about paying that young talent in the coming years:
It's gonna come down to how many guys [the Warriors are] willing to pay. You saw in the locker room last night, [Andrew] Wiggins and Jordan Poole were talking about, 'We gonna get paid now!' Hey, look, they can't pay everybody. They already go three max guys. What are they willing to pay, luxury tax-wise, to pay Wiggins, to pay Poole? They still got Wiseman and Kuminga. … So, to me, it's going to come down to dollars, how long they can keep this run going.

Charles Barkley on the Golden State Warriors
The NBA had to create a rule called "The Larry Bird Exception" for the Boston Celtics in the 1980s. And for anyone who saw The Last Dance, you know the Chicago Bulls dynasty was at least partially built on Scottie Pippen being criminally underpaid at the end.
Former Los Angeles Lakers and Miami Heat championship coach Pat Riley even coined a name for players wanting to get paid after winning a championship. He called it "The Disease of Me."
Whatever you call it, Barkley is at least partially correct. Keeping the larger core of this Warriors team together in the next few years will cost owner Joe Lacob a lot of money.
Joe Lacob isn't afraid to spend money on his team 
Owner Joe Lacob, minority owner Peter Gruber, and general manager Bob Meyers have paid more money to NBA players in the last five seasons than any other team. Spotrac reports that between 2017 and 2022, the franchise has ranked first or second in cash payroll each season.
The Golden State Warriors have paid an astronomical $756 million in player salaries in the last five seasons. That's not just No. 1 in the NBA. It's a whopping $74 million more than any other organization.
For context, the Miami Heat are the No. 2 team at $682 million, and the Dallas Mavericks have paid the least at $509 million.
Curry is entering the first year of a four-year, $215.3 million extension next season. Thompson has two years and $83.8 million left on his deal, and Green's contract has one guaranteed year at $25.8 million and a 2023-24 player option for $27.5
Next season, the NBA salary cap is $122 million, and the luxury tax threshold is $149 million.
With just Steph, Draymond, and Klay, the Warriors have $114.4 next season to just those three guys.
With the way the NBA salary cap works, the Warriors can likely pay all the players they need to in order to win. However, it will cost Lacob and Gruber a boatload in luxury tax. We'll see if they continue to pony up or if Charles Barley is ultimately right with his concern.
All stats courtesy of Basketball Reference