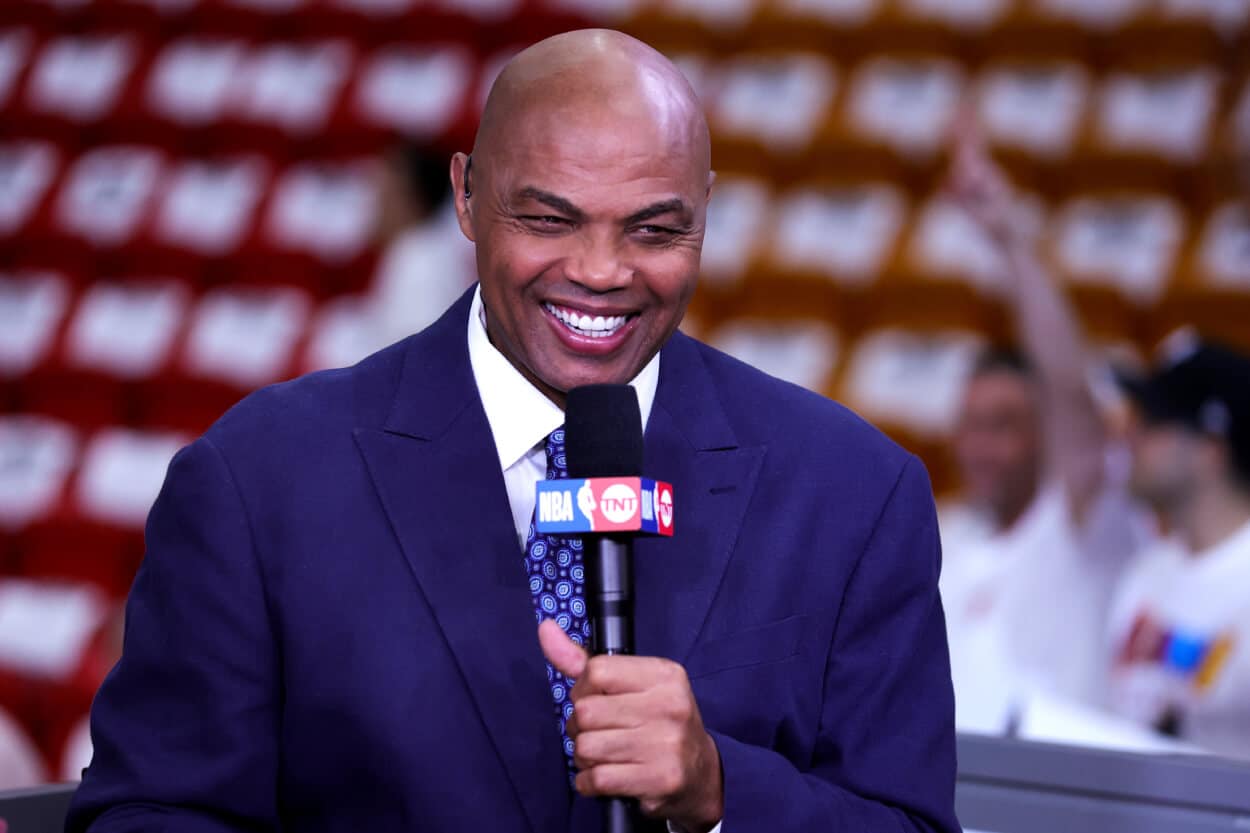 Charles Barkley Sends the Kiss of Death to the Boston Celtics
As bad as the Boston Celtics have been in the first three games of the conference finals, Charles Barkley has been worse with his predictions.
The Boston Celtics live to see another day. If Charles Barkley has any say, Thursday's Game 5 will be their final game of the season.
Jayson Tatum came through for the Celtics on Tuesday, scoring 33 points to help Boston avoid an embarrassing sweep. If things hold true for Barkley, the Celtics are about to lose their third straight home game and see their season come to a crashing halt.
Charles Barkley has been bashing the Boston Celtics — and rightfully so
For the first three games of the Eastern Conference Finals against the Miami Heat, the Boston Celtics had been flat-out awful. They squandered a pair of double-digit leads in the first two games at home. They didn't even show up in Miami for Game 3, losing 128-102.
In Game 3, they showed no intensity. Miami wanted it more, and it showed. When it was over, Barkley, a former player now working as a TV analyst for TNT, blasted the Celtics. During a postgame interview, Miami's Gabe Vincent spoke about how well-coached the Celtics were. He also wasn't talking sweep because he said the Celtics were a team that won't lay down.
That's when Barkley chimed in.
"Clearly, you didn't watch the game tonight," Barkley told Vincent. "Go look at the tape again." Barkley added that the Celtics should be embarrassed by their play.
He's right. Their two stars, Jayson Tatum and Jaylen Brown were woeful in the first three games. Tatum didn't make a field goal in the fourth quarter of any of the first three games. He also had plenty of crucial turnovers.
Brown was just as bad, missing all seven of his three-point attempts in Game 3. He and Tatum combined for 26 points in that game. Vincent had 29.
Barkley gives the Celtics the kiss of death for Game 5
As bad as Tatum and Brown were in the first three games of the series, Barkley was worse with his predictions. He's 0-for-4 when predicting this series. Celtics fans can only hope he breaks his trend.
After the Celtics put together their best effort of the series Tuesday night in a 116-99 victory, Barkley expects Boston to blow out the Heat on Thursday at home in Game 5.
"I think Game 5 is gonna be a cakewalk for the Celtics," Barkley said. "I think they're gonna have so much energy. Now they're gonna go back home. That place is gonna be loud and incredible. I think they're gonna kill Miami next game.
"They're gonna come back down here. I'm gonna tell you something else. Game 6 in Miami is gonna be Game 7 for Miami."
Celtics fans have to love the confidence Barkley has in their team after being so down on them in the first three games. They also have to be leery of his pick. Celtics fans can only hope that Barkley follows in their team's footsteps — be awful early and come back with a win when it counts.