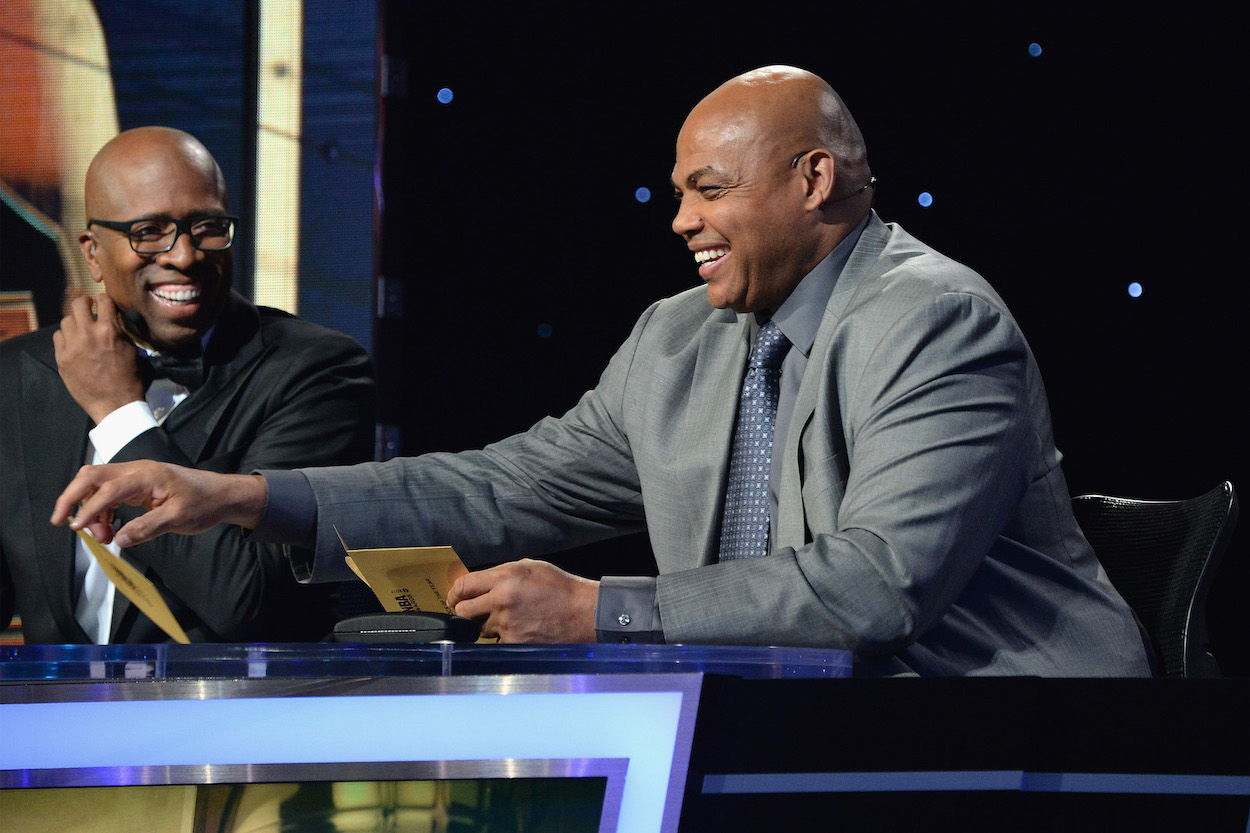 Charles Barkley Terrified When Circus Performer Surprises Him With Giant Burmese Python During TNT Broadcast
Charles Barkley's guarantee on Wednesday night before the Phoenix-Denver game activated a circus that included a giant Burmese python. Barkley was terrified.
Charles Barkley will remember the 2021 NBA season for a lot of reasons, including his feud with players like Kevin Durant and missing the All-Star game to attend his daughter's wedding. He will also certainly remember the 2021 playoffs after what happened on Wednesday night when the TNT crew surprised him with a circus that included a giant Burmese python following one of his notoriously wrong guarantees.  
Charles Barkley partners with FanDuel for 2021 season
Charles Barkley loves to gamble. During an ESPN interview in 2006, he estimated he had lost $10 million gambling. That gambling lifestyle paid off before the start of the 2021 NBA season when FanDuel announced a partnership with the Hall of Famer. 
As part of the deal, Barkley agreed to serve as an ambassador and spokesman for the sports-betting giant, which would include his guarantees with a little more fanfare. 
"When he offers a guarantee or a prediction, you will see significant banter with his co-hosts and then what you will see following that as the game begins on social media there will be a discussion of what he said and what his predictions are," said Will Funk, executive vice president of sports partnerships and branded content at Turner Sports. "This is a natural extension of what he already does within the show and it's completely and totally organic."
Barkley guarantee activates a circus
Barkley's guarantees this season have come with significant banter between the show co-hosts as well as other effects, including flashing lights, sirens, and confetti. Wednesday night's pregame show before the Phoenix-Denver game took it to another level. 
When Barkley hit the oversized "guarantee" button on the desk predicting the Nuggets would cover, he activated a circus. Three Charles Barkley circus clowns appeared on the large digital screen and started dancing. And that was just the beginning. 
The circus also included a woman executing tricks with a hula hoop, a couple performing acrobatic moves, a lady riding a tall unicycle, and a man walking on stilts. But the main attraction, at least as far as the crew was concerned, turned out to be the lady with a large white Burmese python. 
Terrified when he sees snake
Barkley's laughing and smile instantly vanished, and he jumped out of his seat and ran behind Kenny Smith when the woman appeared with the large reptile. Shaquille O'Neal also got out of his seat and walked toward Barkley, where he grabbed him from behind.
"Come over here with the snake," O'Neal said as the woman started to approach. "Face your fears," he told Barkley.
"Quit, Shaq," Barkley said while trying to get O'Neal's hand off of him. "Ain't nothing to joke about," he said as O'Neal laughed.
"I see there's so many other things going on," Smith pointed out, as the other performers continued with their acts mostly unnoticed in the background. O'Neal released Barkley, who made his way back to his chair. O'Neal headed over to pet the snake. 
"I'm not touching no snake, man," Barkley repeated. 
Ernie Johnson walked over and asked the woman what kind of snake it was and where he could pet it.   
"In the mouth," Smith joked. 
"Ernie, word to the wise, I've seen When Animals Attack, touch him on the back," O'Neal hilariously advised. 
As the performers left the set, Barkley sat in his seat, and of course, his co-hosts had fun at his expense, especially when they showed the replay of his initial reaction. 
As for Barkley's guarantee, the Nuggets lost by 25. His inability to accurately forecast game outcomes won't deter him from making more predictions in the future, but a snake just might. 
Like Sportscasting on Facebook. Follow us on Twitter @sportscasting19.