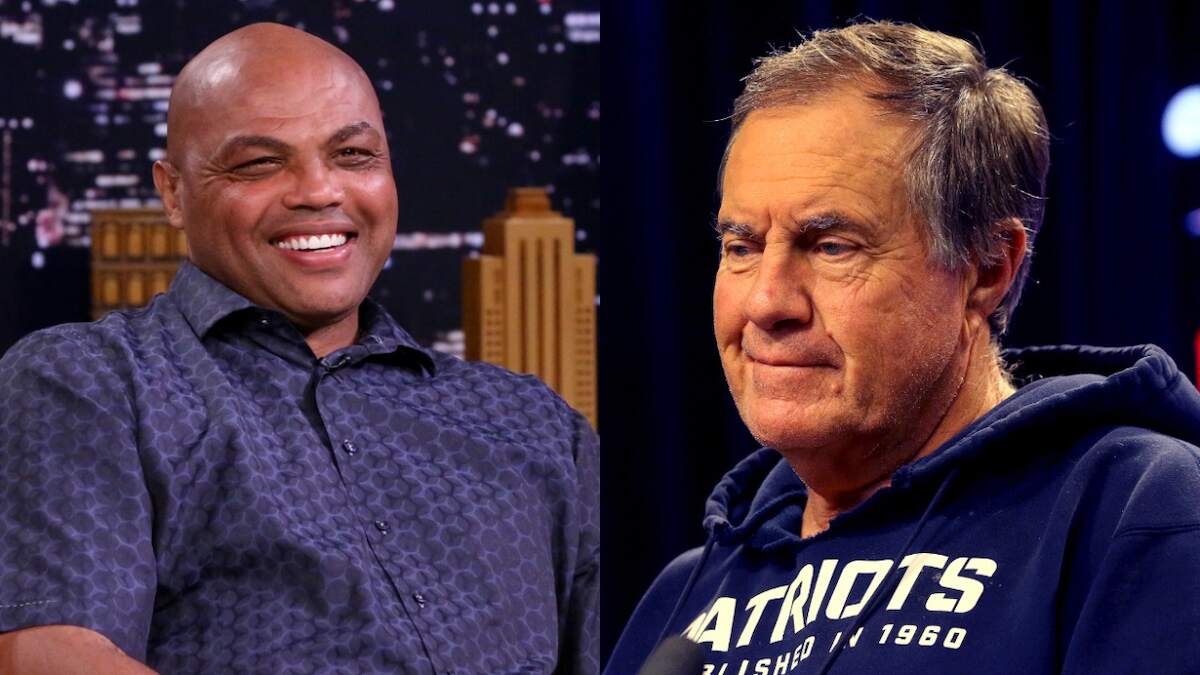 Charles Barkley Once Became $1.2 Million Richer Thanks to Patriots Coach and Friend Bill Belichick
NBA legend Charles Barkley and New England Patriots coach Bill Belichick have been friends for years. Their friendship even dates back to Belichick's days with the Cleveland Browns. At one point, Belichick actually helped Barkley become $1.2 million richer.
During his NBA career, Charles Barkley became a pretty wealthy man. He has since earned even more cash in his post-playing days through his work on TNT, too. However, New England Patriots coach Bill Belichick once helped Barkley become even richer. 
Although the two men are legends in different sports, Belichick and Barkley are actually pretty close friends. So, when Barkley's friend appeared in his first-ever Super Bowl as a head coach in 2002, he made sure to bet a boatload of money on Belichick's team. It ultimately paid off in the end, too — literally.
Charles Barkley and Bill Belichick are close friends
Believe it or not, although Charles Barkley is a loud, entertaining NBA personality, and Bill Belichick has always seemed like a serious, pretty straightforward individual, the two are actually pretty good friends. They have been close for years, too, as their friendship dates back to when Belichick was the Cleveland Browns' coach, per Boston.com.
"I remember having dinner with Charles a few times in Cleveland and in Arizona," Belichick said in 2011 on Inside the NFL. "I have so much respect for Charles as an athlete, as a competitor, and as a winner. We've talked a lot about competitive sports. I know they're different, football, basketball, but competition's the same. I have all the respect in the world for him."
In 2019, Barkley even revealed on Jimmy Kimmel Live! that he attended Patriots practice during Super Bowl week that year, per Boston.com. And Belichick continued praising his friend during that Super Bowl's media availability.
"Charles has been a great friend," Belichick said, according to USA Today's Henry McKenna. "The conversations that we've had through the years have always been very enlightening to me. … I love Charles Barkley."
The longevity of their friendship means that Barkley was also around for Belichick's struggles with the Cleveland Browns. However, not too long after his Browns tenure, Belichick took the New England Patriots to the Super Bowl.
Charles Barkley became $1.2 million richer after betting on his friend's team
During the 2001 NFL season, Bill Belichick and the New England Patriots had a young quarterback that went by the name of Tom Brady. He ultimately went 11-3 in 14 starts with the team, which helped the Patriots go 11-5 and make the playoffs. In their postseason games, New England defeated the Oakland Raiders, 16-13, before beating the Pittsburgh Steelers in the AFC Championship Game, 24-17.
This led to the Pats facing the St. Louis Rams in the Super Bowl, as the Rams had an incredible team that year. St. Louis had actually just won the Super Bowl during the 1999 season and then went 14-2 during the regular season in 2001. Vegas ended up listing the Rams as 14-point favorites over the Patriots, too.
Charles Barkley, though, still took his friend's team. According to a 2002 Sports Illustrated article, Barkley bet more than $500,000 on the Patriots at the Mandalay Bay Sports Book. As you probably know, the Patriots won 20-17, so Barkley "walked away $1.2 million ahead," per SI.
New England may have been the underdogs, but Barkley apparently didn't care. His friend's team ended up winning him $1.2 million.
However, Charles Barkley hasn't always made money from betting on Patriots games.
Charles Barkley lost money when betting against the Patriots in 2017
In 2002, Charles Barkley came out on top for betting on Bill Belichick, but the former NBA star wasn't so lucky when betting against his friend more than a decade later.
Barkley told Dan Patrick in 2020 that for Super Bowl 51, he bet on the Falcons to defeat the Patriots. So, when the Falcons took a 28-3 lead in the third quarter, he felt pretty good. However, the Patriots ended up coming back and winning, 34-28, in overtime, which cost Barkley $100,000.
"I was drunk at halftime. I was doing shots. I was up 28-3; I was feeling it," Barkley said on the Oct. 7, 2020, episode of The Dan Patrick Show. " … I just got drunker. That's one thing about gambling. You drink when you're going to win, but you drink more when you're going to lose."
How to get help: In the U.S., contact the National Council on Problem Gambling helpline at 1-800-522-4700.
Stats courtesy of Pro Football Reference