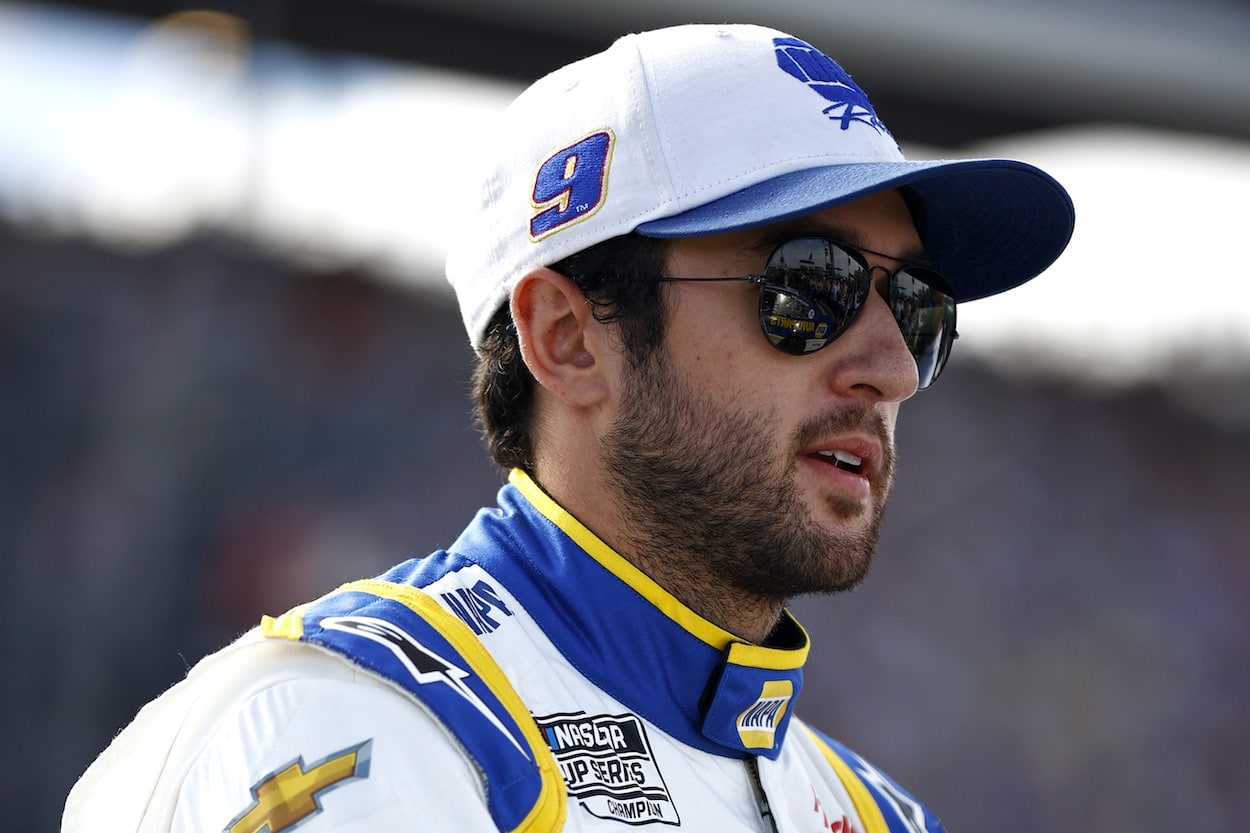 Chase Elliott Directly Addresses Fans Who Give Him Hell for Being a Boring Driver 
Chase Elliott got candid recently on a podcast and addressed those fans who give him a hard time because they think he's boring.
Chase Elliott is his father's son. Like his dad, Bill, he's achieved the highest level of success in NASCAR, winning the Cup Series title in 2020 (Bill won in 1988). The 27-year-old, also like his dad, has had a stranglehold on the sport's most popular driver award, taking home the trophy five years in a row.
While the Hendrick Motorsports driver is often praised by a large portion of the fan base, not everyone views him favorably. Interestingly, during a recent appearance on a podcast to promote the 2023 season, Elliott brought up a certain segment of fans who don't like him because they think he's boring.
Chase Elliott has had multiple heated conflicts in career  
Running up front during a race competing for wins and money, drivers accept there are bound to be disagreements. Chase Elliott has had his share through the years. 
He confronted Denny Hamlin postrace at Martinsville in 2017 after the JGR driver dumped him. After Kyle Busch wrecked him in 2020 at Darlington, the young driver proceeded to flip the bird as the No. 18 car drove by.
In 2021, Elliott had a well-documented confrontation with Kevin Harvick at Bristol that began on the track and carried over onto pit road and into the garage after the race. Harvick continued the drama a few weeks later when he wrecked the HMS car on the Charlotte Roval before unceremoniously wrecking himself while looking in the mirror.
The 18-time winner had a pair of heated situations this past year at Fontana and Watkins Glen involving teammate Kyle Larson. In the latter, in which the No. 5 used up the No. 9 by forcing him out wide on a late restart, the visibly upset Elliott expressed his frustration with Rick Hendrick and Jeff Gordon moments after the race. However, during the postrace interview, the driver kept a lid on his anger and said all the right things, but it was clear that he was raging inside. 
"He says this will be discussed obviously in competition meetings between the two of you. What would you like to say to him?" NBC's Dave Burns asked Elliott about the situation with Larson. 
"Congratulations," he replied. "They did a great job. Seriously. They deserve it and looking forward to going to Bristol next week and trying to get one for our team."
Elliott addresses fans who think he's boring
Although Elliott had every right to be upset in those situations, he's generally very calculated in his reaction like his comments on Larson. Recently during an appearance on the Rubbin Is Racin' podcast, the driver admitted that's all by design. 
"I think everybody has their own way of decompressing or dealing with those issues," Elliott said. "I think a lot of people give me hell for just how boring I am in a lot of those instances, but I also recognize like what matters and what doesn't. Adding fuel to the fire in a lot of those situations just does no one any good, and it ends up becoming a distraction for my race team in weeks to come. 
"At that point in time it's taking away from the job that I need to do the next week that helps me make the decision to refrain from it today. That's just kind of how I chose to go about a lot of that stuff. Haven't always done it right. Don't get me wrong. I've made my mistakes, too, but you have to step back and look at what is going to hurt me next week. What's going to help me next week? That is ultimately all that matters because you can't go back and change whatever it was that happened."
Trained behavior
Chase Elliott can credit his father for his "boring" reaction to conflict. That's because his dad taught him at a very young age to appreciate the sport and treat it like a business.
"When I was growing up racing, he always made it very clear, there's a lot that goes into this," Elliott said last year while promoting his documentary. "He made me appreciate the larger picture of just how much goes into racing. It's not a cheap thing to go do. When you start racing cars, there are other people depending on these race shops and these race teams and that's their livelihood. They have families at home. There's a lot of people that are involved and I think more than anything just respecting the bigger picture. 
"Even as a kid, I feel like we always tried to go to the race track, it was very clear, if we were at a race track, we were there to race. We weren't there to chit-chat. We weren't there to be in the clique and go walk around with everybody and talk about everybody else and hang out and gossip. We were there to race. We always parked away from everybody else. Kind of came and did our thing and left. I have always appreciated that. I think it gave me a good perspective of things and kept my head in the game and helped me learn quicker."
It has definitely given him perspective and kept his head in the game. Even in those times when he loses his cool, his training reminds him to think of the bigger picture. And he also knows that the best way to get back at some one is to beat them to the finish line. No one can deny that he's done a pretty good job of that so far.