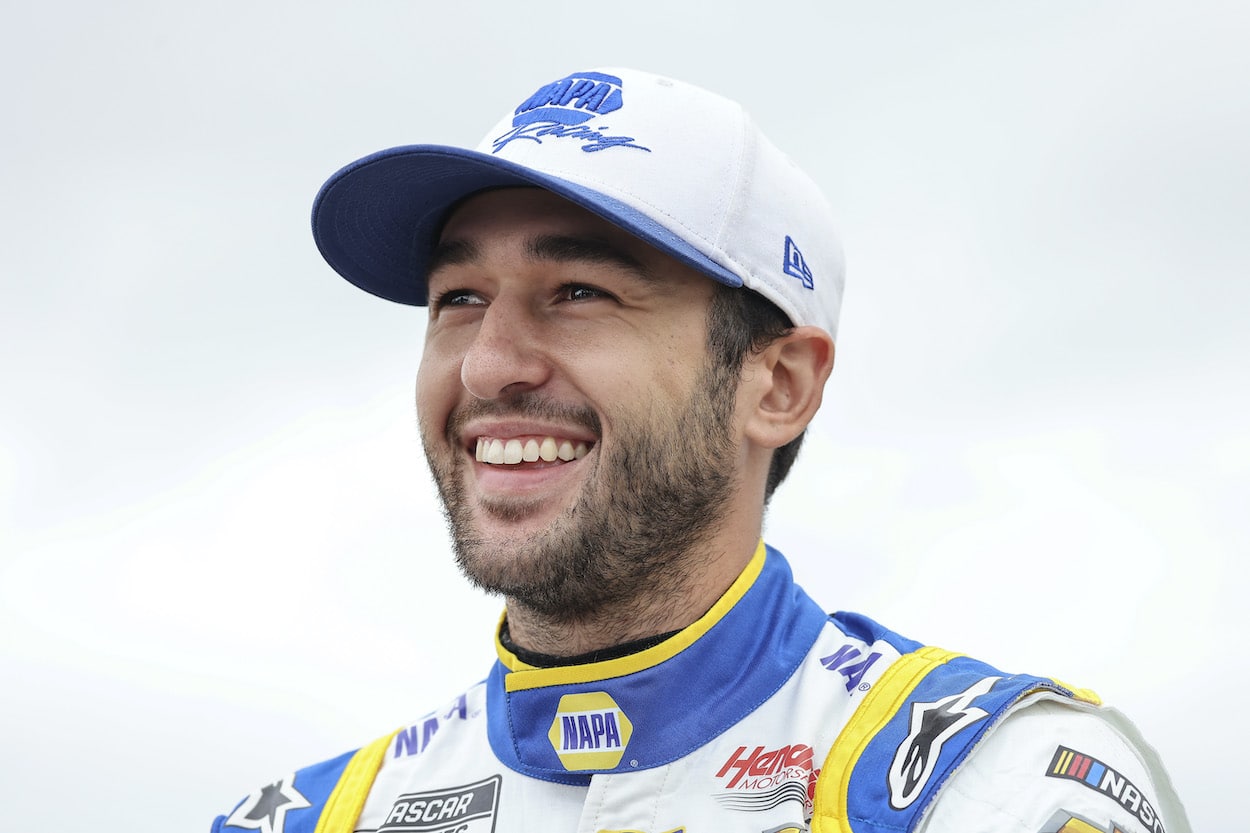 Chase Elliott Didn't Win at Indianapolis, But He Took Home a Trophy — Yes, That One
Chase Elliott finished a lackluster 16th on the Indy Road Course after finishing first or second in the four previous races. He still took home a trophy courtesy of Denny Hamlin that will be a great conversation piece in the future.
Chase Elliott won his fourth race of the 2022 NASCAR Cup Series season at Pocono last week but didn't take home the trophy. Only because he didn't learn of his win until hours later when NASCAR announced that the first- and second-place cars of Denny Hamlin and Kyle Busch had been disqualified.
Winning under such strange circumstances didn't feel right to the 2020 champion. The Hendrick Motorsports driver admitted as much in an interview the day after, suggesting that he hadn't earned the victory or the trophy. However, a week after one of the most bizarre finishes in NASCAR history, the trophy found its way to the official winner. 
Chase Elliott finishes third at Pocono, wins via DQ, but doesn't get trophy
Chase Elliott finished third at Pocono behind Joe Gibbs Racing teammates Denny Hamlin and Kyle Busch. It ended Elliott's streak where he had alternated between first- and second-place finishes in four consecutive races. 
Then, news broke and he was declared the winner following the disqualifications of Hamlin and Busch. In an unexpected turn of events, his streak was alive and well. Winning after the fact, however, he didn't get to go to Victory Lane and celebrate with his teammates, take winning photos, or bring home the trophy. 
A day after the race, Fox's Bob Pockrass asked the driver what his plans were for getting the trophy.  
"I don't know. I hadn't even really thought about it and honestly, if he wants to keep it, he can keep it as far as I'm concerned. He crossed the finish line first," Elliott said. "I haven't really thought about that. That's a great question. I didn't really feel like I earned it on track yesterday. If he wants to keep it, then I'm good with that. I'm not going to ask for it."
Denny Hamlin makes light of disqualification with trophy
Denny Hamlin has never been one to shy away from saying what's on his mind on social media and doing so in a joking manner. Sometimes he takes it too far, like the joke at Kyle Larson's expense back at Talladega that landed him in hot water. 
This past week, the 41-year-old was at it again after being disqualified. He shared a video of himself eating dinner at home with the Pocono trophy on one side and a bottle of champagne on the other. 
"Live on EBay. 1 tainted trophy and 1 used bottle of champagne," Hamlin joked. 
"Wait a second…….. what's that in the eagle's mouth?" The Athletic's Jeff Gluck replied, referencing a piece of tape Hamlin placed in the bird's mouth.
"That would be a a piece of clear tape worth about 300k. (Not to be included in sale)," Hamlin said. 
Elliott receives the trophy from Hamlin
Before Sunday's race at the Indianapolis Road Course, Hamlin visited with NBC's Dave Burns, who asked about the fun he had with the trophy on social media.
"I mean, if you can't have fun with it, then what are you doing?" Hamlin opened. "My Instagram post — and I gave Chase actually a heads up saying, 'Hey, don't get offended. I'm just going to have a little fun with this.' Certainly, from what I saw from the people, they enjoyed it. We were making light of a tough situation for our 11 team."  
In another prerace interview with reporters, the three-time Daytona 500 winner admitted that the trophy was at the track and would be in Elliott's possession by the end of the day.
"The trophy is here in Indianapolis. It will be transferred," Hamlin said to reporters when asked if he was giving it to Elliott. "I told Chase. We had some good text back and forth and said, 'The trophy's yours but you're going to have to fight Taylor for the flag.'"
Elliott isn't concerned about the flag Hamlin's daughter collected after the Pocono race. Why should he be? He's got the trophy and the unbelievable story on how he won it.
Like Sportscasting on Facebook. Follow us on Twitter @sportscasting19 and subscribe to our YouTube channel.