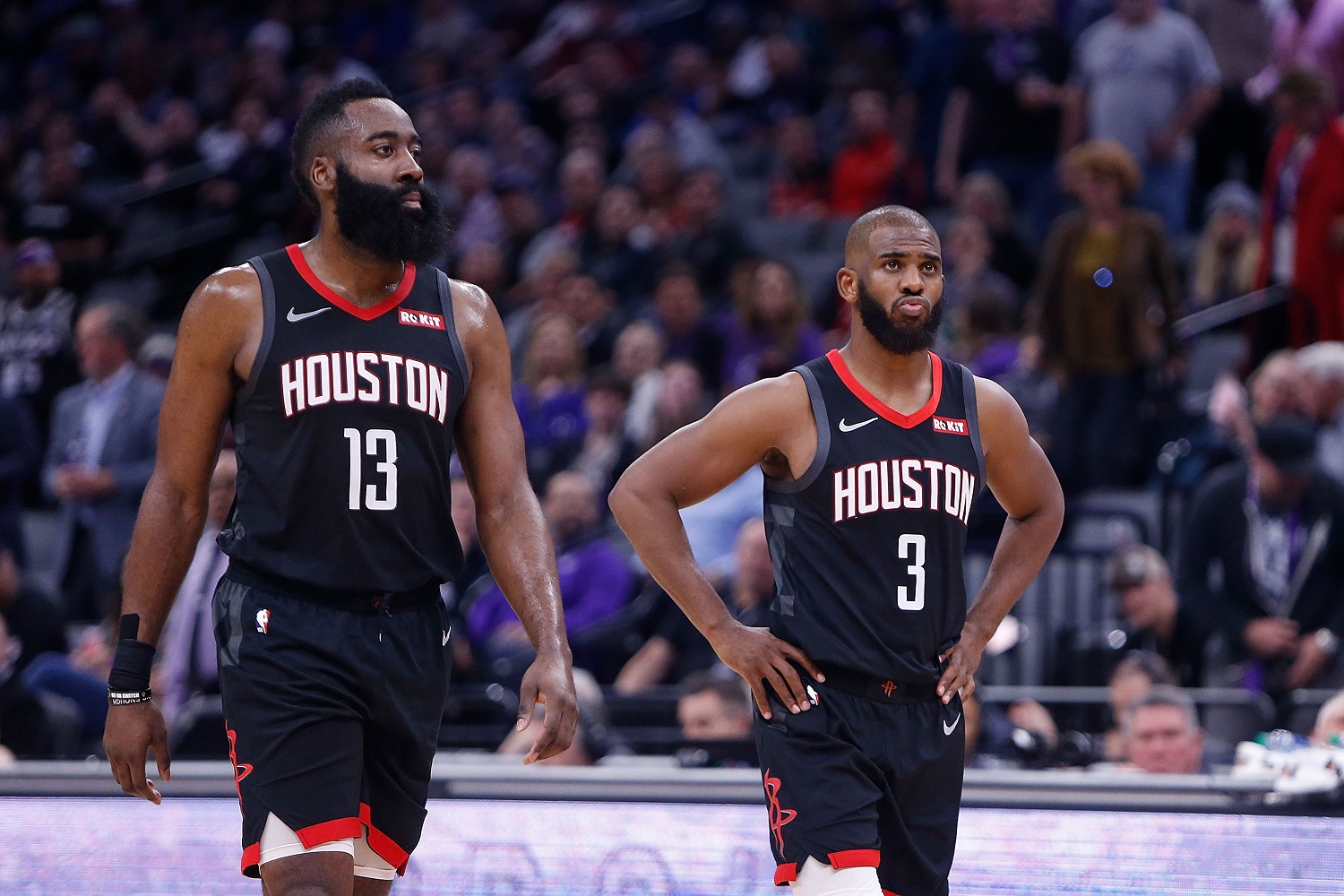 Chris Paul and James Harden Don't Speak and Neither One of Them Seems To Care
Former teammates James Harden and Chris Paul each spoke on the other ahead of the Game 1 matchup between the Houston Rockets and OKC Thunder.
In 2018, James Harden and Chris Paul had the Houston Rockets one victory away from the NBA Finals. But late in the Rockets' Game 5 win in those Western Conference Finals against the Golden State Warriors, Paul went down with a hamstring injury that kept him from the final two games of the series, creating one of the biggest "what if" scenarios in recent NBA playoff memory. Harden scored 32 points in each of the next two games but it wasn't enough as Golden State went on to win the series in seven and then swept LeBron James and the Cavaliers to claim their third NBA title in four years.
After one more season together, one that also ended with a playoff loss to the Warriors, James Harden and Chris Paul went through a nasty breakup and now find themselves on opposite sides as Harden's Rockets take on Paul's Oklahoma City Thunder in the first round of the 2020 NBA playoffs. It seems that the two haven't kept in touch at all following Paul's trade to OKC, something CP3 seems quite okay with. As for Harden, he doesn't seem to care one bit that he's facing his former teammate and is only focusing on the task at hand.
Did James Harden get Chris Paul traded?
When initially asked about his trade to Oklahoma City, Chris Paul said that he was shocked, mainly because he'd been told by Houston Rockets general manager Daryl Morey that he wasn't being shipped out just days before it happened.
But then things started to become a little more clear. While it's truly never been confirmed, more and more reports of friction between James Harden and Chris Paul surfaced and it does seem like Harden put Houston management in a "him or me" type of situation. So the Rockets pulled the trigger on the trade that sent Paul to the Thunder and brought former NBA MVP Russell Westbrook to Houston.
Chris Paul says there's no communication between himself and James Harden
Nobody expected the Oklahoma City Thunder to be in the position they're in this season but Chris Paul has led them to an unexpected No. 5 seed in the Western Conference. Paul had a great 2019-2020 regular season with 17.6 points, 6.7 assists, five rebounds, and 1.6 steals per game in 70 games. Naturally, ahead of the Game 1 matchup against James Harden and the Rockets, he's been asked what his relationship with his former teammate is today and said that it essentially doesn't exist.
"We don't talk or communicate but it's all good and well. I wish him the best. Sometimes you have teammates for a period of time and that's okay. We wish each other well going forward, it doesn't mean you have to be kumbayah and it doesn't mean you have to be enemies."

Chris Paul on James Harden
They'll be enemies on the floor for this series but it sounds as if any bad blood between the two has subsided. As for James Harden, it sounds as if he's not really thinking about Chris Paul that much outside of wanting to beat him in this series.
The Beard simply wants to beat CP3
When asked his thoughts on Chris Paul ahead of Game 1, James Harden says that there's "nothing personal" about going up against his former teammate and that he's simply focused on what he and the Rockets need to do, especially with Westbrook on the shelf with a quad injury (h/t USA Today).
"I don't ever take anything personal. I'm trying to win games, and I'm trying to win a playoff series. I take it one possession at a time, one game at a time.

"My role on this team is to go out and perform at a high level, but also to be a leader and make sure that guys that are around me all have that same mindset. If I can do that, then I can give us a chance to win, especially with Russell [Westbrook] being out."

James Harden on Chris Paul
Neither one of them seems to care that they don't speak anymore as both simply seem focused on winning this series, which starts tonight on TNT.