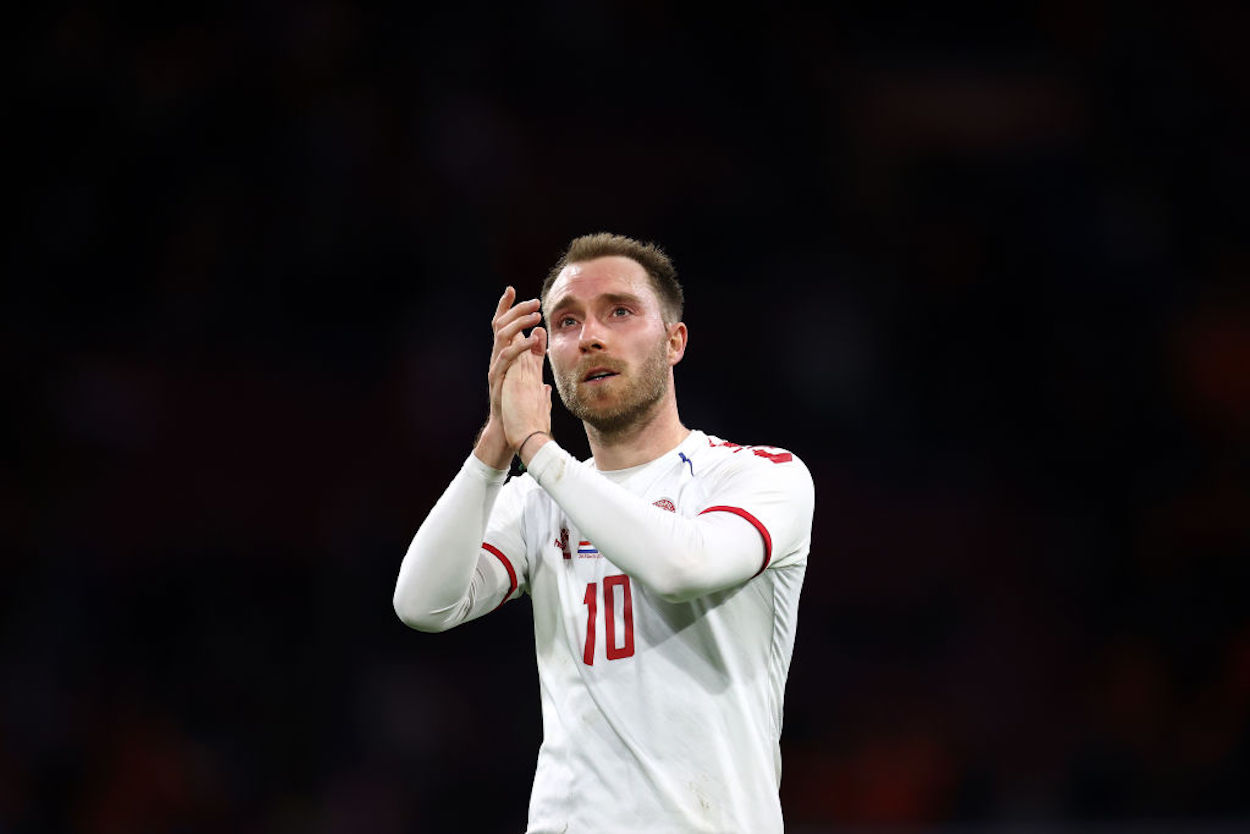 Christian Eriksen Is the Perfect Reminder of All That's Good in an Ugly Sports World
Christian Eriksen captaining Denmark is more than just a sentimental moment. It's a much-needed reminder about about positives and perspective.
When you think critically, the world of professional sports can be a pretty ugly place. Even if you confine your scope to soccer, there's racist abuse, instances of "sports-washing," and a controversial 2022 World Cup. Amid all of that ugliness, though, there's a shining light: Christian Eriksen and his comeback.
As you probably remember, Eriksen collapsed during a Euro 2020 match after experiencing cardiac arrest. While he nearly died, the Danish midfielder survived thanks to the combined efforts of his teammates and paramedics. He's since mounted a comeback, returning to play at the club level and, more recently, rejoining the Denmark squad.
The story, however, doesn't end there. Eriksen is set to captain Denmark in a match on the same pitch where his life and career almost came to an untimely end. In an ugly world, that's a reminder of just how beautiful sports can be.
Christian Eriksen brings things full circle by captaining Denmark
When Christian Eriksen collapsed on the pitch during Euro 2020, it was a moment that transcended sports. Even if you didn't know a thing about soccer, you could understand the stakes. An athlete, theoretically in incredible shape, suddenly hit the turf. His teammates ran over, and paramedics streamed onto the pitch in an attempt to literally save his life. Thankfully, their efforts worked.
Despite being "[dead] for five minutes" and telling the ambulance crew to "Keep my boots, I won't need them," (h/t ESPN), Eriksen has done more than just survive. He's mounted an incredible comeback.
While his implantable cardioverter defibrillator means he could no longer play in Italy's Serie A, the Dane returned to the Premier League and has taken the pitch with Brentford. He's also rejoined his national team and scored a fairy tale goal within minutes of stepping onto the field.
If that comeback wasn't unbelievable enough, things will go even further on Tuesday. With Danish captain Simon Kjaer — he's the man who helped save Eriksen's life by rolling his body into the recovery position and beginning CPR — out of the lineup, Kasper Schmeichel has been wearing the armband. He suggested, however, that Eriksen should assume the responsibility when the Danes host Serbia at Parken Stadium. For those unfamiliar with Denmark, that's the same stadium where he came within touching distance of death last summer.
"It will definitely be very special because I have not been to Parken since it happened," Eriksen said on Monday, according to an AP report (h/t ESPN). "Now I am incredibly looking forward to being back on the field here in the Park and being a football player. Because that's what it's about for me. But I also look forward to the fact that after the match, we can put it behind us."
Eriksen's comeback is a reminder of the positive potential of sports
It goes without saying that Eriksen's return and captaincy is a feel-good story that seems like it could be have been plucked from the script of a Disney movie. It's more than just a moment in time, though.
As I mentioned in the opening lines of this post, the world of sports can be a pretty ugly place when you get down to brass tacks. While that's not something that most fans want to confront, it's there for all to see.
Sports can show off our collective worst tendencies. Just consider the racist abuse that bubbled to the surface after England lost the Euro 2020 final. Marcus Rashford, Jadon Sancho, and Bukayo Saka, all of whom are Black, were subjected to a barrage of hateful tweets after they each failed to score during the penalty shootout. According to an August 2021 BBC report, "the UK Football Policing Unit received 600 reports of racist comments sent to England's black players after the defeat and judged 207 to be criminal."
Looking at domestic soccer, part of the appeal is the merit-based nature of an open pyramid structure. In theory, every team, no matter how big or small, has an equal shot at promotion or relegation. Modern ownership, however, has changed that. Given that on-pitch success is usually correlates to a club's wage bill, we see the same few names, all of which have near-unlimited financial resources, atop the table. For every Leicester City, there are countless titles won by the same few giants.
And, to be clear, issues aren't limited to European football. The NFL is currently being sued by Brian Flores, former head coach of the Miami Dolphins, who is "alleging discrimination regarding his interview processes with Denver and [the New York Giants] and his firing last month by Miami," according to an ESPN write-up. Major League Baseball just emerged from a lockout that delayed the start of the season. The NHL seemingly can't move beyond the idea that stopping a game to allow players to punch each other in the face is an essential part of the sport. Even college basketball, which is theoretically a bastion of amateurism and Cinderella stories, is a massive business where, as we saw in a 2021 viral social media video, women get the short end of the stick.
The Christian Eriksen story, on the other hand, highlights the positives found in sports. There's care for your peers: Think about Kjaer literally saving Eriksen's life and the Denmark squad using their bodies to shield him from the cameras. There's sacrifice and mutual respect: Consider Schmeichel suggesting that someone else is more deserving of the armband. And, most evidently, there's a triumph of human will: Look no further than Eriksen not only surviving but managing to continue playing soccer at an incredibly high level.
It's a busy time in the world of sports. March Madness is in full swing. The NBA and NHL seasons are drawing to a close, and baseball is right around the corner. Some nations will be playing with a trip to the World Cup on the line shortly after the Denmark match concludes. On the surface, that might suggest there's no time for sentimentality, but it actually serves as the perfect foil for Eriksen's captaincy.
As sports fans, our favorite team's fortune can seem like a life-and-death issue. Missing the playoffs, failing to qualify for the World Cup, or any other setback is, at least in the moment, a monumental failure. At the end of the day, though, sports are supposed to be fun. They're about pushing boundaries, being part of something bigger than yourself, doing the seemingly impossible, and all those other admittedly fluffy cliches. Remembering Christian Eriksen lying on the pitch, and comparing that to the sight of him leading Denmark onto the same field, puts that into perspective.
And, frankly, that's a perspective we all need to keep in mind.