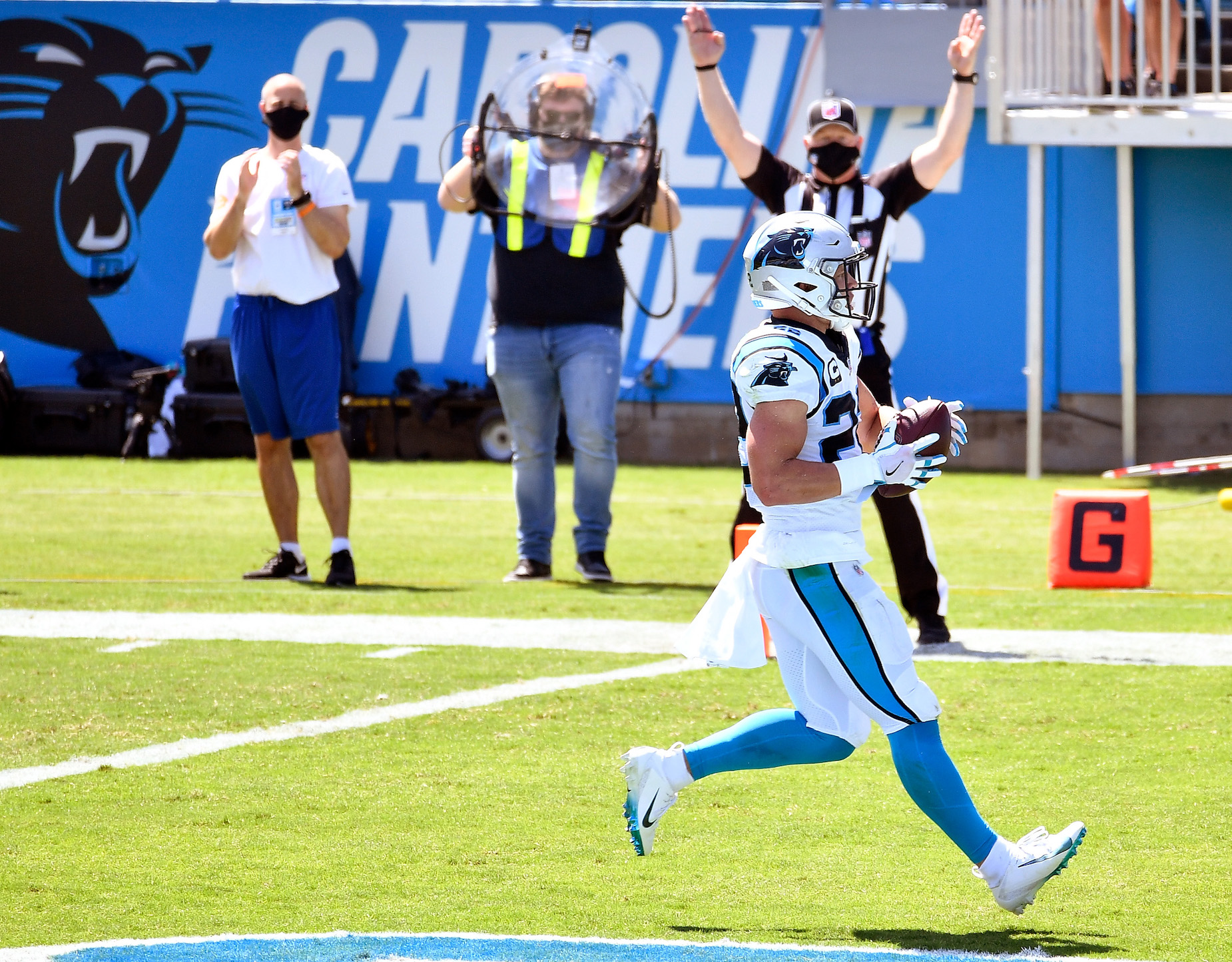 Christian McCaffrey Just Gave His Fantasy Football Owners a New Headache With His Latest Injury
While Christian McCaffrey was expected to return for Week 14, the Carolina Panthers star has a new injury ahead of the fantasy football playoffs.
For better or worse, fantasy football has changed the way that fans follow the NFL. It's no longer enough to watch your favorite team; you have to keep tabs on virtually every game, following big-name players from coast to coast. And, in the world of fantasy football, few names are bigger than Christian McCaffrey.
During the 2020 campaign, however, the Carolina Panthers running back has barely seen the field. While Christian McCaffrey seemed poised to return for Week 14, he seems to have suffered another setback, giving his fantasy football owners another headache.
Christian McCaffrey has become one of the NFL's top running backs
In the modern NFL, few teams build their offense around a star running back. That reality, however, hasn't diminished Christian McCaffrey's role with the Carolina Panthers.
After making a name for himself as an all-purpose threat at Stanford, McCaffrey joined the Panthers as the eighth-overall pick of the 2017 NFL draft. While his rookie season was solid, if unremarkable, he came into his own during the following campaign.
In 2018, the running back rushed for 1,098 yards and seven touchdowns; he also caught 107 passes for 867 yards and six touchdowns. His 2019 totals were even more impressive, despite playing without Cam Newton for most of the year.
On the back of that success and his ability to thrive as a ball-carrier or receiver, McCaffrey inked a four-year, $64 million contract with Carolina. He became the league's highest-paid running back and, in most fantasy football league's the first-overall pick of the draft.
The 2020 season has been ruined by injuries
Coming off of the back of a career year, it was always possible that Christian McCaffrey would regress during 2020. Injuries, however, have meant that the Panthers' main man has barely hit the field.
McCaffrey turned in a strong performance against Las Vegas Raiders in Week 1; at the end of Week 2's game against the Tampa Bay Buccaneers, though, he sprained his ankle. That kept him out of action until Week 9 when he returned against the Kansas City Chiefs.
In that game, the running back scored another two touchdowns and looked like he was back to his old self. His comeback, however, was short-lived; he suffered a shoulder injury and sat out the next three games ahead of Carolina's bye.
Christian McCaffrey's latest injury comes at the worst time for fantasy football owners
After Carolina's bye week, Christian McCaffrey was expected to be well-rested and ready to return to action; that timeline had the added benefit of getting him back on the field in time for the fantasy football playoffs. The running back, however, might not be ready to play in Week 14 after all.
On Wednesday, McCaffrey returned to the practice field but was limited by a quad injury; he apparently tweaked the muscle during Carolina's bye week and recently felt it tighten back up. According to David Newton of ESPN, Panthers head coach Matt Rhule said the team will have to monitor their star player "and see if he's available to play versus the Broncos."
Beyond that uncertainty—at this point in the season, you probably aren't finding a good replacement—the reality of Carolina's season can further complicate things for fantasy football owners. The franchise isn't going anywhere fast; they could very well decide to shut McCaffrey down for the remainder of the season rather than risking him to win a couple of meaningless games.
In the space of a few days, Carolina Panthers fans and fantasy football players alike went from expecting to see Christian McCaffrey in Week 14 to not knowing what the future holds. At this point, though, all anyone can do is wait.
Stats courtesy of Pro-Football-Reference