Clemson Quarterback D.J. Uiagalelei Has an NFL Destination in Mind After 117 College Passes
D.J. Uiagalelei showed up at Clemson looking forward to serving as an understudy to a sure No. 1 pick in the NFL draft. The goal was to learn from watching Trevor Lawrence, the most talked-about college football player in America, and then go on to his own stellar NCAA career.
Uiagalelei's progress down that path started sooner than expected. Consequently, talk about his NFL future is already in play, and Uiagalelei is showing some veteran savvy.
Clemson has a worthy heir to Trevor Lawrence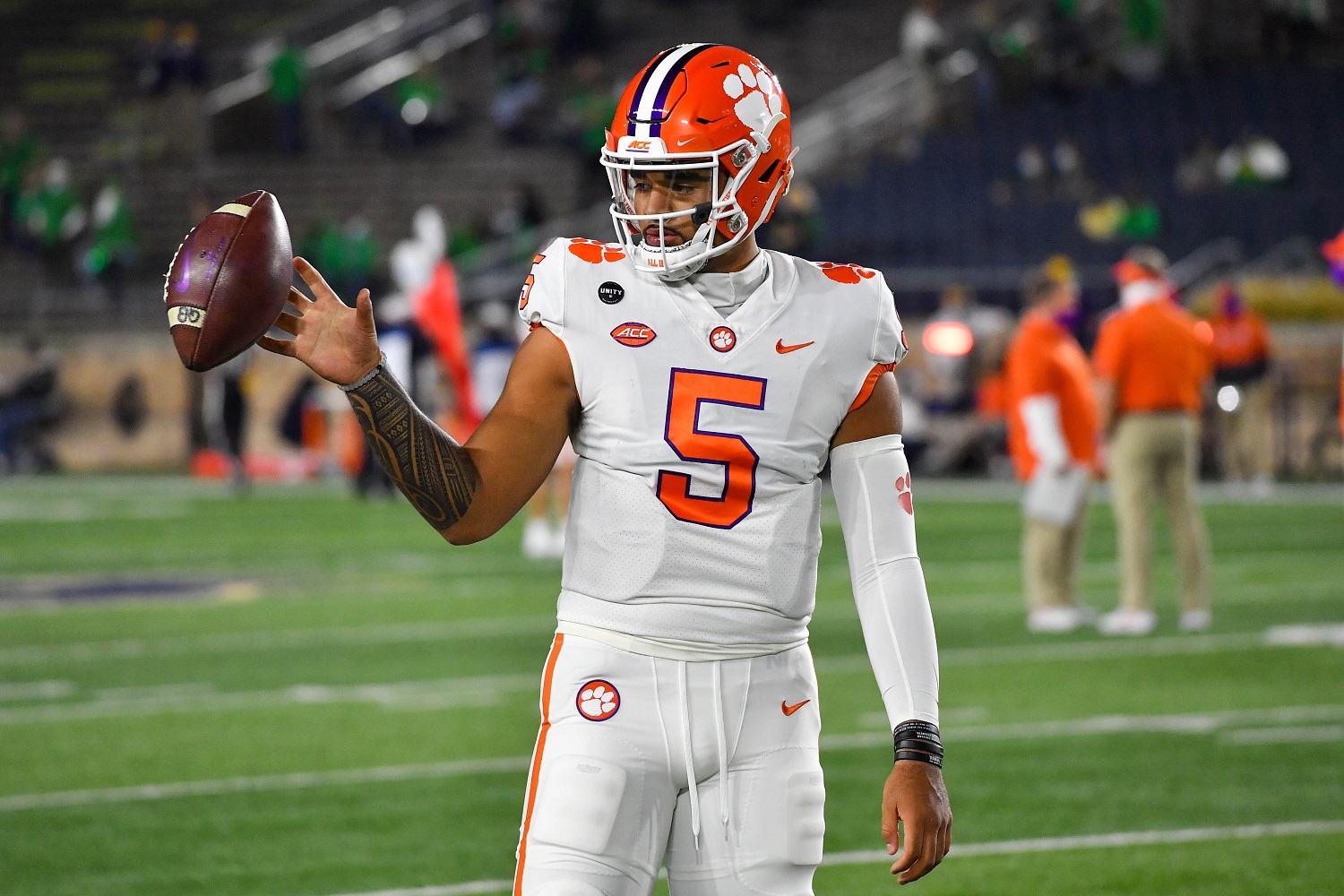 Uiagalelei arrived at Clemson in January 2020 with phenomenal credentials, including 96 touchdown passes and more than 7,500 yards through the air in his final two California high school seasons. His skills and 6-foot-4, 250-pound frame made him one of the most coveted quarterback prospects, and the Tigers recognized him as a worthy heir to Lawrence, who almost certainly would play one more season and then declare for the NFL draft.
For a youngster looking forward to FBS stardom followed by a pro career, the understudy role was a business major's equivalent to interning for Warren Buffett. In Uiagalelei's case, that meant learning both on and off the field.
"He couldn't be like himself, he had to uphold to a Clemson quarterback (public profile) where he maybe couldn't do the regular things that a college athlete or college student could do," Uiagalelei said this week at the ACC media day. "He couldn't go down to Chipotle and get some food, or it would turn into an autograph session."
Uiagalelei got a taste of that spotlight when Lawrence tested positive for COVID-19. The freshman made his first career start vs. Boston College, completing 30 of 41 attempts for 342 yards, two passing TDs, and a rushing score. He followed by going 29 of 44 for 439 yards with two more passing TDs and a rushing score vs. Notre Dame.
Adding in his mop-up work the rest of the season, Uiagalelei finished 78 of 117 for 914 yards, five touchdowns, and no interceptions.
It was enough to make one wonder if he might follow in Lawrence's footsteps in another fashion by leaving Clemson early to turn pro. If it happens, Uiagalelei would happily continue down the Lawrence path by playing for a team in Florida.
D.J. Uiagalelei has set his NFL goal after 117 college passes
Top college players do not choose their initial destination in the NFL. Rather, they land with whichever franchise drafts them. When asked if he has a favorite NFL team, Uiagalelei showed the aptitude of a quarterback who is able to go through progressions to complete a 12-yard pass to his third option in a third-and-10 situation.
"The team I want to go to is whatever team doesn't have state taxes.

D.J. Uiagalelei
Considering that superstar quarterbacks are looking at potentially earning $400 million or more just in salary over the course of a career, that's pretty savvy planning.
For the record, Texas, Tennessee, Nevada, Florida, and the state of Washington fit the no-income-tax description. They encompass eight current teams. Of those, the Houston Texans, Tampa Bay Buccaneers, and Las Vegas Raiders could certainly be interested in him two years down the road.
The bad news, of course, is the so-called jock tax. Even athletes playing for teams in no-tax states lose a portion of their game checks for road games in states that do impose an income tax.
D.J. Uiagalelei is on his way to becoming a millionaire
Uiagalelei announced this week that his first endorsement deal, now permissible in the NCAA under relaxed NIL rules, is with the Bojangles fast-food chain.
The terms of the deal are unknown, but Clemson offensive lineman Trent Howard said some of his teammates have struck six-figure deals already. Uiagalelei absolutely fits the profile as the heir to a No. 1 draft pick at a school with a high profile.
A restaurant deal is a good one to land right out of the gate. Uiagalelei will undoubtedly follow with shoe and apparel arrangements. Energy drinks, exercise equipment, and retailers like cellular phone chains should also be low-hanging fruit for a potential Heisman Trophy candidate.
Done right, he could put together a portfolio that would almost make his mentor envious.
Like Sportscasting on Facebook. Follow us on Twitter @sportscasting19.