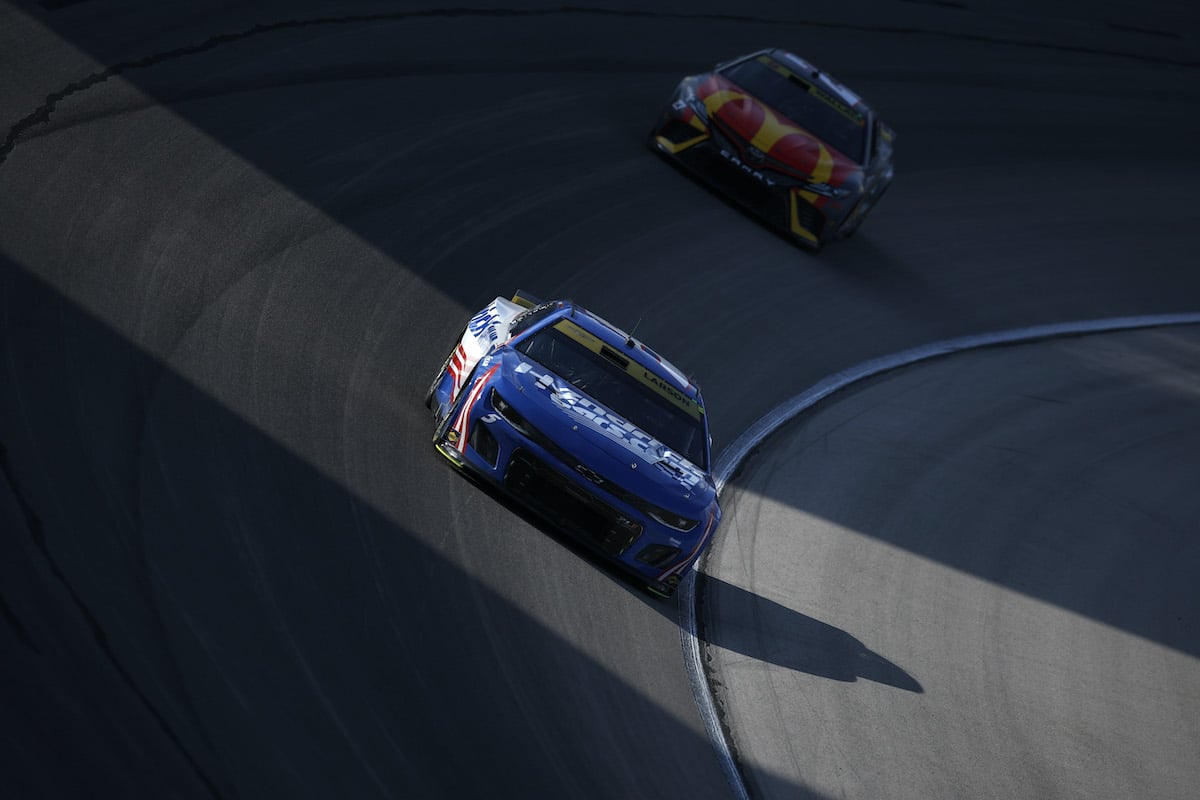 Clint Bowyer Calls Out Chad Knaus for His Lack of Confidence in Kyle Larson
Kyle Larson didn't get a vote of confidence from Chad Knaus on the 2023 playoffs and Clint Bowyer called the HMS exec out on it.
Kyle Larson appeared destined for Victory Lane at Texas Motor Speedway, surging out to a four-plus second lead with less than 30 laps to go. However, everything changed when a caution came out, and the 2021 Cup Series champion found himself sliding into the wall on the subsequent restart after an intense door-to-door battle with Bubba Wallace.
That crash dropped the driver to 31st in the race and, more importantly, just a couple of points above the playoff cutline. This week, Hendrick Motorsports Vice President of Competition Chad Knaus talked about the race and what his driver faces in the upcoming playoff races. He didn't sound confident about the No. 5's chances, and Clint Bowyer didn't hesitate to call him out. 
Kyle Larson crashes at Texas 
Kyle Larson started the 2023 Cup Series playoffs strong with three consecutive top-five finishes, including a win in the opening race at Darlington that automatically advanced him into the Round of 12. 
In the first race of the second round at Texas, the No. 5 picked up where he left off and was one of two dominant cars on the 1.5-mile speedway, surging out to a big lead and winning the second stage by more than six seconds. 
In the final stage, the 31-year-old raced for the lead with Bubba Wallace after a restart and got loose heading into Turn 1, turned sideways, and slid backward into the fence. He finished 31st and, more significantly, dropped to just two points above the playoff cutline. 
Clint Bowyer calls out Chad Knaus for his lack of confidence in Larson
This week, HMS exec Chad Knaus made an appearance on NASCAR Race Hub, where he talked about the No. 5 team and what lies ahead in the playoffs, including upcoming races at Talladega and the Charlotte Roval. When presented with Larson's statistics at the superspeedway, which include finishing outside of the top 10 in 10 of the last 11 races and five DNFs on the last seven drafting tracks, show host Josh Sims asked the Hall of Fame crew chief if the 2021 champ was on the brink of elimination.
"I mean he's definitely there, but I think he's fine," he said. "The cars have been super fast."
"Speaking of confidence," guest analyst Clint Bowyer chimed in. "There's no confidence in your voice right there." 
"On the brink, it's no, no, no. They're good. They're good. They're good," Knaus repeated.
"If you keep saying it, you'll feel good," Sims replied.
"They're not very good at Talladega, it doesn't look like," Bowyer added. 
"But the cars are fast," Knaus answered. "The result is always not indicative of the performance. So they can get stage points, get themselves in, and they can do what they need to do." 
Knaus is right. If Larson can put together a decent race at Talladega and the Charlotte Roval, his crash at Texas will be a thing of the past. But based on his history at the superspeedway, that's a big if. 
To stay up to date on the latest happenings in NASCAR, including breaking stories you can't find anywhere else, follow Kyle on YouTube and Twitter.