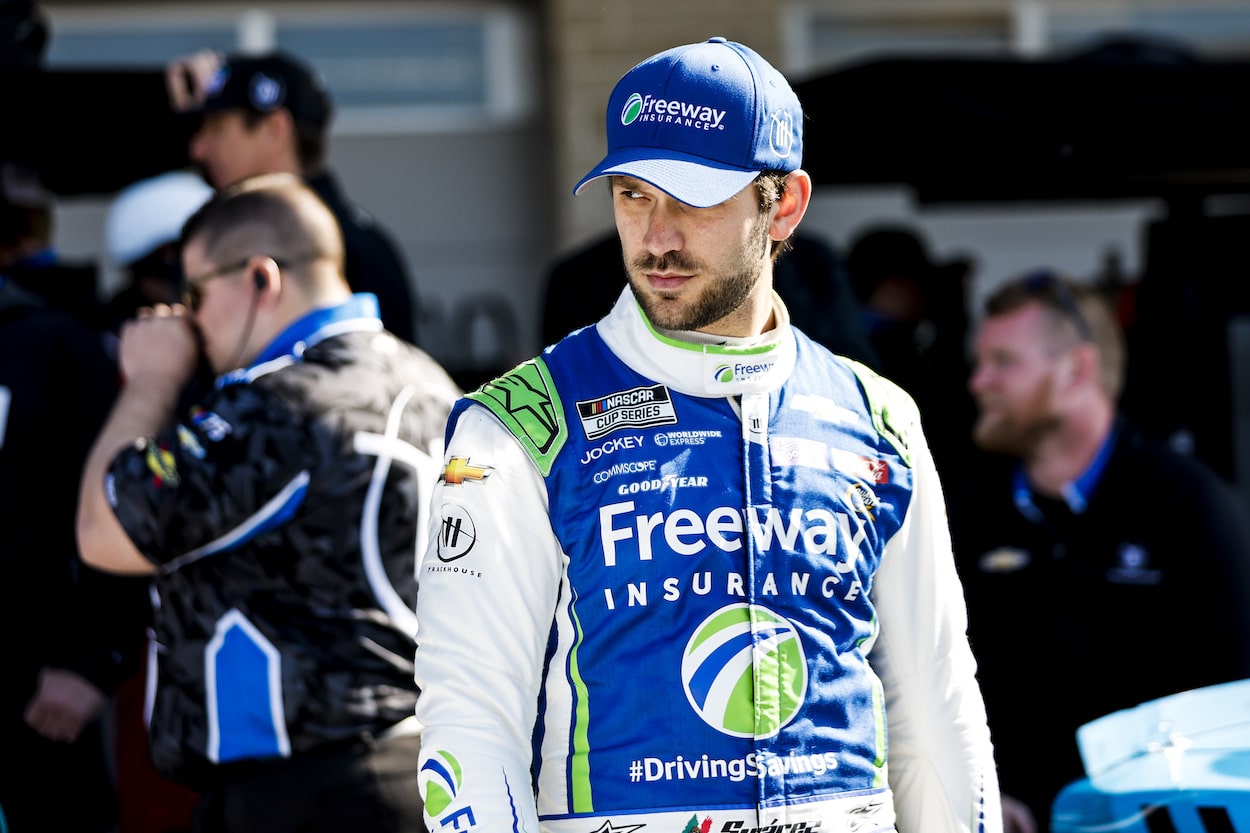 Clint Bowyer Disagrees With NASCAR and Thinks Daniel Suarez Deserved Harsher Penalty for Pit Road Incident at COTA
Daniel Suarez should have received a harsher penalty from NASCAR for his aggressive post-race actions at COTA, according to Fox's Clint Bowyer.
Daniel Suarez was mad after last weekend's NASCAR Cup Series race at Circuit of the Americas. That was evident in his in-car camera immediately after the race, which showed the Trackhouse Racing driver on the hunt for a pair of cars that he believed had wronged him in the second of three overtime restarts.
When the No. 99 reached them, he bumped his teammate Ross Chastain out of the way at the entrance to pit road and then drove into the rear of Alex Bowman a couple of times on pit road. Several days later, NASCAR fined Suarez $50,000. Clint Bowyer disagreed with the penalty, suggesting it was not enough.
Daniel Suarez hunts down Ross Chastain and Alex Bowman after COTA race
Daniel Suarez was victimized in Turn 1 at COTA, as has become commonplace when NASCAR visits the 3.41-mile circuit. It occurred on the second overtime restart when the momentum from a train of cars, including Ross Chastain and Alex Bowman, redirected the No. 99 into the rear of the No. 19, sending the Joe Gibbs Racing car for a spin. 
Suarez suffered a cut tire and any hopes of a good finish were effectively ruined. He finished 27th.
Moments after crossing the start-finish line on the cool-down lap, the Trackhouse driver was on a mission — finding the Nos. 1 and 48 cars. The radio communication reveals an angry driver focused on revenge while his team tried to calm him and even suggested it could be settled later. 
The driver refused to listen and finally caught up with both cars just before pit road. At the entrance, he bumped his teammate out of the way and then drove into the rear of the Hendrick Motorsports car a couple of times on pit road, including one time with a NASCAR official standing nearby.
Clint Bowyer disagrees with NASCAR penalty of Suarez
Everyone agreed Suarez would receive a penalty for his post-race actions. On Wednesday, the sanctioning body answered with a $50,000 fine for violation of Sections 4.4. B and D in the rulebook for NASCAR member conduct and making contact with another vehicle on pit road after the race.
That night's episode of NASCAR Race Hub showed the in-car video and accompanying audio, and Fox analyst Clint Bowyer was questioned whether he thought it was the appropriate punishment.
"I think it should have been even steeper," Bowyer candidly admitted. "And the reason is because of that official. We all know there's a safety element of this. What we do on that racetrack is one thing. You've got helmets on. You're contained in safety seats.
"You see that official highlighted over there. That could have been very very dangerous and ugly on that behalf. You have to lock this down. This cannot happen on pit road where those officials are after the race."
Ty Gibbs penalized twice last year for similar violations
While NASCAR won't ever disclose why it chose the dollar amount of the fine, you can go back to a year ago to get a baseline of penalties for similar behavior. Ty Gibbs set the standard post-race at Martinsville for making pit road contact with Sam Mayer and was fined $15,000. He wasn't penalized for the punches thrown after that same race.
Fast forward months later to Texas when Gibbs was subbing for the injured Kurt Busch in the Cup Series. The young driver didn't like how Ty Dillon crowded him coming out of his pit stall and retaliated by driving into the side of the No. 42 car, which went left and narrowly missed several crew members and NASCAR officials on the right side of Chris Buescher's car.
NASCAR fined Gibbs $75,000 and docked the team 25 owner points.
The sanctioning body set the dollar range last year between $15,000 and $75,000 for each of Gibbs' infractions. Suarez's penalty fell in the middle.
It's a certainty that this type of scenario will happen again at some point in the future and NASCAR will dispense punishment. Now, with multiple examples, fans, including Bowyer will have a much better idea of what to expect in the penalty.
For the latest breaking news and information about NASCAR's three national series, check out @kdsportswriter on Twitter.