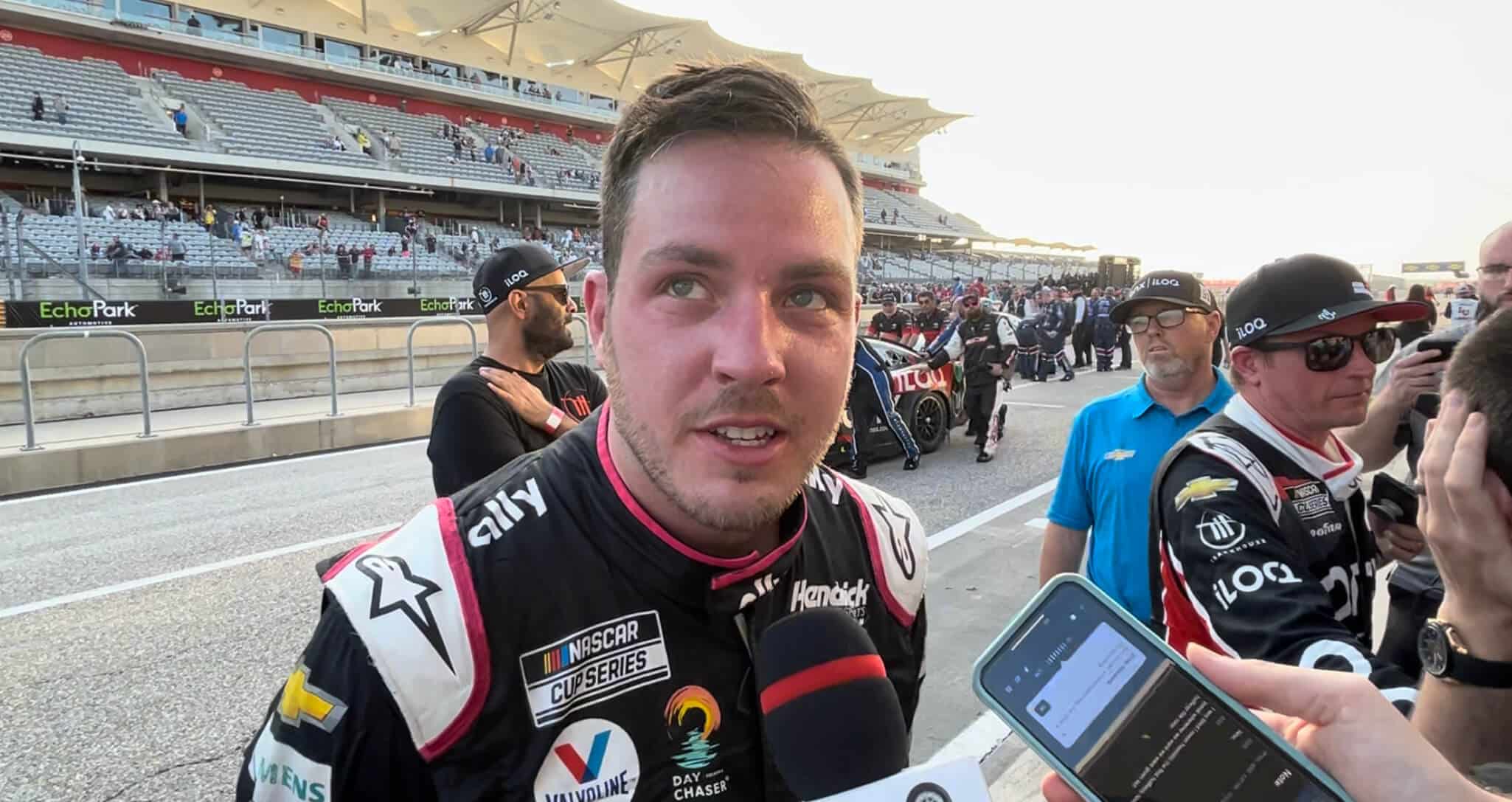 Upset Alex Bowman Doesn't Mince Words, Blasts NASCAR for Putting Drivers in Box and Producing 'Embarrassing' Racing at COTA
Alex Bowman didn't hold back after his third-place finish at COTA, blasting NASCAR for what he described as "embarrassing" racing.
While William Byron deserves attention for his two early wins this season, his Hendrick Motorsports teammate Alex Bowman has written an impressive start of his own to the 2023 NASCAR Cup Series campaign, recording four top 10s, including a pair of top fives in the season's first five races.
The 29-year-old added a third top-five result at Circuit of the Americas on Sunday. But, by his own admission, he wasn't particularly proud of it. Instead, he was embarrassed by the overall racing product and called out the sanctioning body for putting the drivers in a position where they are compelled to escalate their aggression levels out of fear of being left behind and losing valuable positions, points, and cash. 
Alex Bowman finishes third after surviving crazy restarts
Alex Bowman finished third at COTA on Sunday, one spot back from where he finished last year's thriller of a race that saw Ross Chastain score his first career Cup Series win on an aggressive last-lap pass. 
Unsurprisingly, Chastain was again involved in some contact late in this year's event. It came on the second overtime restart going into Turn 1 on the 3.41-mile road course and in what some have appropriately deemed "Calamity Corner." 
Bowman started on the inside of Row 4, with Daniel Suarez in front of him, Joey Logano on his outside, and Chastain directly behind. Of note, Chase Briscoe was behind the Trackhouse car.
During the chaotic restart, the Nos. 14 and 1 cars were the first to shoot left toward the inside. Bowman matched their moves. They did it again. The HMS driver mirrored them and, as a result, moved inside of the No. 99 as they all fast-approached the top of the 130-ft. hill. 
At the top, the No. 48 appeared to have slowed enough to make the challenging corner. However, he got hit from behind by Chastain, who had help from Briscoe. With the momentum from behind, Bowman door-slammed into Suarez, which pointed the No. 99 into the rear of Martin Truex Jr., who went for a spin. 
Coming out of Turn 1, the top 5 included Tyler Reddick, Kyle Busch, Byron, Bowman, and Chastain.  
Bowman blasts NASCAR for 'embarrassing' racing
That dive-bomb was a major source of frustration for Suarez, who made it clear after the race when he rammed into the rear of the No. 48 car on pit road before having a tense conversation. Following that discussion, Bowman visited with reporters and talked about the aggressive driving on the restarts. He wasn't a fan. 
"It's such a box that we're all in," Bowman said. "It's so dumb how we have to race each other. It's not OK by any means. But it's what we do. It's somewhat embarrassing, but at some point, you're here to finish well for your sponsors. It's a matter of losing 10 spots. You can't be the one clean guy at the end."
He wasn't done and delivered more harsh remarks moments later.  
"Yeah, the problem is if you don't peek out and bomb the guy in front of you, the guy behind you does it to you," he said. "What are you going to do there, right? It's not right. The way we race is embarrassing. If 12-year-olds were doing it, we would be yelling at them, but here we are saying it's the best, and we're all on TV." 
Fits in with ongoing lack of respect conversation
Bowman's comments fit in perfectly with the larger discussion that's taken place in NASCAR over the last week about the lack of respect in the garage. Kyle Busch started the conversation at Atlanta. Others have chimed in. 
Sunday at COTA was another example, with drivers making moves, particularly on Turn 1, that no one likes, but everyone does out of necessity to improve their track position and get the best result, or the intended goal of each race.  
Alex Bowman and the other drivers might not like it, but it doesn't sound like it's going away anytime soon because NASCAR isn't going to intervene. It'll defer to the unspoken code of letting the drivers police themselves. 
As of right now, it feels like it's the Wild West. Sunday's race was in Texas. 
For the latest breaking news and information about NASCAR's three national series, check out @kdsportswriter on Twitter.