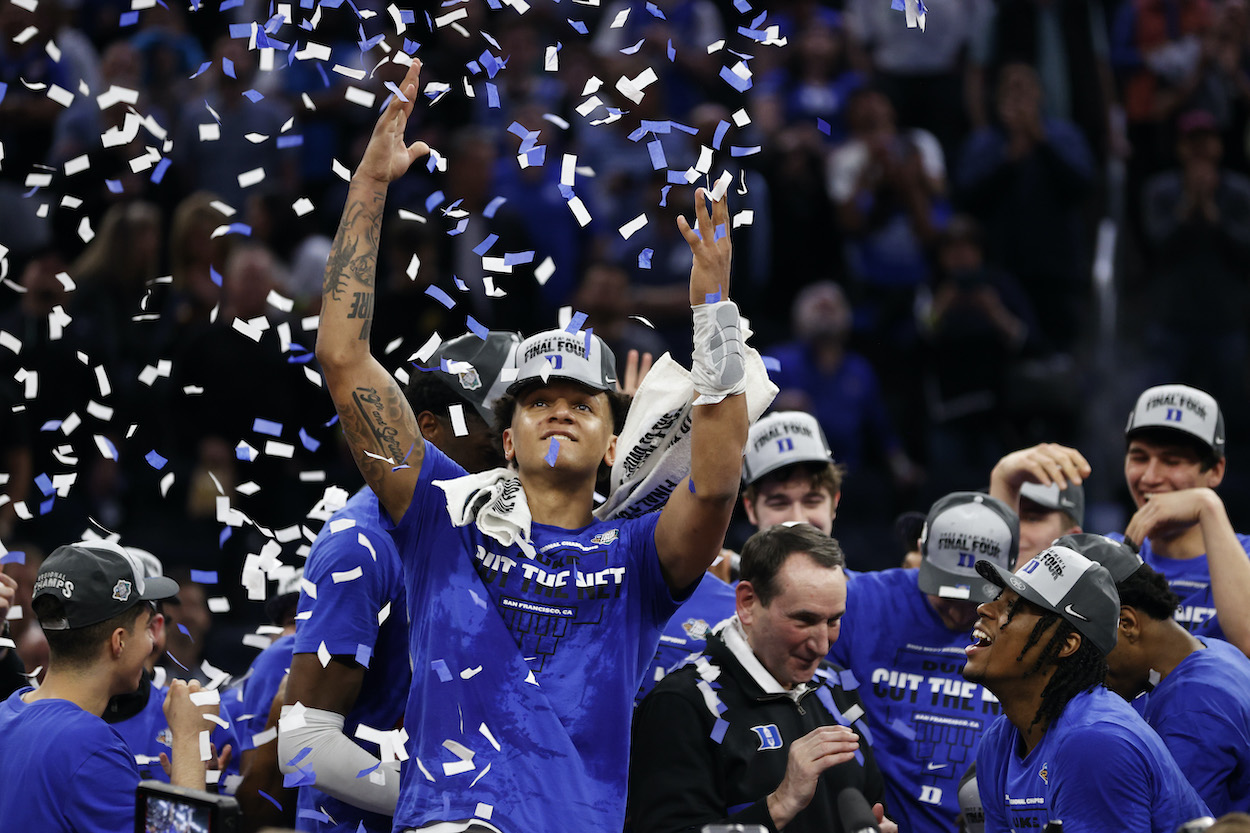 Coach K Refuses to Take Credit for Duke's Epic Final Four Run: 'Let's Not Talk About Me'
Coach K wants his players to get all the credit for Duke's run to the Final Four in his last season.
Mike Krzyzewski is rightfully the star of the show this March Madness. After 47 years coaching college basketball and 42 at Duke, Coach K will be calling it a career after the 2022 NCAA Tournament.
In his last ride, the legendary head coach has led his Blue Devils to a Final Four berth, and he's now just two wins away from walking away a champion. But even though all the focus is on Coach K, he doesn't want any of the credit for what his players have accomplished this season.
Duke is Final Four bound in Mike Krzyzewski's final season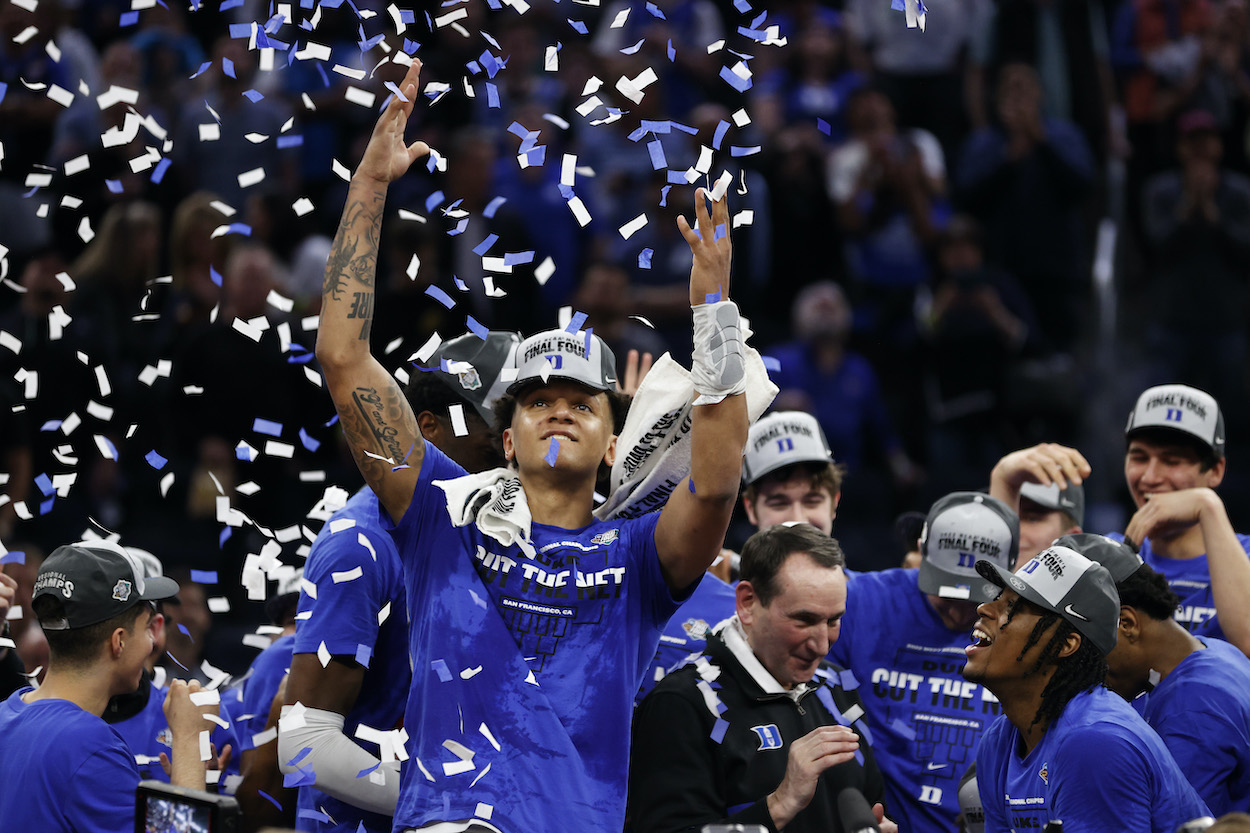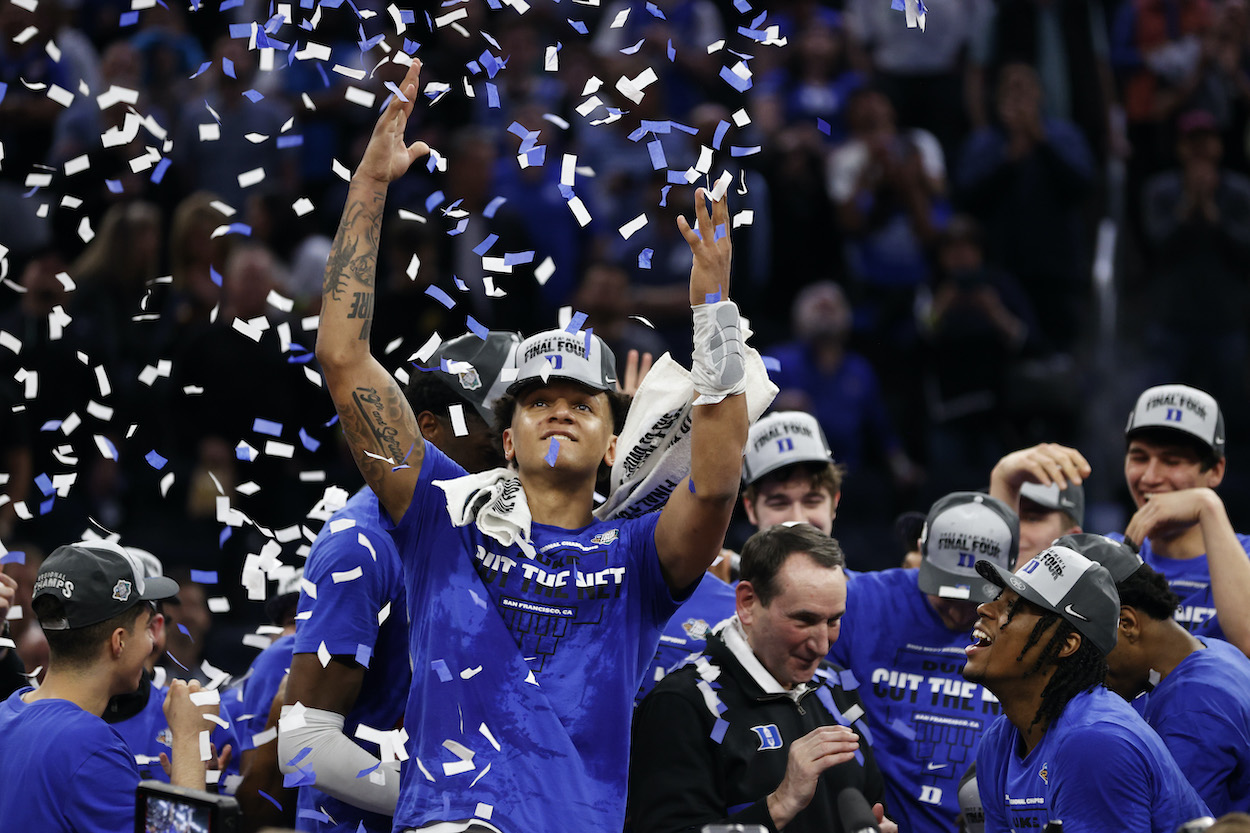 We all should've seen this coming, right?
The winningest head coach in college basketball history wasn't going to go out quietly in his final season. No, Duke was always destined for the Final Four, and the Blue Devils are only two wins away from sending Coach K off as a six-time national champion.
And that's exactly what they plan to do.
"Everybody knows it's his last season," star forward Paolo Banchero told ESPN after Duke's Elite Eight win over Arkansas. "We want to send him out on top."
Krzyzewski's Blue Devils will face the winner of North Carolina and Saint Peter's in the Final Four next weekend. The Peacocks have been a wonderful story this month, but all the stars are aligning for one last rivalry game against the hated Tar Heels with a national championship berth on the line.
You couldn't script a better storyline for Coach K's last dance.
Coach K wants his players to get all the credit
Coach K is thoroughly enjoying his final run through the NCAA Tournament, but he's tired of the fans and media making this season all about him. After leading Duke to a stress-free win over Arkansas in the Elite Eight Saturday night, Krzyzewski made sure his players got the credit they deserved.
"Let's not talk about me. Talk about them. They've won a regular-season championship and they've won the regional championship. They did that. They did it for us. And enough about doing it for the old man here."

Mike Krzyzewski
It's understandable Coach K would want to take the attention away from his final season to avoid distractions, but that's not exactly realistic right now. This is arguably the greatest coach in college basketball history we're talking about here. It's nearly impossible to imagine Duke without Krzyzewski, but that reality is getting closer and closer with each win.
Making Final Four history
Coach K's name is already plastered all over the NCAA record books, but he made even more history on Saturday by passing John Wooden for the most Final Four appearances by a coach (13).
"It's an honor. Coach Wooden, if he kept coaching, would probably have 24," Krzyzewski said. "But it's a heck of a thing. We've won a lot in the tournament, and we've won a lot of games, but Final Fours are big, obviously, then national championships. That's what you put banners up for."
Incredibly, Coach K is two wins away from adding yet another banner to an already decorated Cameron Indoor Stadium. What a way that would be to go out.
Like Sportscasting on Facebook. Follow us on Twitter @sportscasting19.