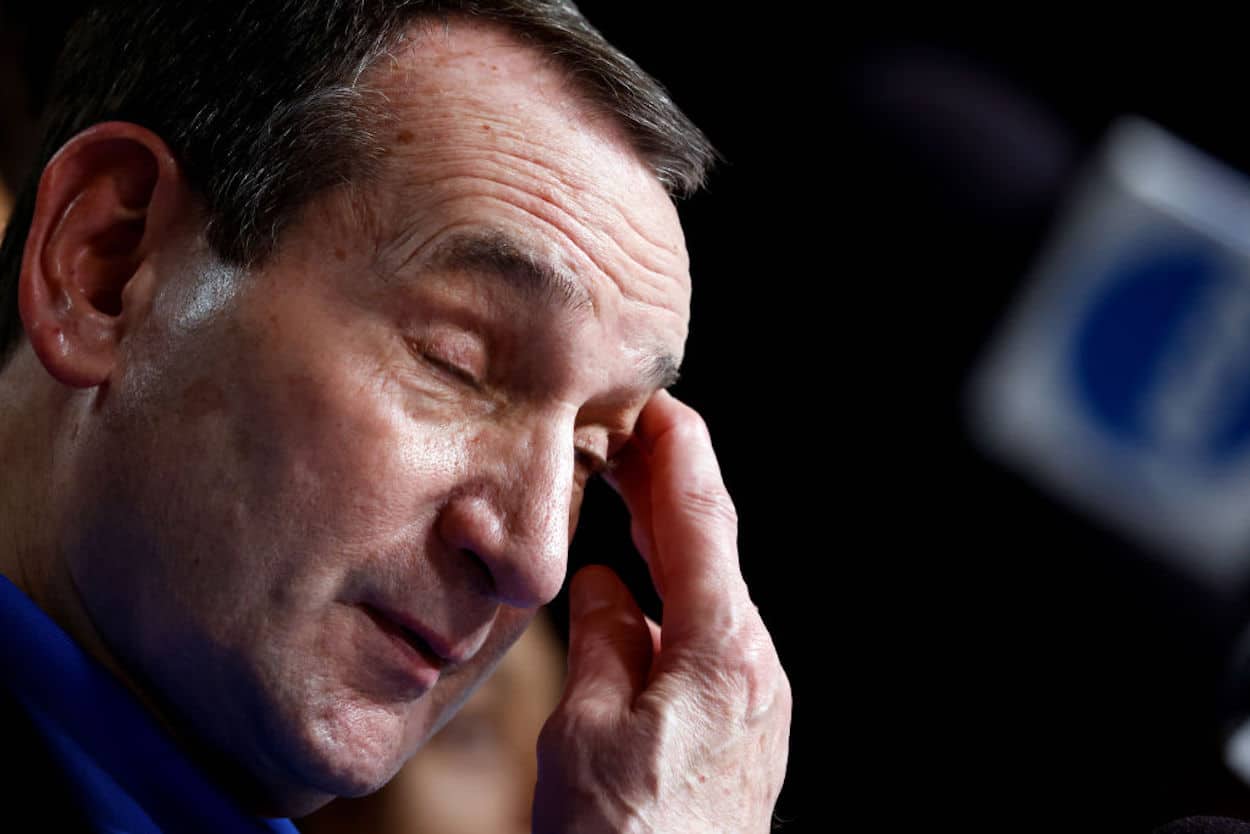 Coach K's Retirement Discovery Confirms the Painful Reality of His Legendary Career
Coach K may have made millions of dollars and won five championships at Duke, but that didn't mean he had the best work-life balance.
During his time in college basketball, Mike Krzyzewski became a living legend. After cutting his teeth at West Point, the relatively unknown coach moved south and took charge of the Duke Blue Devils. While there were some initial bumps in the road, he eventually turned the program into a perennial powerhouse, capturing five national titles along the way.
From afar, that might seem like a pretty perfect resume. Given that some coaches never get a shot at one title, Krzyzewski must have been living the dream during his time in Durham, right? Maybe not.
Speaking on Jay Williams' NPR podcast, Coach K shared one of the biggest discoveries he's made in retirement. While he told it from a positive perspective, it does confirm just how much he gave to basketball over the years.
Coach K admitted that he could finally enjoy a happy moment without thinking about Duke basketball
After seeing him prowl the Duke sideline for more than 40 years, it's almost impossible to imagine Mike Krzyzewski doing anything other than coaching college basketball. It's obviously a change for the NCAA legend, too, which has already led him to learn some new things about the realities of his life.
"One of the biggest discoveries I've made since I retired, two of my granddaughters just graduated from high school," Krzyzewski told Jay Williams on NPR's The Limits. "Carly and Emmie. And Carly graduated from St. Mary's, which is in Raleigh, an all-girls school. Really good. And we're at the graduation. It's a Sunday morning, and it's outside, and it's beautiful. And eight of my grandchildren are sitting right in front of me and Mickie."
You may be thinking that sounds like a pretty idyllic scene. Coach K did, too, and, for once, he was able to enjoy the moment without worrying about his basketball team.
"And sometimes graduations take a long, they can be beautiful but tedious. And this one was really beautiful," Krzyzewski continued. "And we're driving home, and I told Mickie, I said, 'That was happy.' I said, 'You know, something happened that I can't remember when this has happened.' I was only thinking of the graduation and my grandkids. Now, I have that focus for a game, don't get me wrong, and those people deserve that. When I am with my kids, my wife, I'm in that moment completely. And they don't even know that I was at a dance recital thinking about how the heck I'm going to make Jason Williams to play harder or play some defense."
While that reality makes sense — you don't win more than 1,000 games without putting in the hard yardage — hearing Coach K discuss his life in that context is still rather striking. Krzyzewski has written and spoken about the importance of his family on numerous occasions. They were front and center when Duke honored him at center court. Sharing a happy moment without the looming specter of basketball, however, is still a new discovery.
From everything we know of Coach K, he probably wouldn't change a thing. As much as he's a family man, he's also a fierce competitor willing to chase the top spot with every fiber of his being. Hearing about his discovery, however, does provide a bit more perspective on the harsh realities of high-level sports. It's easy to see Krzyzewski's massive salary and think that he's living on Easy Street, but, as the cliche says, that money can't always buy happiness.
Like Sportscasting on Facebook. Follow us on Twitter @sportscasting19 and subscribe to our YouTube channel.