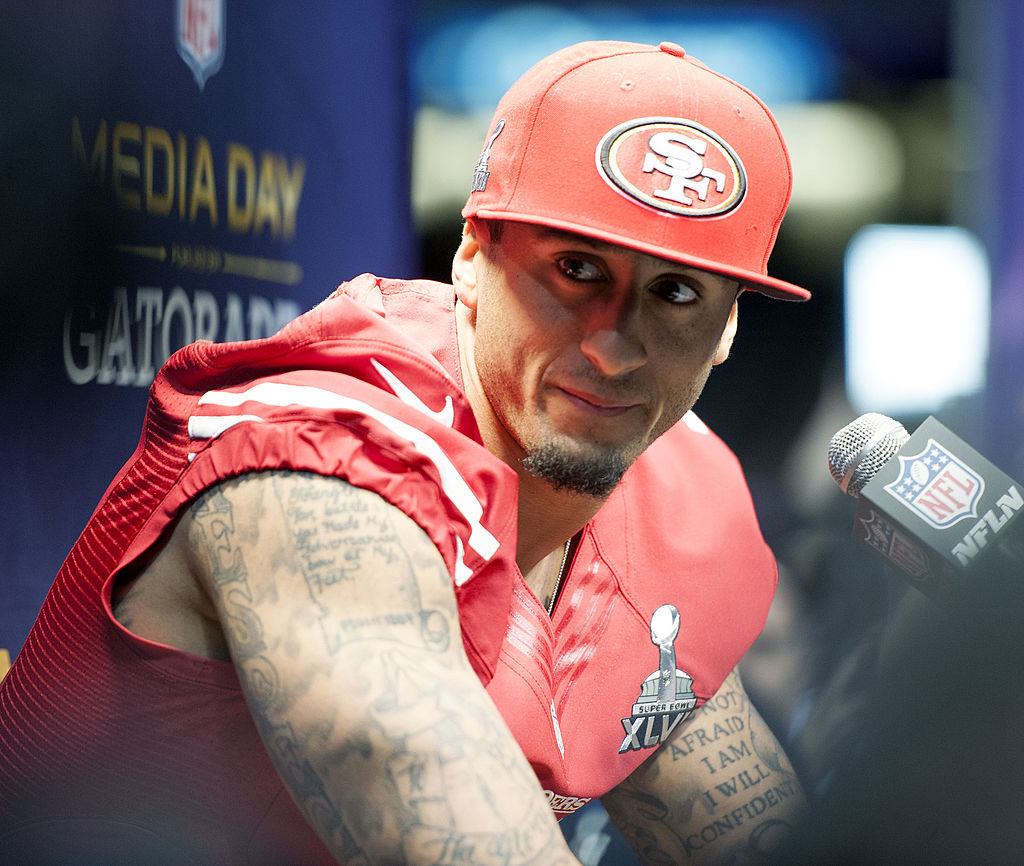 Colin Kaepernick's Tattoos Reveal Who He Is and What He Believes
Colin Kaepernick's tattoos provide many of the answers for those who have, for years, questioned who he is and what he represents.
Colin Kaepernick is recognized for different things depending on the audience. To some, he's a former NFL quarterback for the San Francisco 49ers. To others, he's an activist who risked his career as an NFL quarterback to speak out against systemic racism and police brutality.
According to Kaepernick himself, the best way to understand who he is and what he represents is through his numerous tattoos. Here's a look at Colin Kaepernick's tattoos and what they mean.
Colin Kaepernick's tattoos featuring Bible verses
Colin Kaepernick is a man strong in his faith. There is no better evidence of that than the many tattoos on his body, specifically referencing the subject. Kaepernick got his first tattoo back in 2007 while still playing at the University of Nevada, and it featured the Bible verse Psalm 18:39, inked in the form of a scroll on his right shoulder. 
The tattoo reads, "You armed me with strength for battle; you made my adversaries bow at my feet." That verse details Kaepernick's strength of facing enemies without fear, and having faith God will subdue those fighting against him. 
On his left bicep, he has another Bible verse, Psalm 27:3, which he had done in 2008 and it reads, "Though an army besiege me, my heart will not fear though war break out against me, even then I will be confident."
Kaepernick's additional tattoos of faith
Probably the most recognizable of Colin Kaepernick's tattoos is on his right bicep. That piece of body art spells FAITH in big, bold letters and is always the one he kissed in celebration each time he scored a touchdown.
"Number one, it's my way of saying I don't really care what people think about my tattoos. God has brought me this far. He has laid out a phenomenal path for me. And I can't do anything but thank him," Kaepernick said on 49ers.com. 
Also on his right arm near the FAITH tattoo, he has another piece featuring two hands together in prayer that includes a banner that reads, "To God The Glory." On his left arm, he has a large Christian cross with a ribbon wrapped around it that reads "Heaven Sent." Above and below the cross, the words read, "God Will Guide Me."
On his left side on his ribs, Colin Kaepernick has a large tattoo that doesn't have any scripture specifically written, but depicts a hand with a serpent wrapped around it as it reaches up for money hanging from a tree. It's representative of the Bible verse Timothy 6:10, "For the love of money is the root of all evil."
The variety of other tattoos
Two of Colin Kaepernick's largest tattoos can be found on his back and chest. He has a large mosaic on his back that highlights the opposing forces of good versus evil as depicted through angels and demons. That is the largest piece on his body and took 18 hours and two visits to complete. On his chest, he has a tattoo that reads "Against All Odds" in cursive, surrounded by tribal art.
Kaepernick also has a tattoo of the word RESPECT on his right arm, as well as a Kappa Alpha Psi tattoo representing the fraternity he joined in Spring 2010 on his right side. The inside of Kaepernick's biceps features his personal favorite tattoo that includes the words, "My Gift Is" on the inside of his right bicep and "My Curse" on the left biceps.
"Being an NFL quarterback, there's a lot of advantages that come with it. There are a lot of doors that open when you're a quarterback, but at the same time you're under a lot of scrutiny. There are a lot of things you can't do as well," Kaepernick said when describing the tattoo before the 2013 Super Bowl.
As some to this day still question Kaepernick, his patriotism, and his motivations to kneel during the anthem years ago, they have to look no further than the Colin Kaepernick's tattoos to understand just who he is as a person and what he's all about.