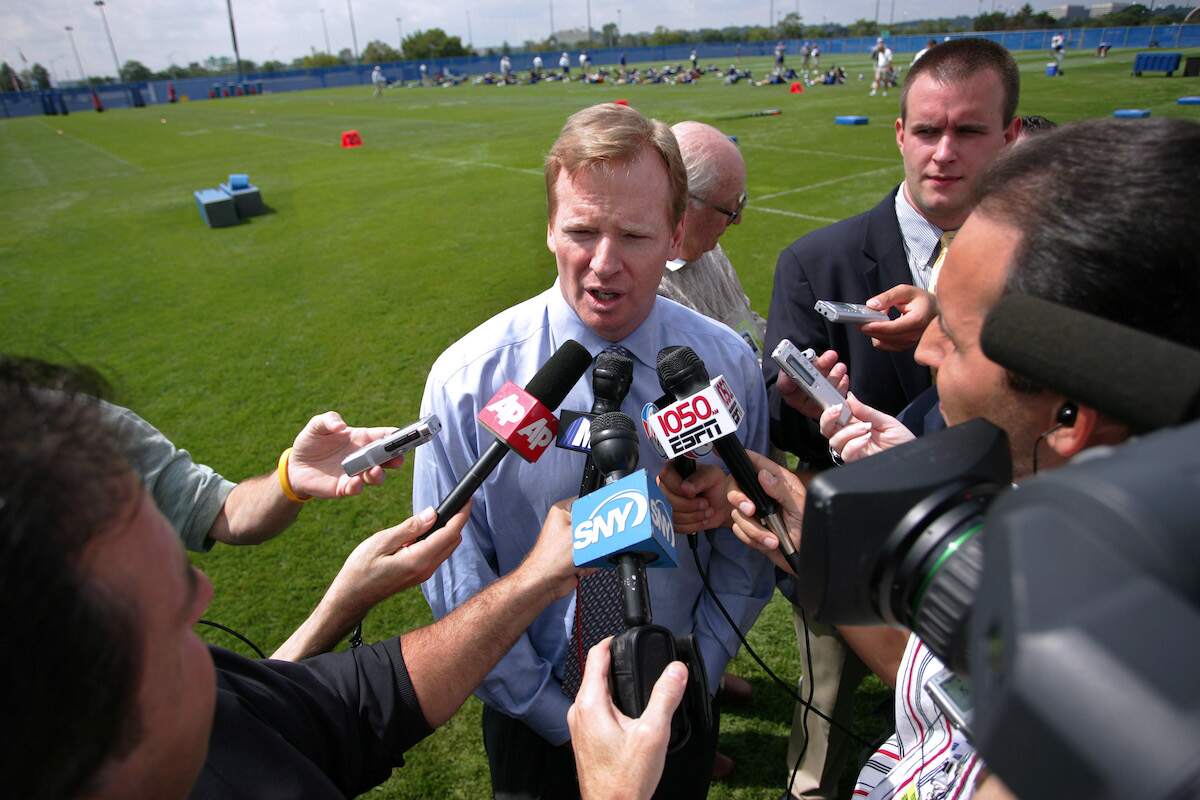 Commissioner Roger Goodell's 1st Job With the NFL Involved a Hilariously Mundane Task
Once upon a time, Roger Goodell was a young boy who dreamed of becoming the leader of the world's largest professional sports organization: the NFL.
NFL Commissioner Roger Goodell has not always been despised by the fans and players who consider him the biggest villain in the league.
Once upon a time, he was a young boy who dreamed of becoming the leader of the world's largest professional sports organization. With a little luck and a lot of hard work, he made his dream come true and has been the presiding commissioner of the NFL since 2006. 
Before building a $500 million empire and becoming the most controversial figurehead in sports, the commissioner's first NFL job was humorously mundane.
Roger Goodell had an unusual childhood dream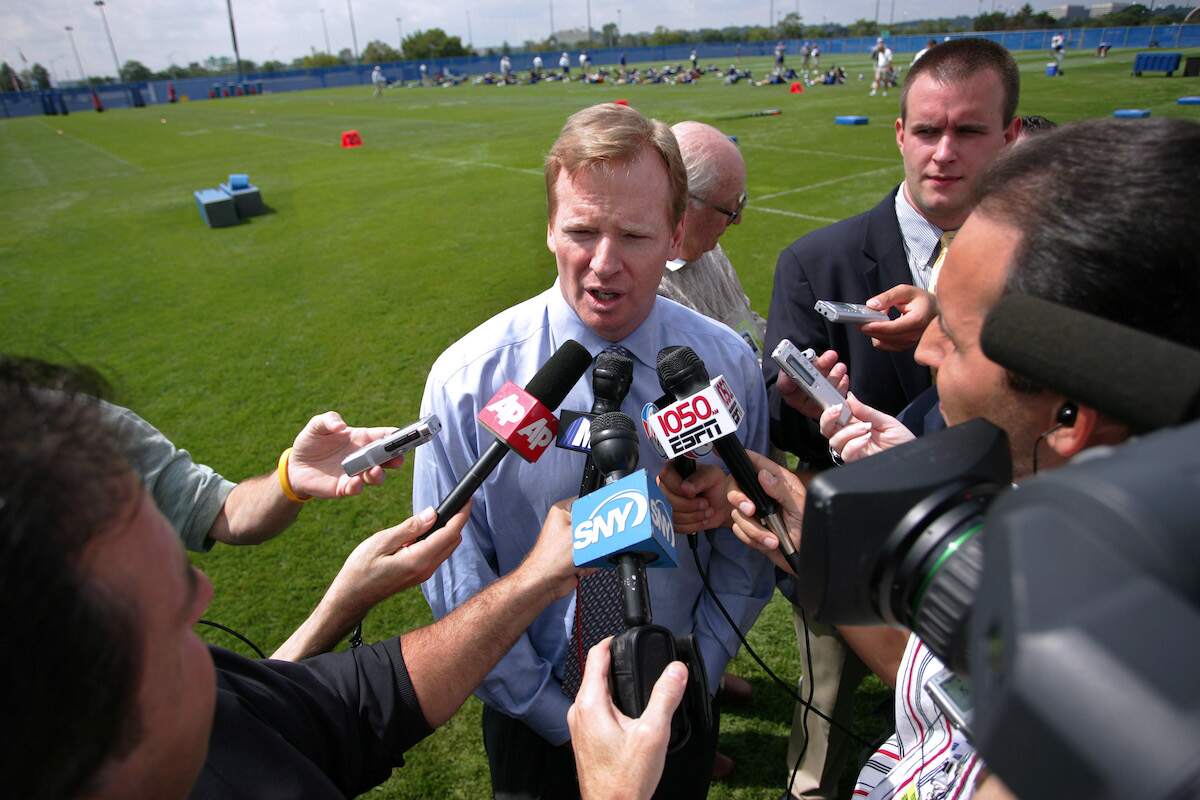 Goodell grew up outside New York City, surrounded by wealth and politics, with his father serving as a U.S. Senator. The middle child of five boys, the current NFL commissioner played football at Bronxville High School, where he was a three-sport athlete. He graduated magna cum laude from Washington & Jefferson College in 1981 with an economics degree.
According to Washington & Jefferson College, upon graduation, Goodell wrote his father a thank you letter that stated, "The only thing I want to do in life, other than to be the commissioner of the NFL, is to make you proud.'"
With his eye on the prize and a strong desire to be part of the NFL, he began writing letters to the league's management office and all 28 teams, seeking an internship. Despite being told he was wasting his time, Goodell's persistence paid off. One year after graduation, he secured a three-month internship with then-NFL commissioner Pete Rozelle's office.
Roger Goodell before becoming the NFL commissioner
The 1981 letter Goodell sent to Rozelle read, "I am presently looking for a position in the management of professional sports. Being an avid football fan, I have always desired a career in the NFL." Goodell continued, "Consequently, as a great admirer of you, it would be both an honor and a pleasure to work for you in any position that may be available."
Rozelle was receptive to the ambitions of the young graduate, giving him his first position with the NFL. Although Goodell wanted to run the league, he had to start at the bottom and climb the ladder. Today, Goodell is accustomed to seeing his face plastered across global media outlets. However, his first job at the NFL's main offices in New York City was as an administrative intern. His duties included copying and clipping news articles for the public relations department. 
In 1983, Goodell took a one-year internship with the New York Jets franchise. Then, he returned to the league office, where he's been employed ever since. According to Huddle Up, by 1987, Goodell became the assistant to American Football Conference President Lamar Hunt.
Between 1990 and 2001, as the right-hand man to then-Commissioner Paul Tagliabue, Goodell held several upper-level executive positions. In 2001, he became the Executive Vice President and Chief Operating Officer of the NFL. In 2006, when Tagliabue retired, Goodell was the obvious choice to take over the position. At 47, he became the eighth commissioner in NFL history.
At the time, Robert Kraft, long-time New England Patriots owner, told ESPN, "Roger got his MBA from Pete Rozelle and Paul Tagliabue. That's not a bad education."
Goodell's biggest accomplishments and criticisms over the years
For the past four decades, Goodell has been involved in the inner workings of the NFL. Named commissioner in 2006, he has amassed a fortune worth approximately $500 million. Under his leadership, league revenue has exploded, likely reaching annual earnings of $25 billion by 2027. 
Goodell has successfully overseen two Collective Bargaining Agreement negotiations with the Player's Association and has doubled media rights revenue. Despite his unpopularity, the commissioner has inked deals with all the major networks and streaming partners, such as Amazon and YouTube TV. This has generated more than $110 billion over the next decade.
Although Goodell has unsurpassed abilities to generate wealth for himself, the league, and the billionaire owners, he is not well-liked among fans who disagree with his tactics. According to Bleacher Report, inconsistent disciplinary rulings, unfair punishments, strict personal conduct policies, and heavy player fines led fans to start referring to the NFL as the "No Fun League."