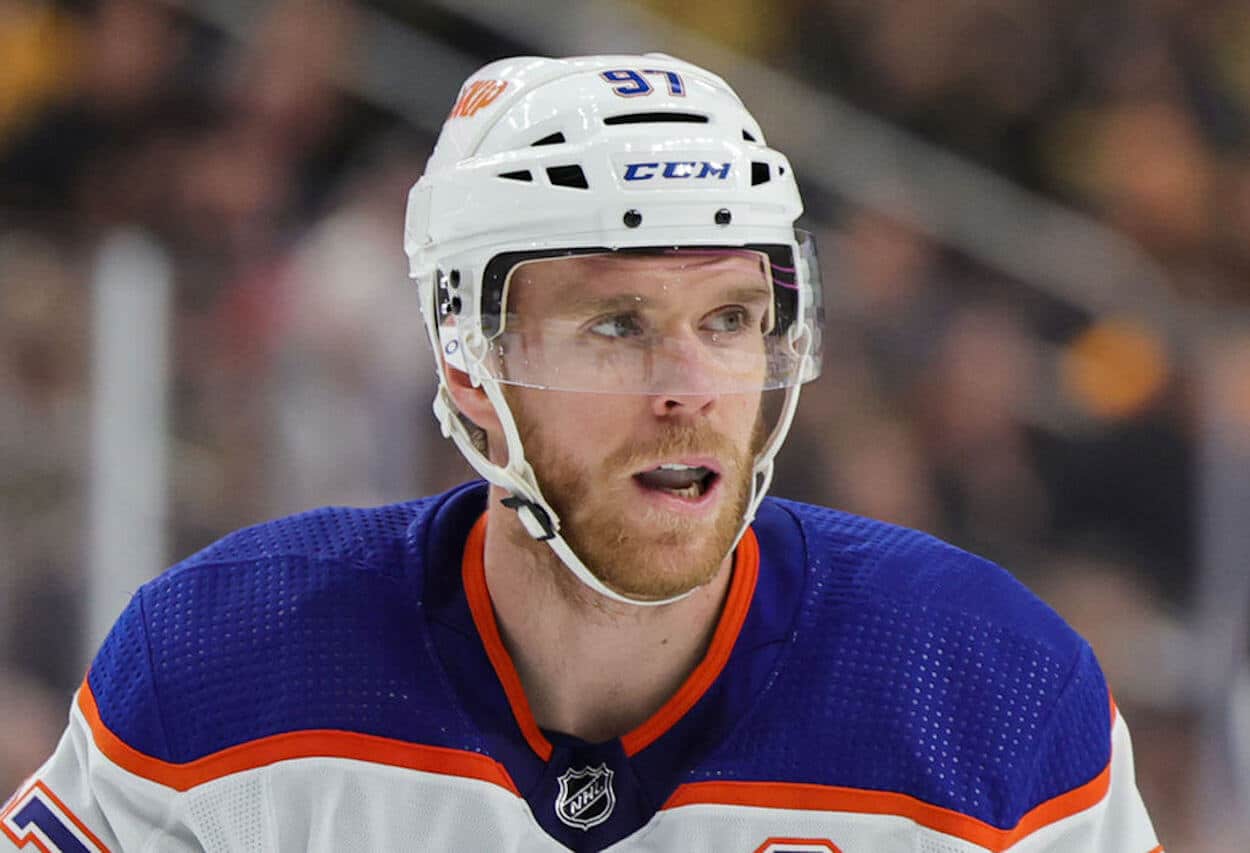 Connor McDavid Has Skin in the Game, But He Deserves Credit for Calling Out a Violent Slash
Do you want to argue that Connor McDavid's comments were a bit biased? That's fair, but they could still bring about a net positive.
As you get deeper into an NHL postseason series, you'll start hearing talk about sending messages. That's especially true when a game is out of reach; it's not uncommon to see a fight or a big hit in the dying moments as the losing team tries to show that things will be different the next time out. Connor McDavid and his Edmonton Oilers teammates witnessed that reality on Wednesday, May 10.
In the final moments of Edmonton's 4-1 victory, Leon Draisaitl took a brutal slash from Alex Pietrangelo. McDavid wasn't happy about it and made his feelings known after the game.
And while you could argue that those comments are personal — he saw a teammate get slashed and wants to beat Vegas in the series — the Oilers captain deserves credit for breaking hockey's cone of silence and speaking up.
Connor McDavid called out Alex Pietrangelo's slash after Game 4
If you've spent enough time around sports, you've undoubtedly seen things get a bit heated at the end of a tough loss. That's what happened on Wednesday night in Alberta.
After a tough loss in Game 3, the Edmonton Oilers bounced back in style to even the series at two games apiece. The Canadian club jumped out to a 3-0 lead after the first frame and added a fourth in the middle stanza. Vegas added a consolation goal in the third period, but that was too little, too late.
During the dying moments of the game, though, a Golden Knight still managed to make headlines. After Edmonton's Leon Draisaitl missed his shot at an empty-net goal, Vegas defenseman Alex Pietrangelo brought an overhead slash down onto the forward's arms.
Pietrangelo received a game misconduct, but after the final whistle, Connor McDavid was calling for more.
"You'd like to see it reviewed for sure," the Edmonton captain said, according to an AP report run on ESPN. "I mean it's as intent to injure as you can get. … Time, score, clock, all play a factor. He comes from over his own head and places it kind of under Leon's chin. You'd like to see something like that suspended. It's not a hockey play."
It remains to be seen, however, where the NHL's wheel of justice will land on this one.
While you can be cynical about McDavid speaking up, his willingness to do so is a net positive
With all due respect to the NHL players out there, postgame media availability is usually pretty boring. Not rocking the boat is usually the order of the day, and you'll hear plenty of cliches about getting the puck deep, working hard, and doing the right things next time out. That context makes Connor McDavid's comments about the Pietrangelo slash stand out.
In this instance, the Oilers captain — who also happens to be one of the league's biggest stars — was willing to make a bit of noise. Is there a risk he'll be accused of creating bulletin board material, whining, or some other comparable infraction of hockey's unwritten code? Sure, but I'd argue his words were worth it.
When it comes to penalties (in any sport), I'm willing to accept a bit more when you're making a legitimate sporting play. If you're trying to deliver a clean hit and get there a second late, for example, I'm largely happy to hand out a slap on the wrist. What Pietrangelo did, however, couldn't be construed as having anything to do with hockey. It looked more like he was trying to split wood than anything else.
And, as McDavid noted, consider the context. It was at the end of a physical game, and Vegas would have needed a series of miracles to come back. Whether their defenseman was frustrated, trying to send a message, or anything else, he wasn't trying to stop Draisaitl from scoring. The puck was already gone, and if we're being frank, there was no reason to finish the hit, even in a legal capacity.
I'd argue that those are the plays that have no place in any sport, including hockey. We can look at things from a variety of perspectives — safety, marketing, simply human decency — and come to the same conclusion: delivering an overhead slash behind the play is something that should be actively discouraged.
So, kudos to Connor McDavid for calling for that outcome.
As I mentioned above, it's easy to be cynical about the forward's comments. You could question how much he's influenced by the jerseys involved. Had Draisaitl slashed a Golden Knight, would McDavid be calling for a suspension? You'd have to assume that he wouldn't, and social media has already produced plenty of questionable plays from the Oilers during the series.
With that being said, though, it's still notable that an NHL star spoke up. Fan pressure for more consistently applied player safety standards hasn't done anything, so perhaps this will be what it takes to get the ball rolling. And once that change takes place, appropriate punishment will be handed out to everyone, including the Oilers, as necessary.
It goes without saying, though, that this is all unlikely to happen anytime soon. The NHL's disciplinarily record, especially in the playoffs, is spotty at best. If the change ever does arrive, though, it will be due to those inside the game saying enough is enough.
Connor McDavid's comments, even if they're potentially imperfect, could be a part of that process.