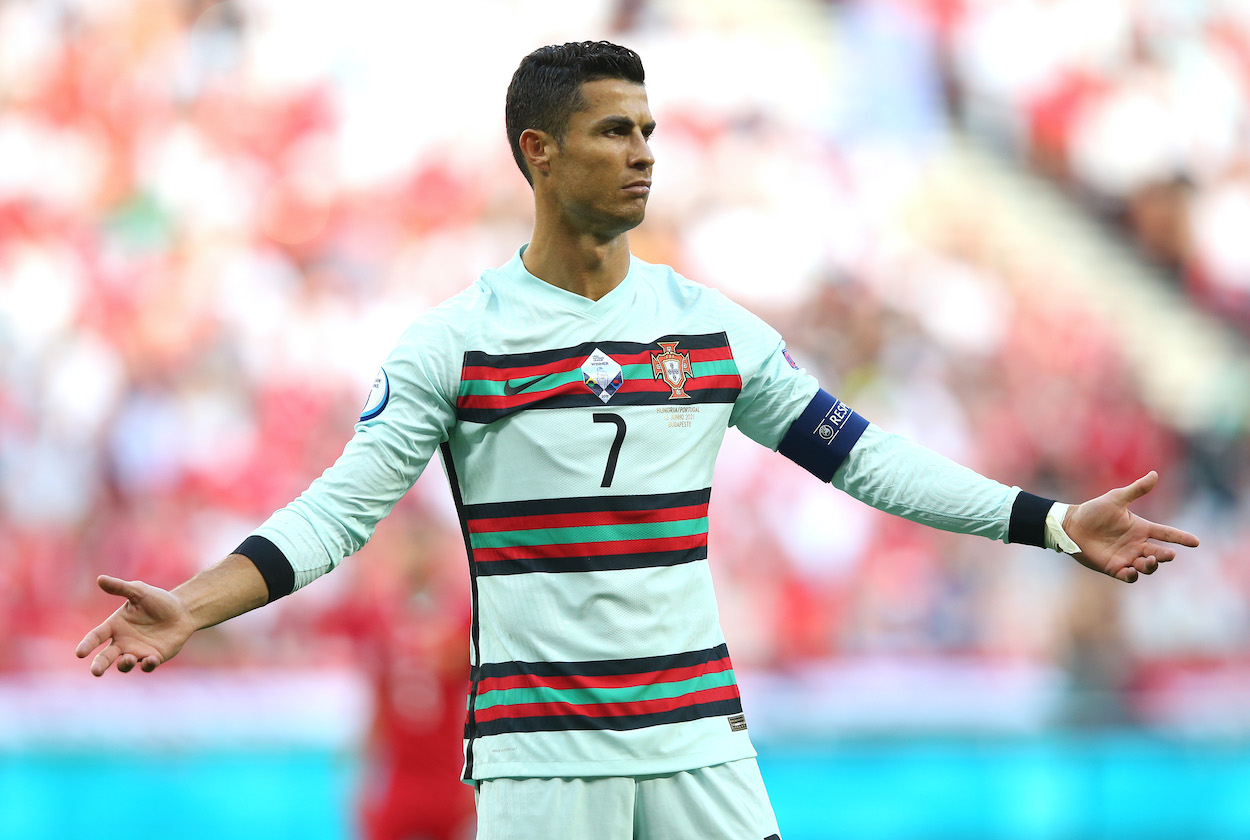 Cristiano Ronaldo Sets Off a $4 Billion Chain Reaction at Euro 2020 by Simply Moving 2 Bottles of Coca-Cola
Cristiano Ronaldo moved two Coca-Cola bottles from his interview table and cost the brand $4 billion in market share.
Cristiano Ronaldo isn't just one of the most famous athletes in the world of sports. He's one of the most well-known names on earth in any field, and he can even shift global financial markets with a single Instagram post or a subtle postgame comment.
Ahead of Portugal's Euro 2020 Group F opener against Hungary on Monday, Ronaldo set off a $4 billion chain reaction by simply moving two bottles of Coca-Cola away from his microphone during a media session.
Now that's power.
Cristiano Ronaldo is a health nut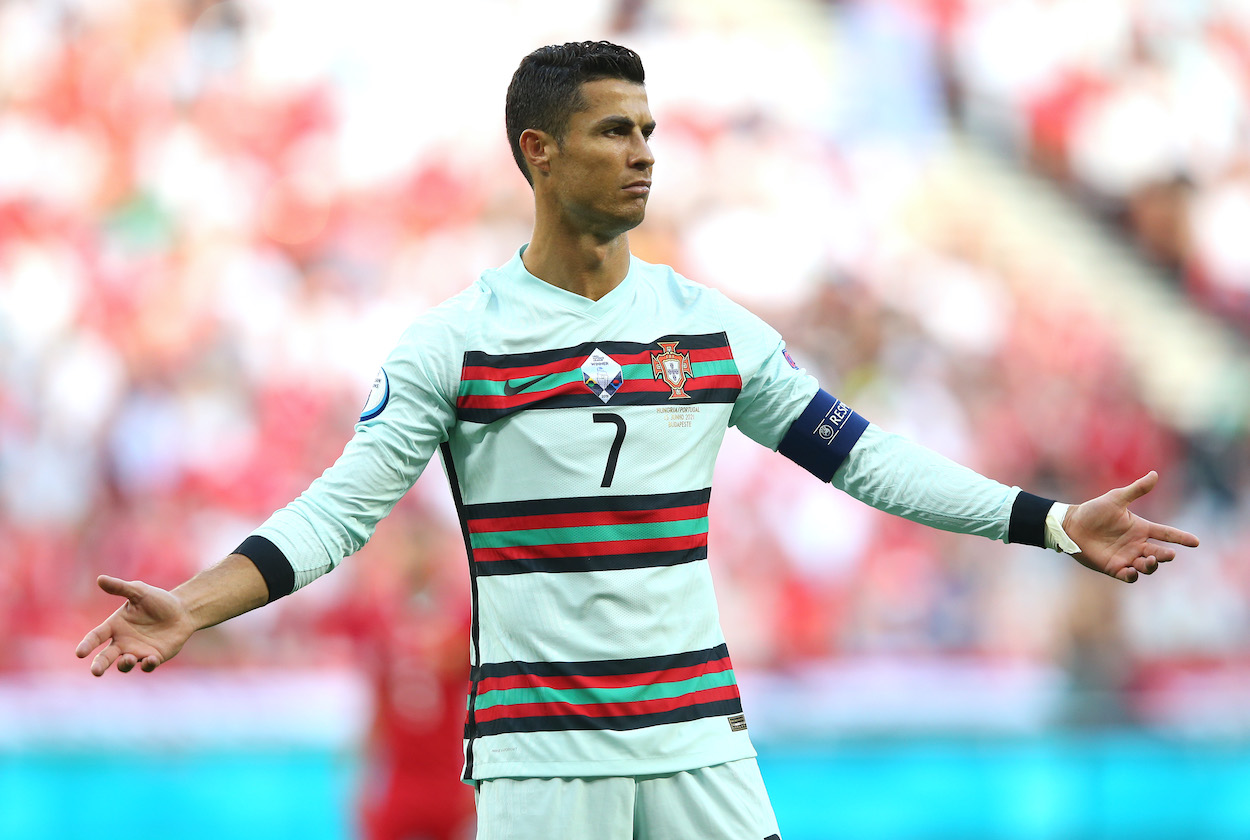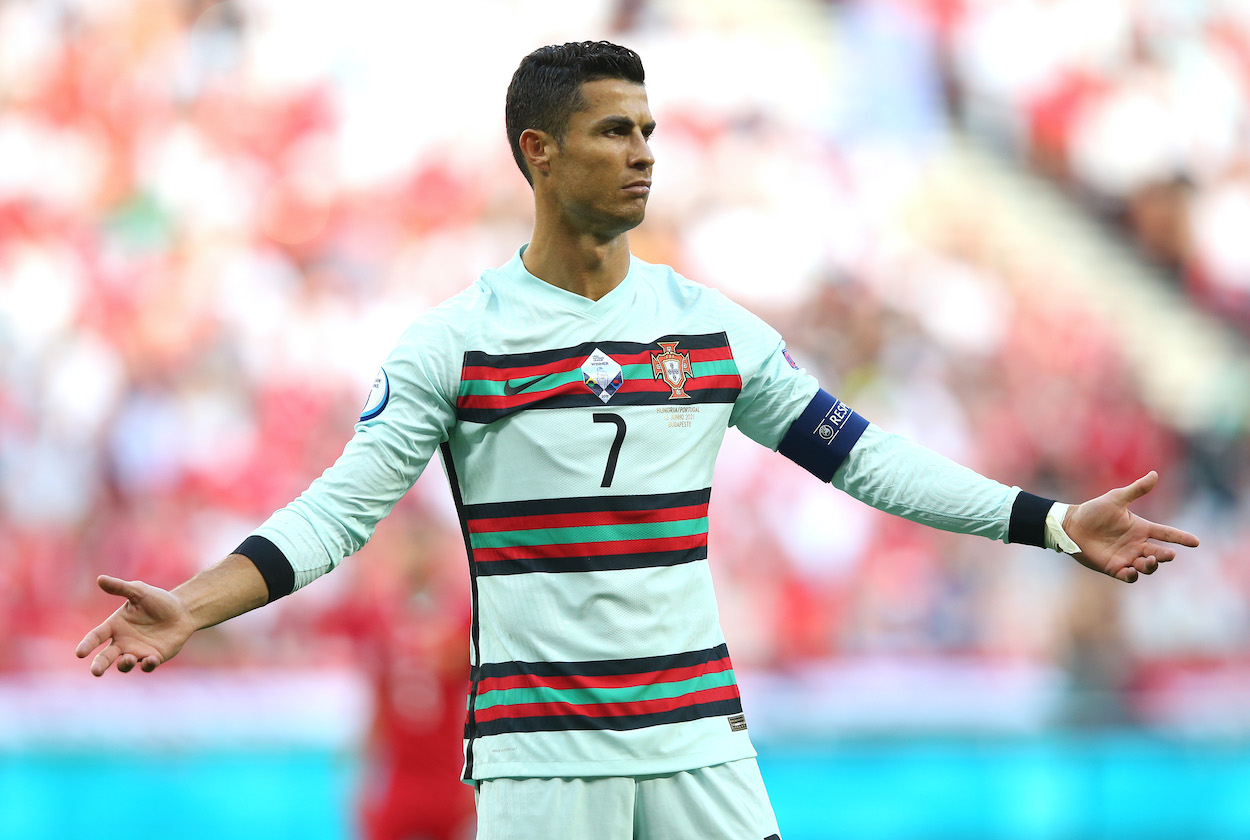 Ronaldo is a high-functioning machine of an athlete who's in better shape at 36 than most soccer players are at 26. But how has he maintained his elite fitness level and iconic six pack as he drifts past the prime of his career? With a rigid diet and a strict sleeping schedule, of course.
The Portuguese superstar's typical day starts with a ham and cheese breakfast sandwich and some low-fat yogurt. For lunch, he typically opts for a salad with chicken, in addition to some tuna, olives, eggs, or other proteins. After that, he'll snack on fresh fruit and avocado toast. Ronaldo usually eats two dinners every night, one consisting of fish and salad, and another of steak and calamari. His meal choices can vary, but he almost always eats six meals per day.
Excessive sugars, unhealthy snacks, and soft drinks will never enter Ronaldo's body as long as he's still scoring goals on the pitch. He's even teaching his son to stay away from unhealthy foods and drinks, especially soda.
"I'm hard with him sometimes because he drinks Coca-Cola and Fanta sometimes and I'm pissed with him," Ronaldo said after winning the 'Player of the Century' award at the Globe Soccer Awards last year. "I fight with him when he eats chips and fries and everything. He knows I don't like it."
Soda is a big no-no for the Juventus striker, so he wasn't happy when two bottles of Coke showed up in front of his face during a recent media session at Euro 2020.
Ronaldo sets off $4 billion chain reaction at Euro 2020 press conference
Ronaldo hates soda so much that he can't even stand to look at it. So when two bottles of Coca-Cola appeared in front of him during a press conference ahead of Portugal's Euro 2020 match against Hungary on Monday, he wasn't going to stand for it.
Immediately after the soccer legend sat down and saw the bottles, he grabbed them both and slid them across the table and out of view for the cameras. Afterward, he picked up his bottle of water, held it up for the media and cameras to see, and exclaimed in Portuguese: "Drink water!"
Now, that might seem like nothing more than a humorous jab at the soft drink giant, but the financial ramifications of Ronaldo's minor stunt were immense. On Monday morning, Coca-Cola's shares were worth $56.1 each when the market opened. Just 30 minutes after Ronaldo's innocent gesture, they had plummeted to $55.2 each.
That looks minimal at first glance, but the dip actually cost Coca-Cola, an official sponsor of Euro 2020, an absurd $4 billion in market value, according to The Athletic. The company's market value dropped from $242 million to $238 million in a half hour because Ronaldo moved a few Coke bottles out of his way.
Insanity.
France's Paul Pogba pulls a similar stunt
Just a day after Ronaldo set off a massive chain reaction by moving two bottles of Coke, France's Paul Pogba pulled a similar stunt in the press room. After France defeated Germany, 1-0, on Tuesday, Pogba sat down in front of reporters and removed a bottle of Heineken from the table in front of his microphone.
The star midfielder's gesture didn't tank Heineken's market value like Ronaldo's did with Coca-Cola, but sponsors are going to have to be more careful about who they place their products in front of at Euro 2020.