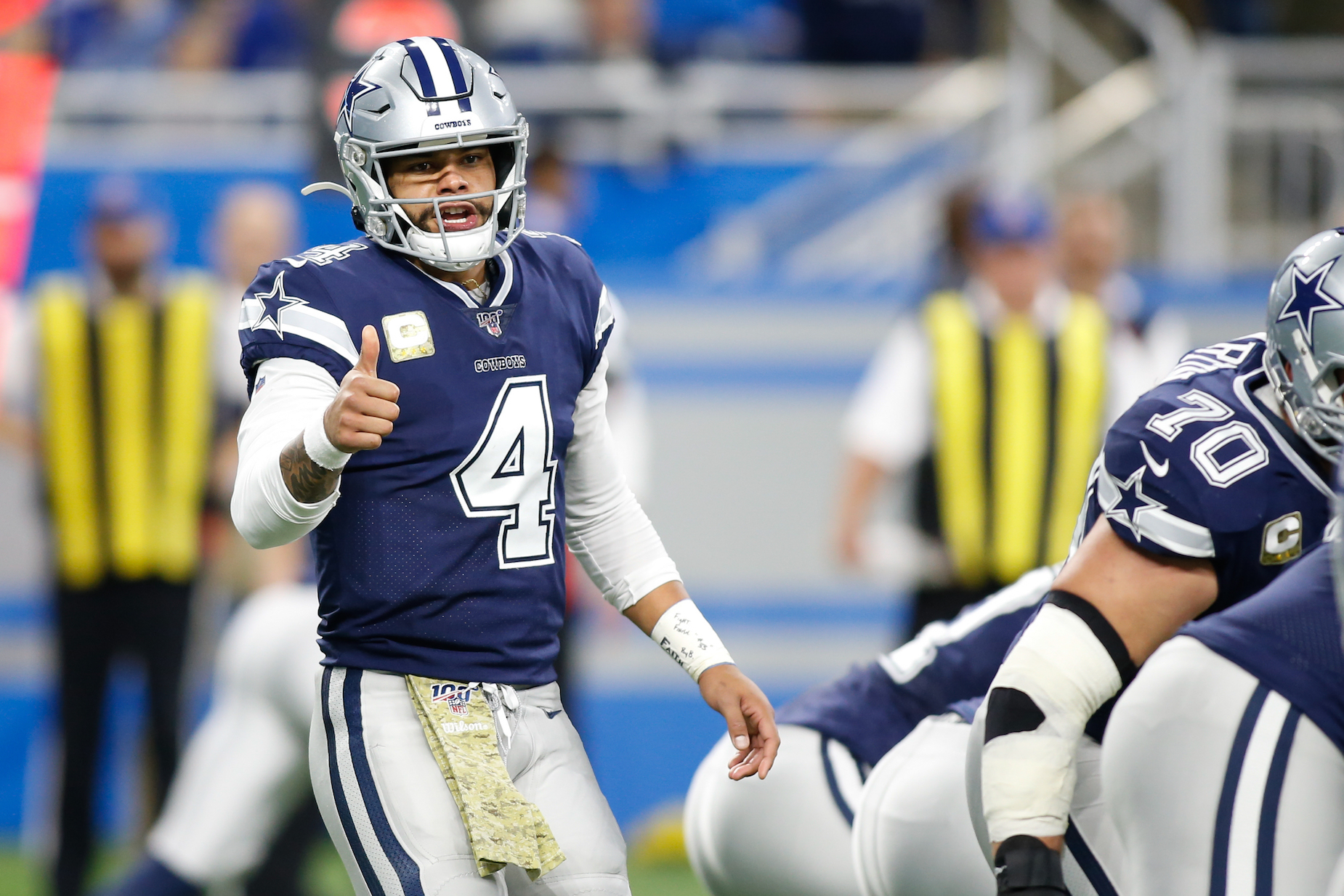 Dak Prescott Just Told Dallas Cowboys Fans Exactly What They Want to Hear Ahead of the 2020 NFL Season
While Dak Prescott's offseason didn't go according to plan, he just sent Dallas Cowboys fans an encouraging message ahead of the 2020 NFL campaign.
While it might seem like the Chiefs only lifted the Lombardi Trophy yesterday, the 2020 NFL season is about to begin. As always, the Dallas Cowboys will enter the campaign with high expectations; that, combined with the offseason contract drama, will put the spotlight squarely on Dak Prescott.
The quarterback, however, seems ready to put all of that baggage behind him and get down to business. Ahead of Week 1 of the 2020 NFL season, Prescott told Dallas Cowboys fans exactly what they want to hear.
Dak Prescott's offseason didn't go according to plan
During the 2020 offseason, several quarterbacks received big-money extensions. While Dak Prescott did get a raise, things didn't go smoothly at the negotiating table.
When the 2019 season ended, Prescott's rookie deal officially expired. Given his success and previous salary—as a fourth-round draft pick, the quarterback earned less than $5 million during his first four professional seasons—he wanted to be paid like one of the league's top stars. Jerry Jones and the Cowboys, however, had different plans.
Without relitigating an entire summer of rumors and reports—it seems like Prescott wanted more money and a shorter term, while the Cowboys stood firm on their five-year offer—the two parties couldn't meet in the middle. When the 2020 NFL season kicks off, Dak Prescott will be playing on a one-year franchise tag.
That reality, of course, can be a double-edged sword; while Prescott got a raise and the Cowboys will keep him under contract for this season, there's no stability. If the quarterback plays well, Jerry Jones will have to shell out more money this summer. If Dak struggles or gets injured, he'll suffer the financial consequences, and Dallas can simply find a new QB.
The Dallas Cowboys quarterback wants 'to be great'
Given the offseason drama of franchise tags and failed negotiations, it wouldn't be unreasonable for Dak Prescott to enter the season with a bad taste in his mouth. On Tuesday, however, the quarterback told Dallas Cowboys fans exactly what they'd be hoping to hear.
"I seize the moment. I focus on the now," Prescott explained, according to ESPN's Todd Archer. "I think it's very important for me to do exactly that and not to be distracted or put too much focus anywhere other than what it is that I'm doing now."
The quarterback went to assure everyone that he's simply focused on one thing this fall: being great. No amount of offseason drama can change that reality.
"My fire is burning, and my fire is big. You can throw whatever you want in there for it to burn and for it to get bigger," Prescott continued. "I don't know if I'm necessarily trying to prove something to the Cowboys or to this team because I feel like everybody in this building, this organization knows the player I am, knows the man that I am, knows where my heart stands. I just want to be great."
2020 will be a make or break season for the Dak Prescott and the Dallas Cowboys
When you play for a team like the Dallas Cowboys, there's always a certain amount of pressure. The 2020 season, however, will put Dak Prescott under the microscope.
In recent years, the Cowboys haven't made a serious run at a Super Bowl title. Jerry Jones probably isn't helping matters, but he isn't going to fire himself; that limits his options to changing coaches and finding new players. Given that this is Mike McCarthy's first year on the job, he's probably safe for the foreseeable future. That puts the spotlight on the players, especially Prescott.
Given the quarterback's contractual situation—as mentioned above, he's playing on a one-year franchise tender—Dak could easily become a scapegoat for a disappointing 2020 campaign. While the Jones clan has repeatedly pledged to sign him to a long-term deal, that hasn't materialized yet. If the Cowboys flop this fall, everything could blow up in Prescott's face; he could easily find himself with a less-lucrative contract or, if things truly collapse, facing free agency.
With the regular season fast approaching, Dak Prescott has been saying exactly what Dallas Cowboys fans want to hear. If he doesn't back it up on the field, though, no one will care about his fire and focus.