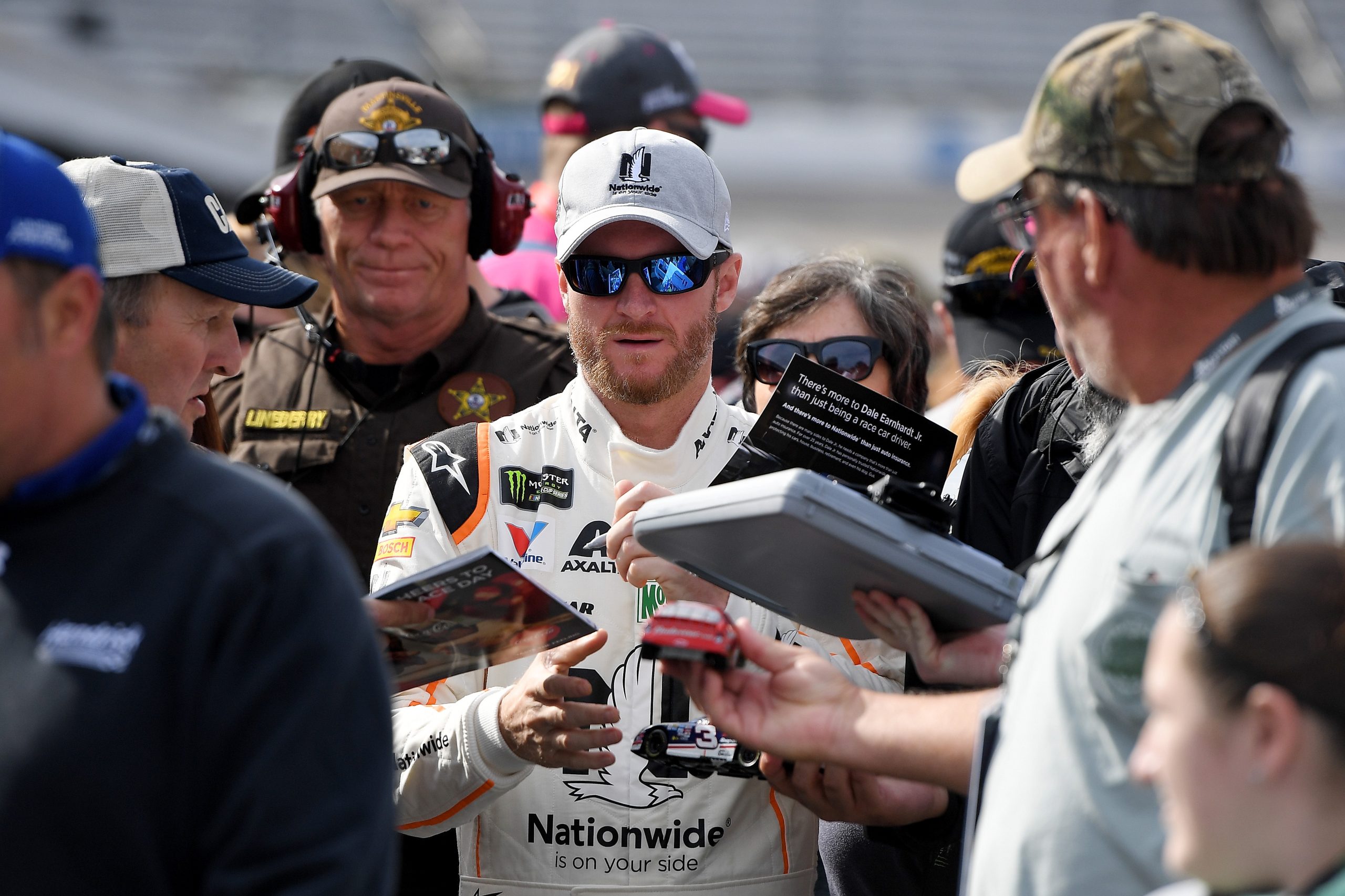 Dale Earnhardt Jr. Addresses Fans Who Take Passion Too Far and How It Adversely Affects Relationships With Other Drivers
Dale Earnhardt Jr. has a loyal fan base that has supported him for years but admitted some can take their passion too far.
Dale Earnhardt Jr. won 15 consecutive Most Popular Driver awards while racing in the NASCAR Cup Series. That impressive feat didn't happen by accident. His fans adore him. 
Even in retirement, he's still one of, if not the biggest ambassador for the sport, as an analyst for NBC's NASCAR coverage during the second half of the season and a year-round host of the popular Dale Jr. Download podcast. During one episode, Earnhardt talked about his fans and how sometimes they can take their fandom just a little too far. 
Dale Earnhardt Jr. admits fans sometimes go too far
The word fan is short for fanatic, which by definition is a person filled with excessive and single-minded zeal. That zeal can sometimes escalate to extreme levels. And when you're Dale Earnhardt Jr. and you have the biggest fan base of any driver, that means there's more chance of having a few overzealous supporters. 
During an episode of the Dale Jr. Download, Earnhardt admitted that he's had his fair share of fans who have taken their passion just a little too far. 
"Every fan base of every driver has those fans that are going to go too hard. Every one," Earnhardt said. "I had a lot of fans when I was racing, and so I certainly had those ones that were super passionate and definitely going to go after anybody that they felt ruined my day or cost me a position, a point, or a win. They'd go after NASCAR. They'd go after drivers. Whatever."
The two-time Daytona 500 winner said when his fans go after drivers and "get ugly," which happens more often on social media, in the end, it puts him in an awkward position. 
"I never like seeing the stuff on social media because the driver that's getting this stuff, I see him the next week or whatever," he said. "And he looks at me as if I was the one who sent the message. And he's like, 'You're responsible for this. Why are you not corralling this?'"
Earnhardt fan resorts to burning another driver's hero cards
The conversation on unruly fans came up during the podcast not long after Earnhardt had driven his one-off Xfinity Series race of the year at Richmond, battled and made contact with Josh Williams multiple times early in the first stage, and got a reaction from the young driver.
"I don't care if he's a hero or not, keep jacking me up dude," Williams said over his radio. "Like Jesus Christ. Like you've got plenty of room, use it."
After the race, the two drivers had a good laugh and joked about the incident. However, one fan didn't see the lighthearted postrace exchange and recognize that there was no animosity for the hard racing action. Or, he didn't care and posted a video of him setting multiple Josh Williams hero cards on fire.
"@NASCAR fans are the best sports fans lol," Williams wrote on Twitter. "Some dude put a video on my Instagram of him burning my hero cards… I love it." 
Fans turned against him in 2006
While Earnhardt's fans willingly go on the attack whenever they feel that he has been wronged, there was an odd incident in 2006 when the fans turned against the popular driver. 
During an Xfinity Series race at Michigan International Speedway, Earnhardt, Robby Gordon, and Carl Edwards were battling in the top three following a green-white-checkered restart when Earnhardt got into the bumper of Edwards, sent him sideways, and ended his race. Earnhardt was declared the winner over Gordon.  
A few minutes later, when he exited his car in Victory Lane, a loud chorus of boos rained down from the stands. After hearing the reaction, he addressed the situation in the postrace interview.
"You know we got a great core of fans, but that definitely is going to divide them right down the middle," Earnhardt admitted.
Fan is short for fanatic. And, it goes both ways.
Like Sportscasting on Facebook. Follow us on Twitter @sportscasting19.