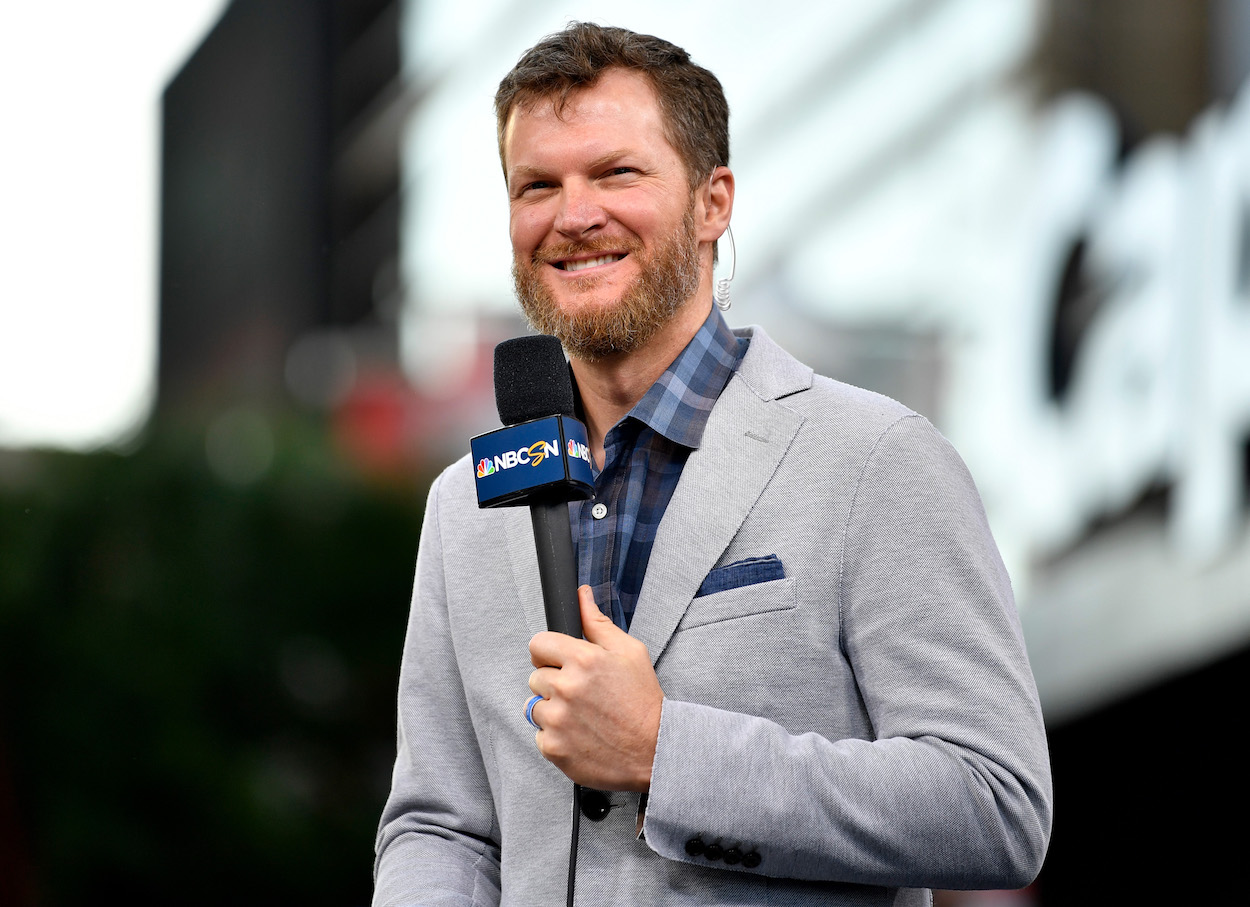 Dale Earnhardt Jr. and 1 of His Businesses Takes a Direct Hit With NASCAR's Latest Surprising Decision
Dale Earnhardt Jr. had one of his passions and businesses directly affected by NASCAR's latest surprising decision.
Dale Earnhardt Jr. is synonymous with NASCAR. After his father's legendary career, Junior produced his own successful career, winning 26 times, including twice at the Daytona 500. He remains very much involved with the sport as an analyst for NBC and the host of his weekly podcast, which is also shown on the Peacock.  
While Earnhardt loves the sport and is one of its biggest ambassadors, he doesn't always agree with the organization's decisions and openly talks about it. Last week, NASCAR made a surprising decision that Earnhardt hasn't publicly commented about but couldn't have made him happy because it adversely affects a business important to him.
Dale Earnhardt Jr. named iRacing executive director
Dale Earnhardt Jr. has been playing NASCAR racing games since the 1990s. In 2008, he combined his ties with NASCAR and his love of sim racing and set up the first meeting between NASCAR and iRacing officials at the JR Motorsports offices.
Not surprisingly, Earnhardt was the inaugural race winner in iRacing's premier eNASCAR division back in 2010 at Daytona. Last year, after years of promoting the platform, Earnhardt officially became a part of the iRacing family when he was named executive director and part of the company's management committee.
"I've been a sim racer for nearly three decades and a devoted iRacing member since its beginning," Earnhardt said at the announcement. "Realizing iRacing's potential early, its success has always been important to me. Whether it was connecting iRacing with NASCAR in 2008, making other partner introductions, developing content, laser-mapping racecars, Beta testing new technology, it has been a privilege to be a small part of iRacing's expansion. Even more, it means the world to me to officially become part of the family. I'm excited to work with them on new partnerships and projects to continue iRacing's meteoric growth."
NASCAR discontinues iRacing Pro Invitational Series in 2021
Last year, Dale Earnhardt Jr. and many former and current drivers spent a lot of time on iRacing when the pandemic hit. With NASCAR and the rest of the sports world shut down and drivers effectively stuck in their homes, it provided the perfect opportunity for Cup Series drivers to compete in races broadcast on television.
The eNASCAR iRacing Pro Invitational Series was born and featured multiple races in 2020. It continued this year with the first five races broadcast on FS1 at the virtual Bristol Motor Speedway dirt track, Talladega Superspeedway, Darlington Raceway, Circuit of the Americas, and a new Chicago street course.
However, this past week, according to the Sports Business Journal, NASCAR is discontinuing the series for the remaining five events scheduled to air on NBC. "As the U.S. emerged from the pandemic this year, viewership/industry interest in it have waned," Adam Stern of SBJ tweeted. 
Dale Earnhardt Jr. not happy with NASCAR before
While Dale Earnhardt Jr. hasn't publicly commented on NASCAR's seemingly out-of-the-blue decision, that could change during the next episode of the Dale Jr. Download. 
Earnhardt has never shied away from sharing his opinion on his podcast, even if it's counter to NASCAR's official line. Earlier this year, he expressed his frustration with NASCAR dragging its feet in finding ways to race in wet conditions. 
"I feel like we should have already incorporated this into the sport, racing in the rain on ovals," Earnhardt said. "Drivers love high horsepower and low downforce. Well, if you get a wet race track you basically have too much power and no grip. So that's what drivers want is more challenging condition and a wet or damp track would provide that."
Earnhardt likely won't hold back in sharing his thoughts on NASCAR's latest move in his next podcast. And if he's as candid as he has been in the past on other issues that he has disagreed with, expect it to be a must-listen episode.
Like Sportscasting on Facebook. Follow us on Twitter @sportscasting19.