Dale Earnhardt Jr. Cheering for 1 of His JR Motorsports Employees Competing in Tokyo Olympics
Dale Earnhardt Jr. has lived and breathed competition his entire life. Growing up, he watched his dad battle in NASCAR for years before he joined him at the top level of stock car racing. He's also been competitive off the track in business with JR Motorsports, which launched 20 years ago.
Over the next few weeks, Earnhardt won't be competing, but like many Americans, he will be a patriotic fan cheering on the Red, White, and Blue at the Tokyo Olympics. However, he will be doing so with a special interest in one particular sport. That's because an employee of JR Motorsports is competing in the Games.  
Dale Earnhardt Jr. has achieved success at JR Motorsports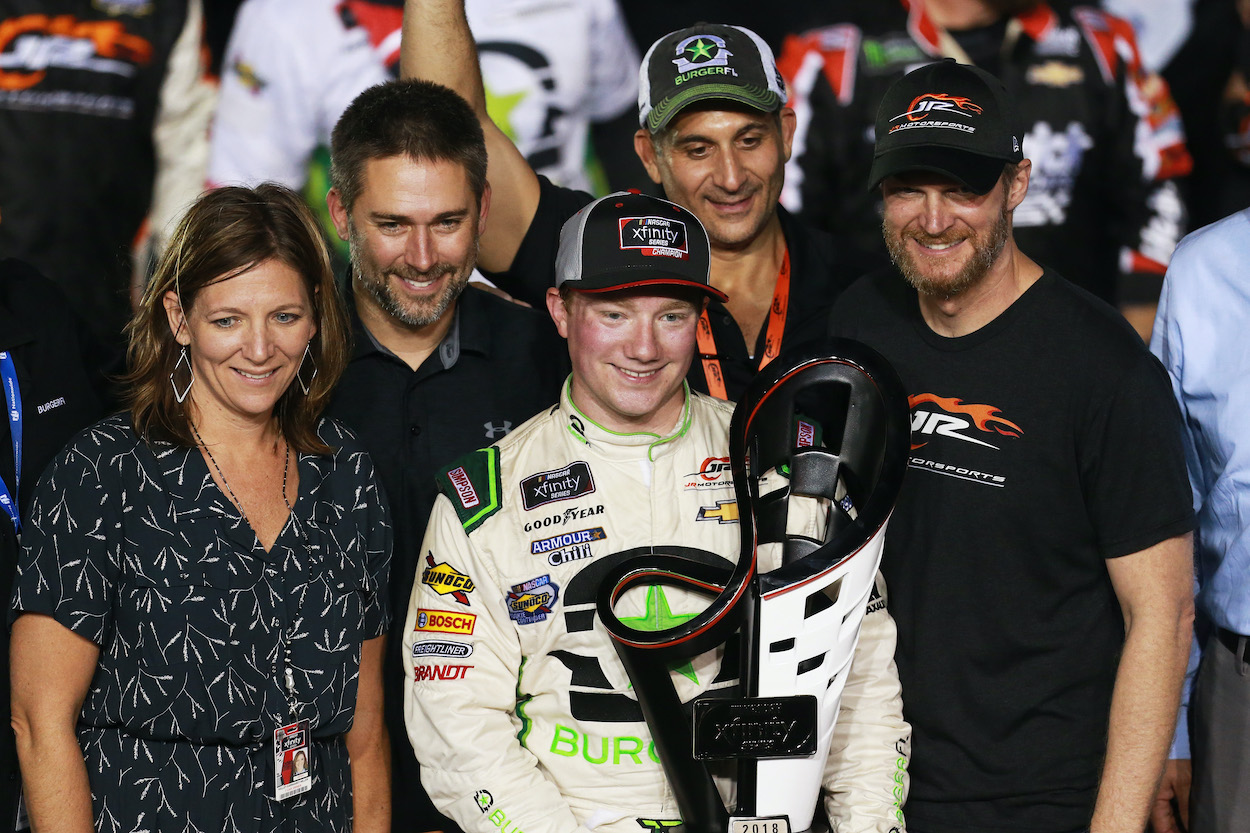 Dale Earnhardt Jr., his sister Kelley Earnhardt Miller, and NASCAR Hall of Famer Rick Hendrick co-own JR Motorsports, which launched in 2002 with a late model program. 
Since that first year, the company has seen tremendous growth and success. The organization currently fields four Xfinity Series teams and has earned three championships in 2014, 2017, and 2018. 
In addition to the work on the track, JRM has expanded into other areas, including marketing and original content production. Earnhardt hosts his weekly Dale Jr. Download podcast, and it is just one of several that cover racing. 
Dale Earnhardt Jr. talks about JR Motorsports employee competing in Tokyo Olympics
While Dale Earnhardt Jr. is synonymous with NASCAR, he surprisingly revealed on the latest episode of his podcast that one of his employees is competing at the Tokyo Olympics. 
"We do have a JRM employee competing in the Summer Games. How about that! " Earnhardt said excitedly. "Tyler Justus Paige is competing in the double-handed sailing."
According to Earnhardt's podcast co-host Mike Davis, Paige is an engineer who worked as an intern and is hoping to come back and work full-time at JRM once the Olympics are over. 
Tries to understand sailing and why employee competing for American Samoa
After initially talking about Paige and his time at JR Motorsports, Earnhardt and Davis then discussed the Olympics and details of the sailing competition. 
"He's actually not on Team USA," Davis surprisingly said. 
"That's throwing me for a loop," Earnhardt replied and drew a big collective laugh from those in the room. "What team's he on?"
After Davis identified that Paige was competing for American Samoa, he said he personally asked the Olympian whether he'd know the words to the anthem if he won gold. 
"Nope, but I'll learn them," Davis recalled Paige telling him.
Paige also educated Davis on other facets of the competition, including the strongest teams in the event.
"Spain is really good, and Australia is really good," Davis said. "He said we're also rooting for 10-knot winds or less." 
Earnhardt was clearly excited to know someone from his JR Motorsports team was competing in the Olympics, albeit confusingly for a team that isn't the United States in a competition he has never experienced but is open to learning about. And who knows? In a few weeks, he might be able to have Paige on as a podcast guest donning his freshly won Olympic medal. 
Like Sportscasting on Facebook. Follow us on Twitter @sportscasting19.