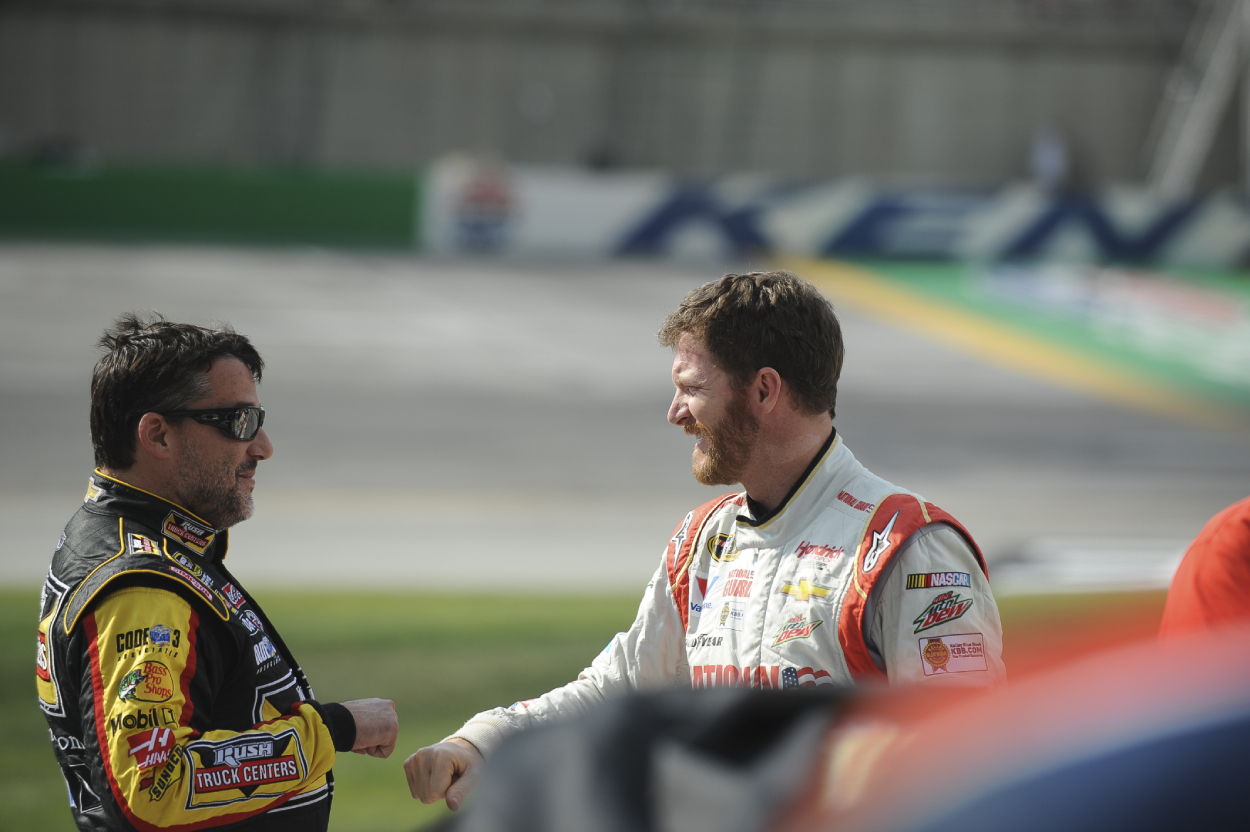 When Dale Earnhardt Jr. Was Compared to Tony Stewart, He Knew He Had 'Arrived'
When Dale Earnhardt Jr. was compared to Tony Stewart early in his career, he knew he had "arrived."
Dale Earnhardt Jr. is worth $300 million. The former NASCAR driver is one of the best in the motorsports world and will join his legendary father, Dale Earnhardt Sr., in the NASCAR Hall of Fame. He never knew if he would be able to live up to his father's expectations, but once he was compared to Tony Stewart early in his career, he knew he had "arrived."
Dale Earnhardt Jr. set to be officially inducted into NASCAR Hall of Fame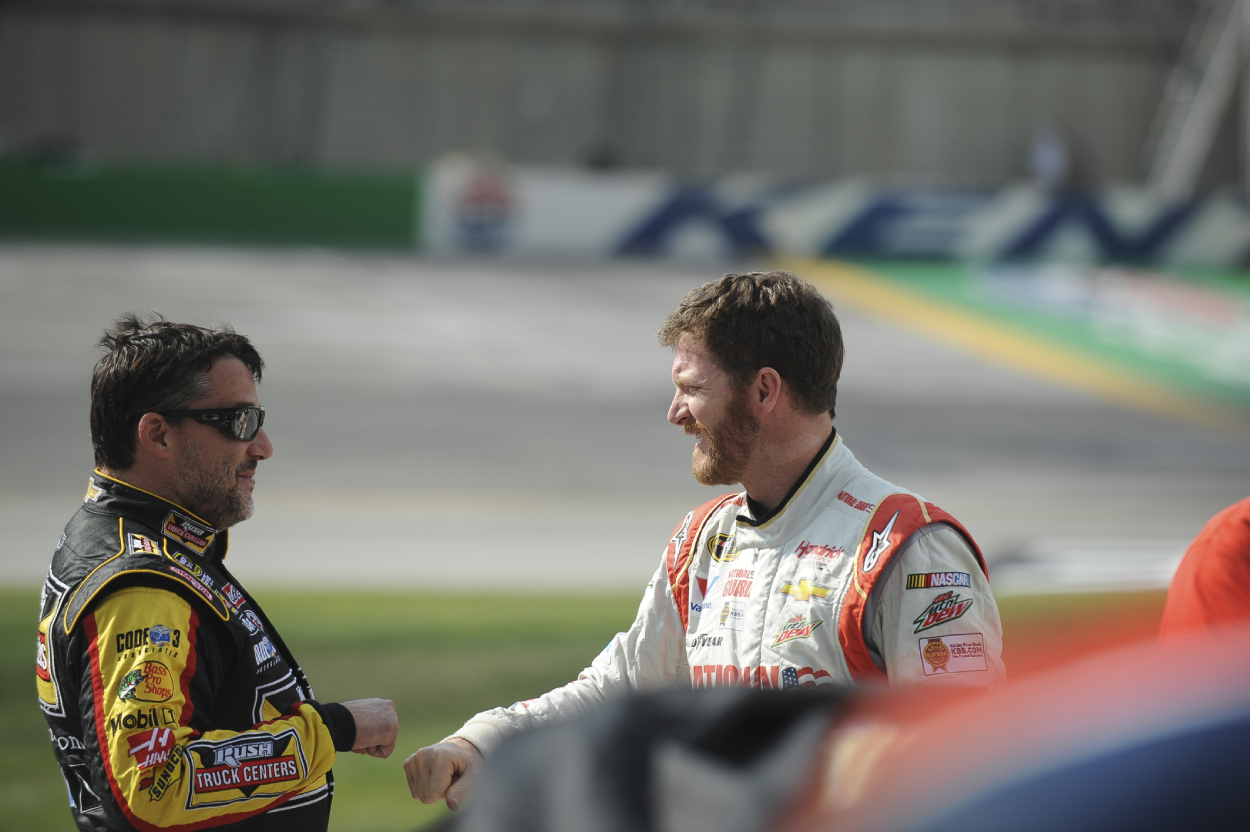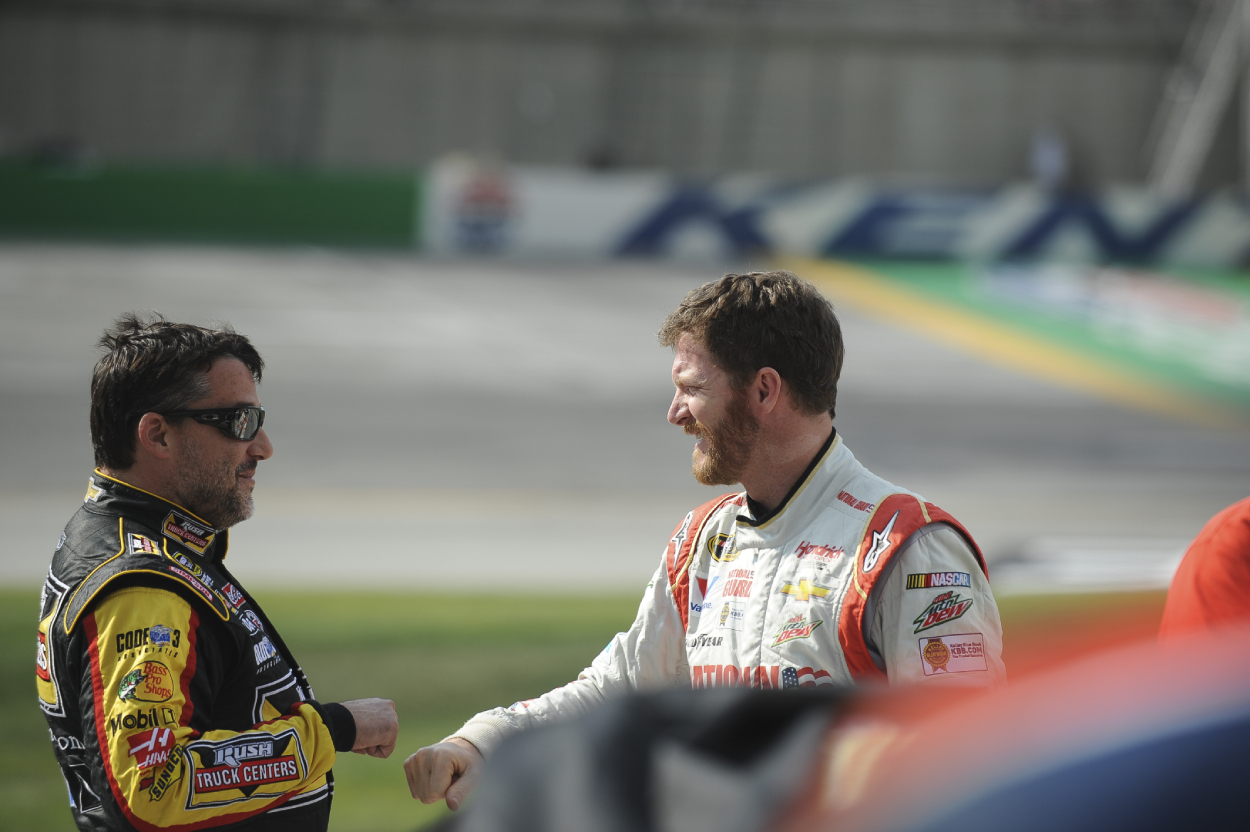 Technically, Earnhardt Jr. is a Class of 2021 NASCAR Hall of Famer, but he likely won't be officially inducted until 2022. The ceremony was scheduled for Feb. 5, 2021, but because of COVID-19 concerns, it was pushed back. It's expected to take part in the early part of 2022.
Junior earned his way to the big stage after a long and successful NASCAR career that saw him earn Daytona 500 victories in 2004 and 2014. He finished his career with 26 total Cup Series victories while adding 260 top-10 finishes. For 15 consecutive years, Earnhardt Jr. was named NASCAR's most popular driver.
He will enter the Hall with two other drivers. Red Farmer and the late Mike Stefanik will also be inducted. Ralph Seagraves will be the recipient of the Landmark Award. Junior will join his father, who was a member of the Hall's first class back in 2010.
Earhnardt Jr. had an impressive rookie season
RELATED: Dale Earnhardt Jr. Showed He Was Different Than Most NASCAR Drivers by Demanding a Pay Cut
Earnhardt Jr. won his first NASCAR Cup Series race in 2000 at Texas Motor Speedway in the DirecTV 500. With that win, he broke the record held by his father for the fewest starts by a driver in the modern era to notch his first victory. He did so in his 12th start.
Junior followed it up with another victory at Richmond International Raceway and showed he wasn't just racing as Dale Earnhardt's son. He was making a name for himself. When he got into racing, Junior said he wanted to make enough money just to be able to pay the bills. Now he saw his confidence soar.
"We're not only going to make a living doing this, but we're going to win races," Earnhardt Jr. said to NBC Sports as he reminisced about his career in 2018. "When I got into racing, I just wanted to be able to pay my bills and hopefully do good. We were winning, man."
Earnhardt Jr. 'arrived' when he was compared to Tony Stewart
Junior's two quick wins as a rookie boosted his confidence and helped him emerge from his father's shadow. When he was speaking with NBC Sports analyst Rutledge Wood in 2018, he remembered how good he felt when people were mentioning him and Tony Stewart in the same breath.
"To win two races so quickly in my first year was a big deal," he said. "When we won Texas, everybody was like 'wow, a rookie won. Tony Stewart had won as a rookie. Tony Stewart was a great driver. Dale Junior might be a great driver. He just won as a rookie.'
"And then we won another race right behind that and they're like Dale Junior has arrived. This is the way I was remembering and feeling at the time, like man, we're here."