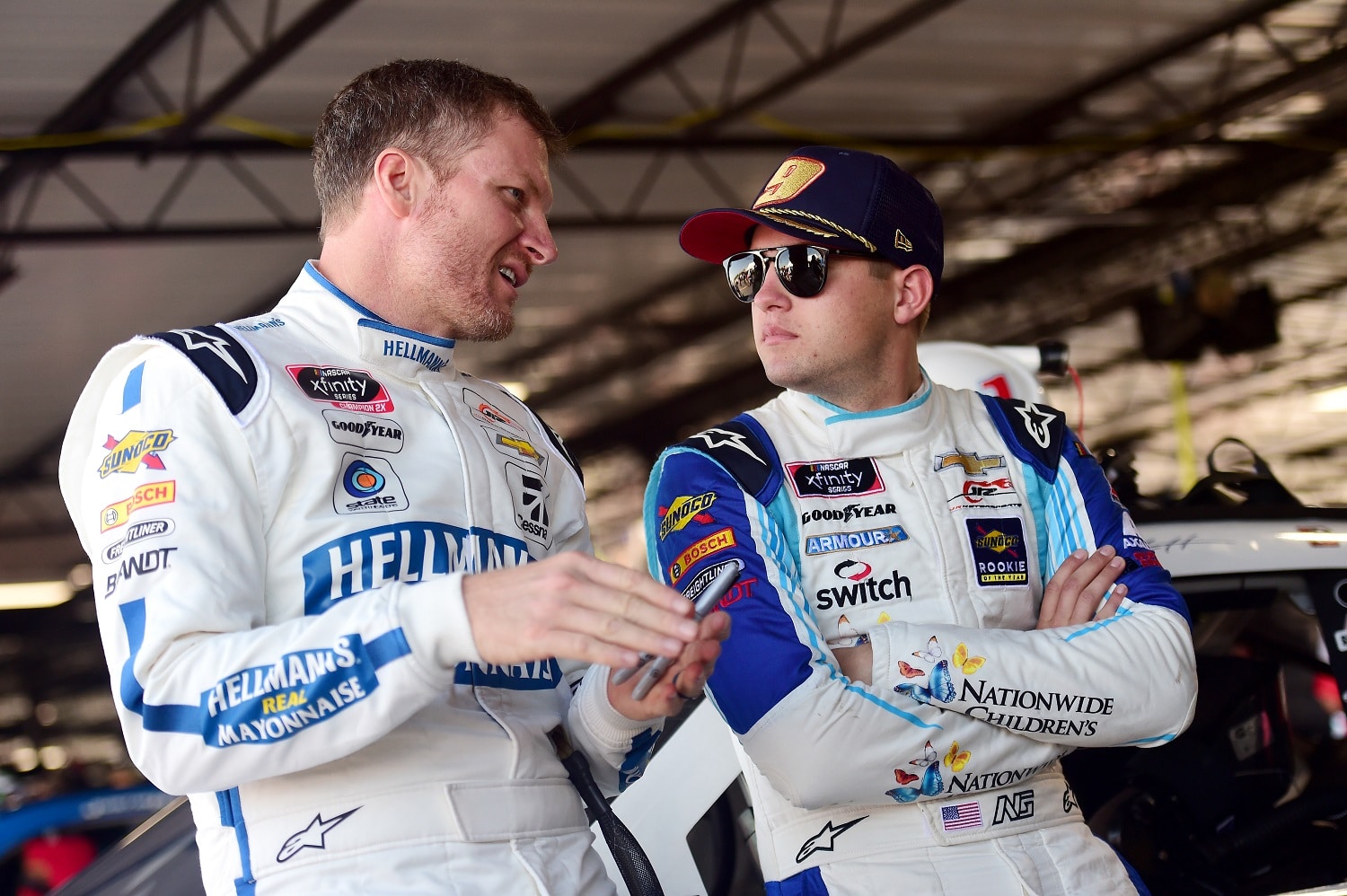 Dale Earnhardt Jr.'s Take on Daniel Hemric Spinning the No. 9 Chevy Doesn't Jibe With Noah Gragson's Explanation
Dale Earnhardt Jr. and Noah Gragson speak in the garage during practice for the NASCAR Xfinity Series Sport Clips Haircuts VFW 200 at Darlington Raceway on Aug. 30, 2019.
Daniel Hemric getting into the left-rear quarter panel of Noah Gragson's Chevy on Saturday didn't produce the day's last spin. Instead, Gragson's put out a sanitized version of events that took the sting out of Dale Earnhardt Jr.'s take.
Noah Gragson and Daniel Hemric have a history and a business relationship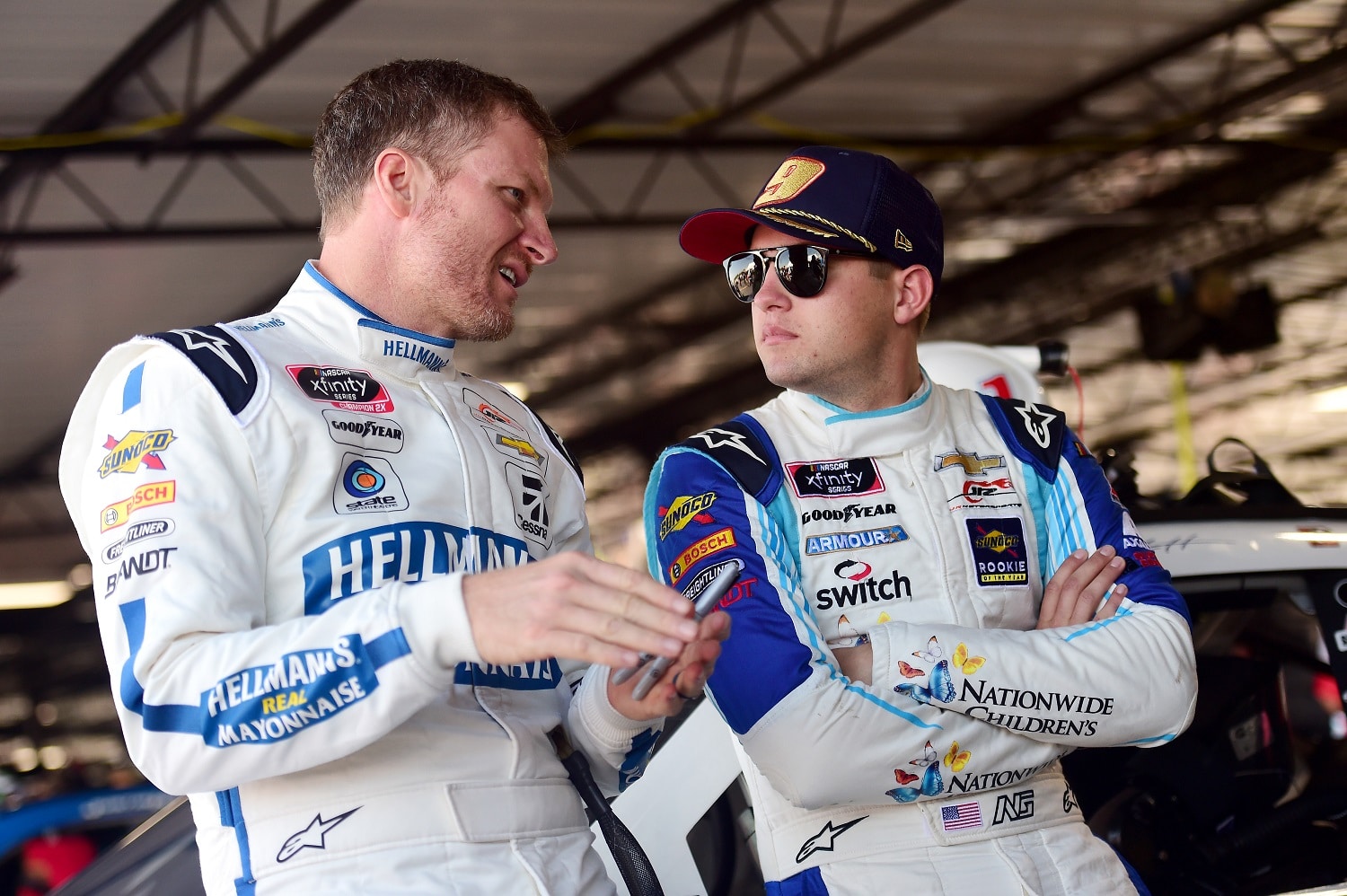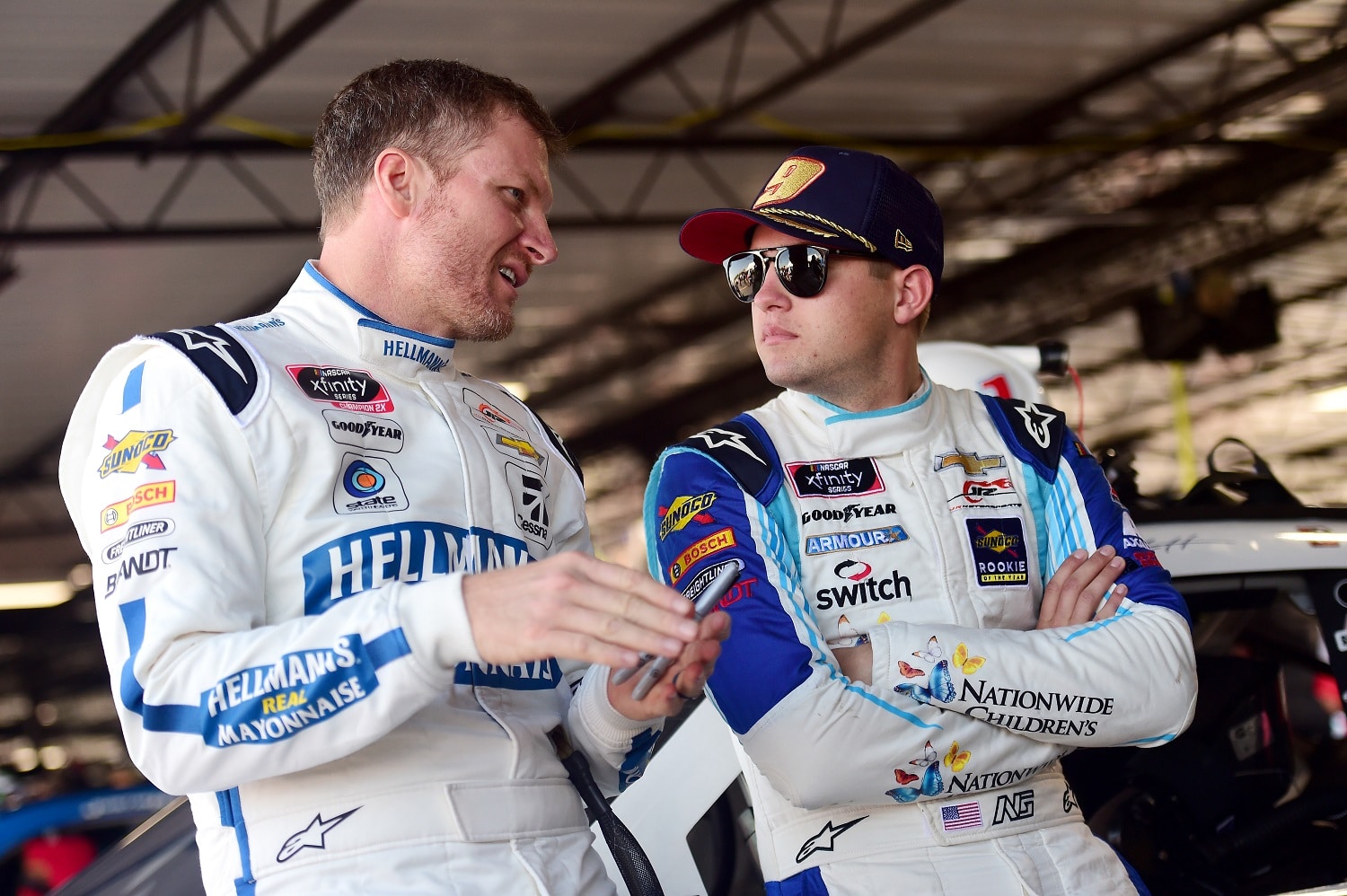 Per a popular euphemism, Noah Gragson and Daniel Hemric "have a history." Just like 16 months ago, the tension on Saturday at New Hampshire Motor Speedway made for an interesting sidebar to a Justin Allgaier victory in the NASCAR Xfinity Series.
After racing in the EchoPark 250 at Atlanta Motor Speedway in March 2021, Gragson and Hemric brawled in pit lane. It started when they pitted in adjacent boxes late in the race. The area was congested, and both drivers overshot their boxes. Hemric, driving a Joe Gibbs Racing Toyota, was the first to back up, and everything looked as though it would work out.
However, when Gragson backed up, he rammed the front of Hemric's car. That didn't sit well with Hemric, who went on to win the series championship at the end of the season. After the race, Hemric budged in on an interview Gragson was doing, and pushing and punching ensued.
The dispute continued on social media, though NASCAR gave Gragson the benefit of the doubt after viewing the footage and talking to the drivers.
Fast-forward to the end of the year and the offseason: Hemric left JGR to sign with Kaulig Racing, and his new team confirmed it would run two cars in the 2022 Cup Series. Justin Haley is full-time in one of the two. However, Kaulig enlisted Gragson, Hemric, and AJ Allmendinger to split the 36 points races in the No. 16 Chevy. Allmendinger will drive Sunday in Loudon.
The problems continued at Road America
The internet has replayed the Road America crash instigated by Noah Gragson on an infinite loop since July 3. Daniel Hemric was one of the drivers whose car was put out of commission in the massive commotion that ensued after Gragson took a deliberate hard right turn into Sage Karam.
So, naturally, everyone did the math Saturday after Hemric spun out Gragson on the last lap of the second stage at Loudon, and most decided that 2+2=4, as in it was payback. Surprisingly, however, Gragson didn't see it that way even though there was an earlier incident in which he brushed into Hemric's No. 11 Chevy. Rather, he absolved Hemric of any blame and attributed both situations to wheel-hop.
"That wasn't intentional at all," Gragson said. "It's so bumpy getting into the corner like when I spun from the '11,' I didn't say anything because I did the same thing three laps earlier."
Hemric dropped out a few laps into the final stage after an apparent blown tire sent him into the wall, but that was unrelated to what took place with Gragson.
Dale Earnhardt Jr.'s take on Daniel Hemric spinning Noah Gragson was different
The Road America incident revealed Noah Gragson's overly aggressive driving style to the few holdouts who'd been overlooking it, and NASCAR came down hard with a fine and a points penalty.
Gragson went on an apology tour of some of the garages, but that doesn't mean all was forgiven. Drivers hold grudges, and Dale Earnhardt Jr., the owner of Gragson's car, seemed to be leaning in the direction that Hemric exacted revenge at the end of Saturday's second stage.
"I was hoping that nothing happened additional after that little deal," Earnhardt told reporters. "It's hard to hold back your frustration and anger, but Noah can't afford to go make contact with the '11' after getting spun. He's sort of in the penalty box right now, right? He can't afford to go retaliate."
That sure sounds like casting aspersions upon Hemric. If so, though, Earnhardt reaffirmed that Gragson brought any difficulties upon himself.
"When he made a mistake and wheel-hopped into the door of the 11, even though it was a mistake, that's all it's going to take to get something in return because of what has happened at Road America. So, he just has to race a little careful, and give these guys a little more respect and room, and everything should be fine."

Dale Earnhardt Jr.
Like Sportscasting on Facebook. Follow us on Twitter @sportscasting19 and subscribe to our YouTube channel.
Got a question or observation about racing? Sportscasting's John Moriello does a mailbag column each Friday. Write to him at [email protected].