Dale Earnhardt Jr. Insists He Will Defend Denny Hamlin Against NASCAR for Remarks on Upcoming Podcast but Also Recommends Driver Save Money for Fines  
Denny Hamlin has never been one to shy away from sharing his opinion. And he's shown no one is safe. Other drivers, the fans, and NASCAR officials have all been on the receiving end of the Joe Gibbs Racing driver's sharp remarks.
So what happens when you give someone as outspoken as Hamlin a platform to talk about whatever they want? We're about to find out as the driver will join the Dirty Mo Media family for the 2023 season with his own podcast.
This week Dale Earnhardt Jr. talked about the decision to bring on the opinionated driver, what he thinks fans can expect to hear on the show, and offered some advice to the three-time Daytona 500 winner about saving money to pay the upcoming fines from NASCAR. 
Denny Hamlin joins Dirty Mo Media family
Denny Hamlin appeared as a guest on the popular Dale Jr. Download and Door Bumper Clear podcasts last year. During each appearance, the 42-year-old driver blended in seamlessly with the show, bantering back and forth with the co-hosts while providing informative, thoughtful commentary and revealing a solid sense of humor. He was a natural.
Earnhardt and longtime business partner Mike Davis saw that. They immediately began thinking about possibilities. Those possibilities became a reality this week when Dirty Mo Media announced Hamlin will be the latest host of a podcast called Actions Detrimental, which will debut in February. 
The once-a-week show is the newest addition to the Dirty Mo brand that includes the DJD, DBC, and Speed Street, which came on board last year and features IndyCar driver Conor Daly with comedian Joey Mulinaro talking about the latest in motorsports, IndyCar, and life on and off the track.
Dale Earnhardt Jr. talks about Hamlin being calculated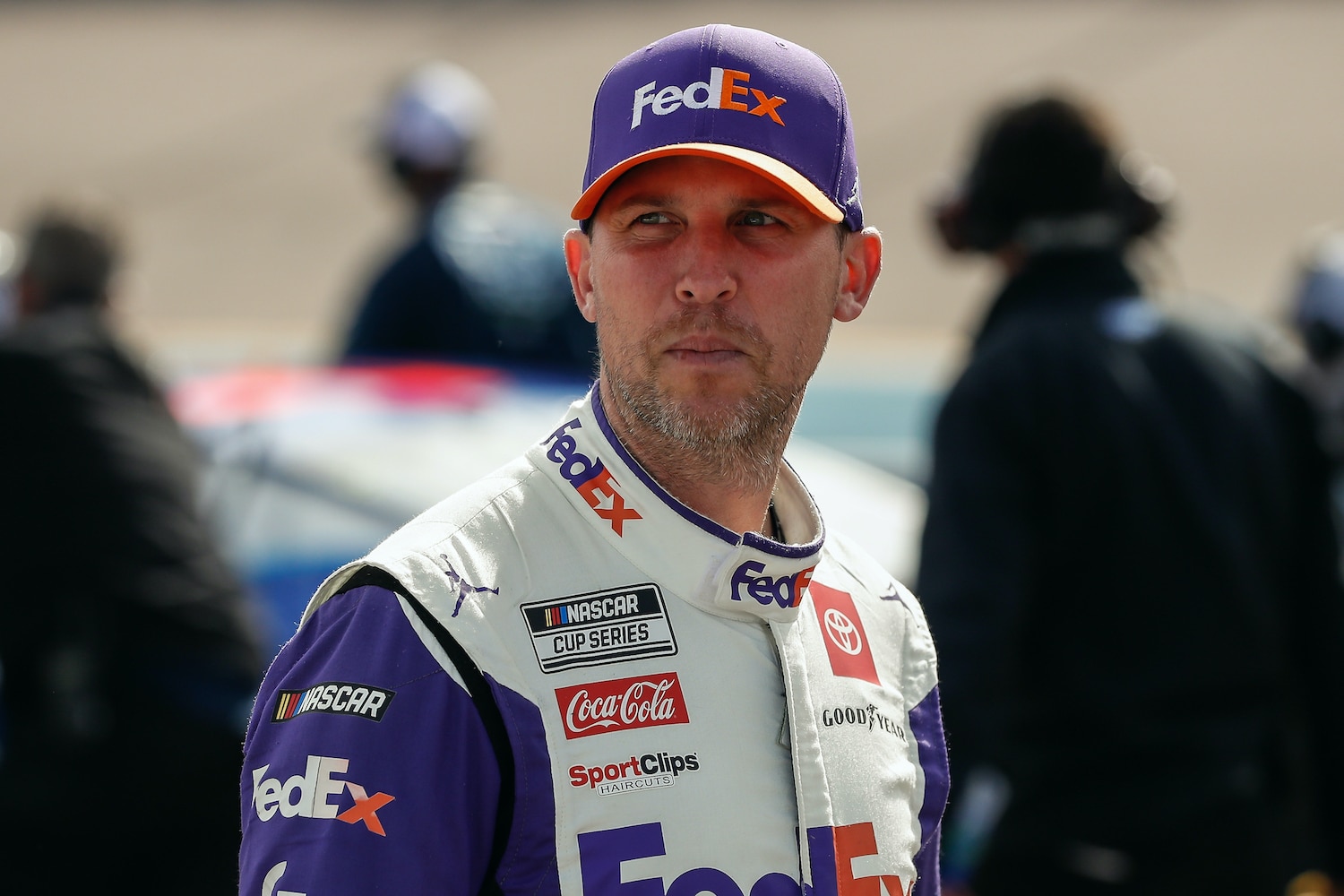 In addition to Speed Street, the media production company also created a new podcast format in 2022 called Dirty Mo Media Live, which features various guests and a rotation of show co-hosts in a more casual setting sitting on a couch, enjoying adult beverages, shooting the bull, and responding live to reader questions and comments on social media.   
The first Live episode of 2023 was devoted to discussing the details of Hamlin's new podcast, and Junior dropped by for an appearance. During the show, a fan asked if Earnhardt would have a personal seat in the NASCAR hauler to defend Hamlin for the controversial things he would likely say and get him in trouble with the sanctioning body.
"I think that no matter what kind of troubles the guys get themselves into, I have no problem sitting down in the room with anybody that wants to talk to them. Whether it's NASCAR or anybody," Earnhardt said.
"I've had a couple of conversations with some execs at NASCAR, and while they may not love everything that happens in the media or happens on our podcasts, it's sort of this necessary thing to have shows out there, have chatter, have conversation, different opinions, different viewpoints. I think Door Bumper Clear is a great example of that.
"I don't think that Denny is ever going to get into some of the controversies or challenges we see with Door Bumper Clear from time to time. Denny will be a lot more measured and less by the seat of his pants I think. He's definitely going to be more calculated." 
Earnhardt recommends driver save money for upcoming fines
Later in the Live episode, the discussion drifted to Hamlin's recent tweet, where he thanked Earnhardt and Davis for the opportunity to host a podcast. 
"I wanna thank @DaleJr and @MikeDavis88 for this opportunity and the fat check they had to write me to do it," the driver wrote. "I figured with all the spare time I had why not."
"Lot of sarcasm in there," Earnhardt said of the tweet.
"He told us he was going to donate it back to the (Dale Jr.) Foundation," Davis replied.
"I think he needs to put it in the bank for the potential fines coming down the road," Junior said, which generated a big laugh from those in the studio. 
While Earnhardt said he believes Hamlin will be more measured and avoid trouble with the sanctioning officials, he also understands that sometimes when emotions run high, things might get said that will not be well-received by NASCAR. If that happens, it might land the driver in NASCAR jail, but it will likely be entertainment gold. And we know who will be responsible for the fine.