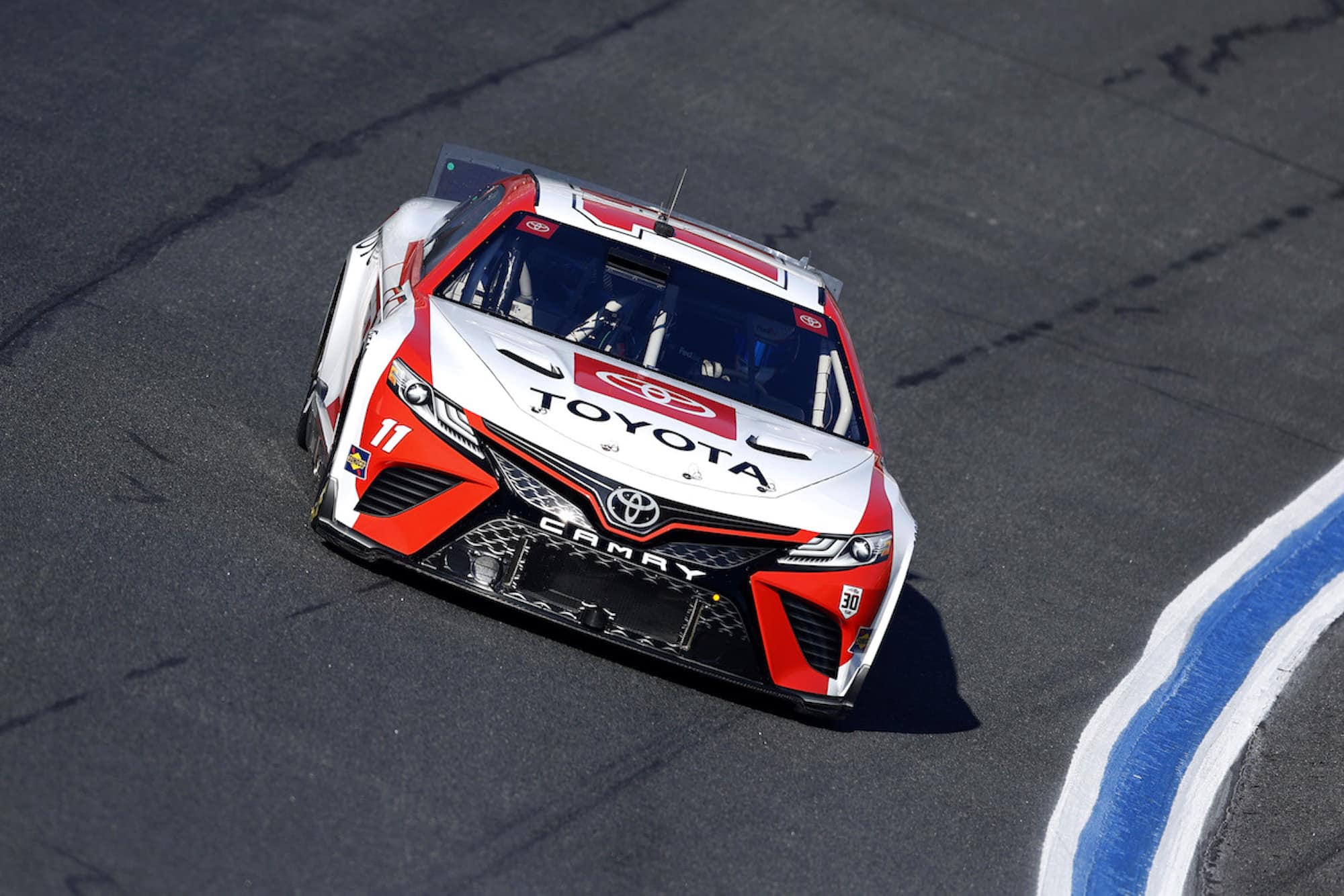 Joe Gibbs Racing Sends NASCAR Fans Into Frenzy With Video of Team Using Electric Car
Joe Gibbs Racing sent NASCAR fans into a frenzy this week, sharing a video on a controversial topic that is divisive among the sport's followers.
Since the shocking death of Coy Gibbs in Phoenix, just hours after his son Ty won the 2022 Xfinity Series championship, the NASCAR community has wrapped its collective arms around Joe Gibbs Racing with love and support from other teams, drivers, and fans. 
Interestingly, in the last couple of weeks, the organization has received attention for something very different. First, it was a video shared on social last week about Christopher Bell's team that required a warning for its graphic nature. And then, this week, the team posted another video, which touched on a controversial topic and sent NASCAR fans into a frenzy.  
Joe Gibbs Racing shares graphic video
Christopher Bell saw his chances at his first Cup Series championship vanish on the final pit stop at Phoenix, which lasted for just a shade under 20 seconds. What Bell and the team didn't know at the time was the stop almost cost jackman Caleb Dirks something much more painful — his finger.   
Last week, the organization shared footage from the jackman's helmet cam, which included a warning at the beginning due to the content's graphic nature. The almost 40-second video first shows Dirks running around the front of the car, jacking up the driver's side before grabbing the wheel and placing it on the rear-left side. 
It's a confusing moment because the tire changer backs off the wheel with the gun in hand, thinking that the tire change is complete, but Dirks' finger remains lodged under the wheel. The tire changer hits the wheel again to get the finger loose, but it doesn't work. A third time with the gun and the finger comes free. Dirks immediately turns around and falls to the ground before realizing he hasn't lowered the jack. He turns, lowers the jack, and Bell speeds away.
The team then included a portion of the video that shows what happens to a hot dog wiener that's put through that same scenario. The dog loses, and it's ugly. The video concludes by showing a photo of Dirks' injuries, including bruising and cuts to his middle and index fingers. 
"It's a miracle that Caleb didn't sustain major injuries (unlike the hot dog in our illustration)," the tweet said. 
New week, new attention-grabbing video from Joe Gibbs Racing 
This week, the organization, which is very active on social media, posted a video that showed a Toyota Camry on the JGR Campus repeatedly coming to an abrupt halt, simulating a pit stop. It then included footage from inside the car with cables and a lot of batteries. A. LOT. Sounds harmless enough. It was until JGR described what people were seeing.
"It's electric," the tweet said. "A look at the electric car that our pit crews are going to practice pit stops with here at the shop. #NASCAR #racing #electric"
There was a large response, and the negative ones were the loudest. 
"Well time to stop watching NASCAR when this happens. Terrible idea," one fan wrote. 
"If @nascar goes electric I'm DONE!!!!!," wrote another. 
There were others who pointed out that JGR was not showing its latest electric car intended for use in a future Cup Series event, but just a car designed solely for the purpose of pit stop practice with practical reasons for doing so. 
"Do ya'all even read a post? Or are just here for the pictures. It's for Pit stop practice. It's actually kind if genius," one fan wrote. "They probably burn 20-30 gallons of race fuel per session. Race gas is over $10/gal. Add that up over the year. And you can practice indoor."
NASCAR already admitted it's going electric at some point in future
While JGR might use the electric car for pit stop practice due to all the reasons posted on social media, including saving gas, it's also understood that the organization is looking to the future. And it's a future that NASCAR has acknowledged will include electric. President Steve Phelps said as much last year on the I Am Athlete podcast.
"Sound is such a big part of our sport," Phelps admitted. "There's a tradition, a history that comes with what they call an ICE engine — internal combustion engine. I think what we'll do in the interim, in three or four years, probably three, is to have an internal combustion engine that has a hybrid piece to it, electrification piece to it. But it will still sound like one of our cars.
"We may try doing an exhibition-type deal, and you don't have competitive pit stops. We need to make sure we're owning a space that someone else could take, and that's what good business does."
In July of this year, Kickin' The Tires.net obtained leaked documents that revealed NASCAR was planning to debut a prototype electric vehicle during an event at the 2023 Clash, and the plan included exhibition races in Q3 at six venues aligned with Cup Series races, with each event a 30-minute race, one on Saturday and one on Sunday. If things went according to plan, the hope is a potential first-year competition beginning in 2025. 
There hasn't been any recent news on if the prototype electric car will be in LA. The bottom line is as much as some fans don't love the idea, electric is going to happen. NASCAR is directly linked to the manufacturers, which are producing more electric vehicles each year. That's the growing trend in the automotive market, and NASCAR is going to do its best to reflect that.