Dale Earnhardt Jr. Says He Wished He Tasted Victory on 1 Particular Race Track
Dale Earnhardt Jr. doesn't have a whole lot of regrets when it comes to his NASCAR career. He won his share of races and emerged from the shadow of his father, the legendary Dale Earnhardt Sr., to earn his place in the NASCAR Hall of Fame. Despite the success, Junior recently revealed there was one race track where he wished he'd been able to taste victory.
Dale Earnhardt Jr. had some big victories in his NASCAR career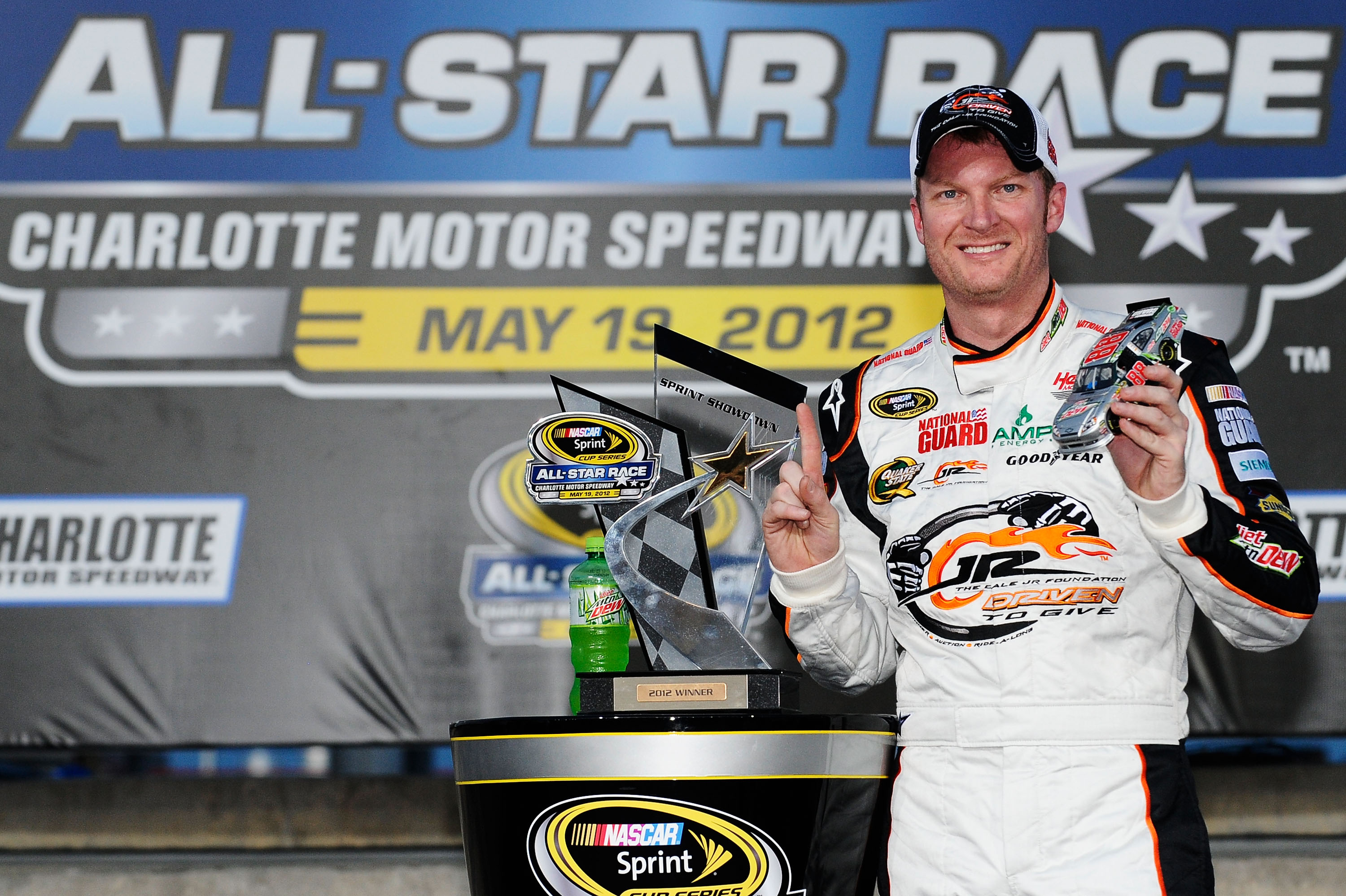 Although he never put up the wins his father did, Earnhardt Jr. had himself quite a racing career. Junior finished his NASCAR career with 26 Cup Series victories and 260 top-10 finishes. His career was cut short in 2017 after a series of concussions forced him into retirement.
Junior racked up a pair of Daytona 500 victories, winning in 2004 and then again in 2014. The Daytona 500 was a victory his Hall of Fame father struggled to get. It wasn't until 1998 when the elder Earnhardt earned his first and only victory in NASCAR's Super Bowl of races.
Junior also collected four straight wins at Talladega from 2001-03. When he wasn't winning on the track, he was collecting wins off it. For 15 straight years, Junior was named NASCAR's Most Popular Driver. He is a Class of 2021 NASCAR Hall of Fame member, joining his father who was inducted in the inaugural class in 2010.
Dale Earnhardt Jr. reveals the one place he wished he'd won a points race
On the most recent episode of the Dale Jr. Download podcast, Earnhardt Jr. fielded some questions from fans during the "Ask Junior" part of the show. One asked him if there was one track he wished he won a race and never was able to. Junior, as if he has thought about this one before, was quick with his response.
"Charlotte," he said immediately after the fan posed the question. "Home track. Came close a couple of times. Obviously, I won the all-star race there but ran out of gas there into Turn 3 for one of them — the 600 or 500. I can't remember which one it was.
"I would have loved to win a points race at Charlotte. Yeah, that's probably the one that stands out to me. Never happened. I never won an Xfinity race there. I ran second to Mark Martin once."
Junior awaits his official NASCAR Hall of Fame ceremony
Junior is in, but the ceremony is on hold. Junior, along with Red Farmer, the late Mike Stefanik, and Landmark Award recipient Ralph Seagraves was scheduled to be honored as 2021 Class members of the NASCAR Hall of Fame on Feb. 5, 2021. The COVID-19 pandemic, however, forced the postponement of the event until 2022.
"Without question, the safety of our inductees, our guests, and our staff is the highest priority for us," said Winston Kelley, NASCAR Hall of Fame Executive Director, according to NBC Sports. "The ongoing public health crisis prohibits our ability to plan for and celebrate these honorees' landmark achievements as originally scheduled to the fullest extent — with their families, friends, and fans present — and in a manner that's representative of their incredible accomplishments in NASCAR and their contributions to the sport."
While Junior is anxiously awaiting the moment, he knows it will be an emotional time for him, joining the Hall of Fame and his father.
"I think I'll have a hard time in some spots in that speech, for sure," he told Danica Patrick on her Pretty Intense podcast.