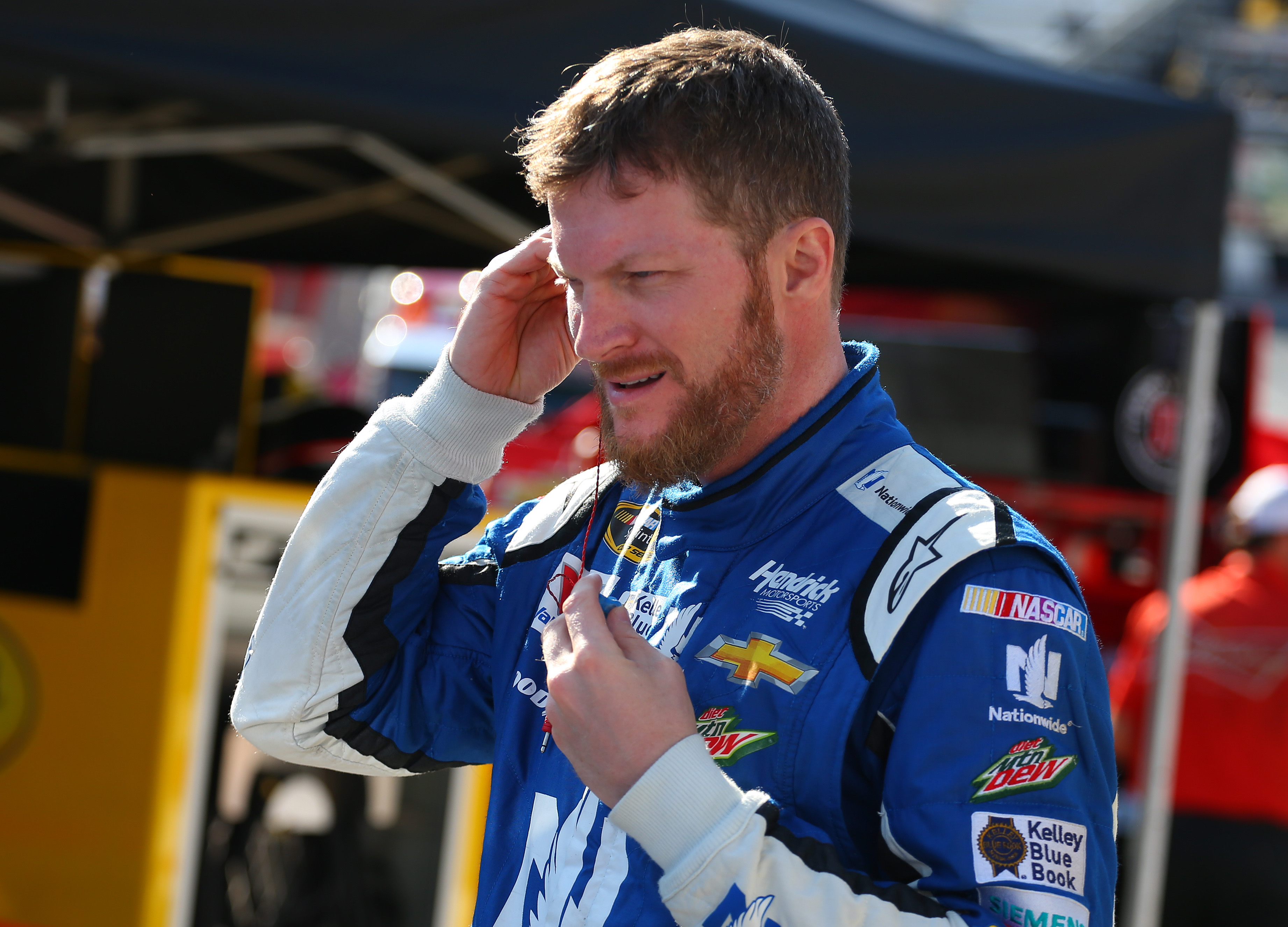 Dale Earnhardt Jr. Semi-Struggling With His Latest Challenge
Dale Earnhardt Jr. is finding his latest challenge somewhat of a head-scratcher.
Dale Earnhardt Jr. has excelled in his professional life. He's had himself a Hall-of-Fame NASCAR career. Now he's shining as a television commentator. His latest challenge, however, has become… well, quite the challenge.
Dale Earnhardt Jr. has shined as a pro on and off the track
Whether it was on the race track or in the television booth, Dale Earnhardt Jr. has been a star. In the car, he raced his way to 26 career NASCAR Cup Series victories, including a pair of Daytona 500 wins. He was named NASCAR's Most Popular Driver for 15 straight seasons.
In the booth, he's been just as good. His broadcast partner, Jeff Burton, had nothing but praise for his colleague, who is still just getting his feet wet in the booth. "Dale Jr. will be known as being as good of a broadcaster, if not better, than he was as a driver or any of the other great things he has done for the sport," Burton said, according to The Orlando Sentinel.
As a driver, Earnhardt Jr. made his way to the top. He is a 2021 inductee of the NASCAR Hall of Fame. He joins his father, the late Dale Earnhardt Sr., who was a member of the inaugural NASCAR Hall class in 2010. If Earnhardt Jr. stays the course in the booth, he may also have a Hall-of-Fame broadcasting career.
Life after racing for Earnhardt Jr.
Dale Earnhardt Jr. retired from full-time racing after the 2017 season. He made the announcement in 2016 after sitting out most of the year from concussion symptoms. He was rewarded last year with an announcement that he would be one of three drivers inducted into the 2021 NASCAR Hall of Fame.
Since he's left racing, Earnhardt Jr. has not only made his way into the broadcast booth, but he has also started a family. In April of 2018, Earnhardt Jr. and his wife Amy had their first child, daughter Isla Rose. The couple welcomed its second child, daughter Nicole Loraine in October.
Life is good for Junior. It's also plenty busy. When he's not working as a commentator or working for his company, JR Motorsports, he's got his hands full with two young daughters.
Earnhardt Jr. admitted to struggling a bit with his latest challenge
When Dale Earnhardt Jr. was a guest on The Dan Patrick Show back in June, his wife was pregnant with their second child. Patrick asked him how the family was and Junior beamed with pride. He said he got excited every time his daughter Isla asked a question or tried something new.
He did admit he was getting into a phase where he was struggling a bit on how to handle things. "(Isla) is getting hard-headed," he told Patrick. "We're really transitioning into that phase where we have to kinda decide how we want to discipline her. She's starting to get to the point where she needs to understand not to do this, that, and the other. When we tell her don't do that, don't grab that, don't pick that up, she does it. She thinks it's funny or it's a game.
"We need to sort of figure out how to…parenting's tough, man. We need to figure out how to help her understand, you know, what the rules are and when we mean business. I don't know exactly the right way to do it, but we're learning on the fly."