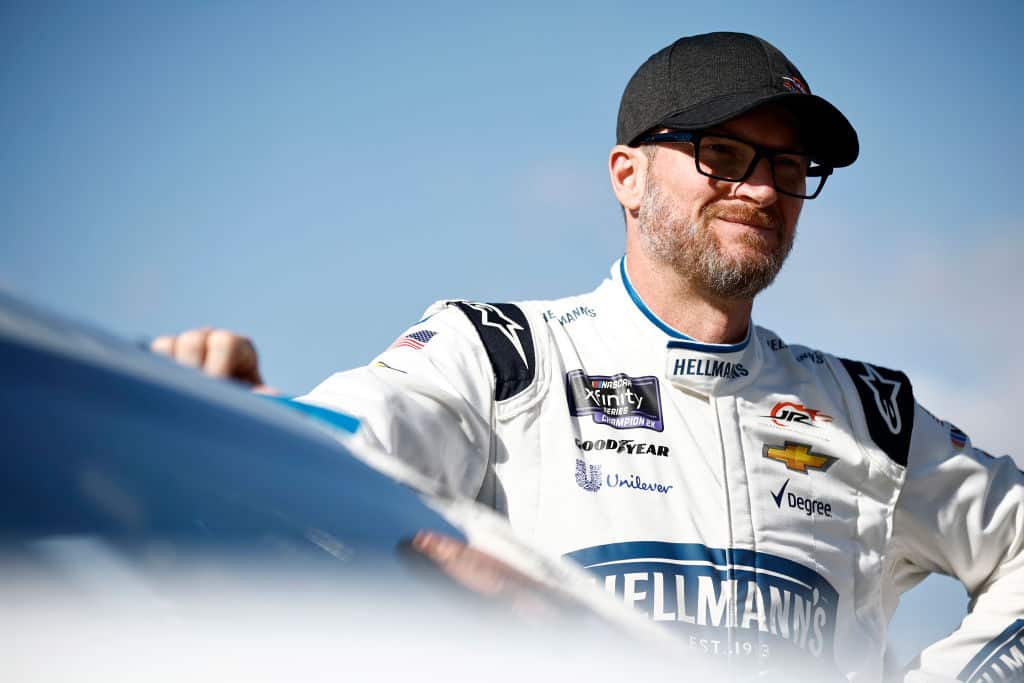 Dale Earnhardt Jr. and Sister Kelley Team Up for a Twitter Takedown of a Trolling Fan
One social media user decided to take a shot a Dale Earnhardt Jr. Needless to say, things did not go too well.
Dale Earnhardt Jr.'s sister, Kelley Earnhardt Miller, has always had her brother's back. Whether it be in negotiating contracts with sponsors and teams, running JR Motorsports (the company Junior founded in 2002), or simply sticking up for her younger sibling, Earnhardt Miller has always been there for Junior.
So when an obnoxious fan started trolling Earnhardt Jr. on Twitter not long after last Saturday's NASCAR Xfinity Series championship race had ended, it wasn't the least bit surprising that Kelley — the recently appointed CEO of JR Motorsports — was quick to respond and defend her bro. 
In just a minute, we'll take a look at the fiery exchange so you can see what provoked Earnhardt Miller — the second of the late Dale Earnhardt's four children. Then, we'll provide some important background that perfectly explains why Earnhardt Miller felt the need to set the record straight.
JR Motorsports fell short of the 2022 title, prompting one Twitter troll to pick a fight with the Earnhardt siblings
Heading into the 2022 Xfinity Series finale at Phoenix Raceway, JR Motorsports had an excellent shot to walk away with the championship in NASCAR's No. 2 division. How excellent?
Well, considering that among the quartet of Championship 4 drivers, three were from JR Motorsports, JRM — it's fair to say — had no worse than a 75 percent chance of capturing the title.
It wasn't meant to be, however, as Joe Gibbs Racing's Ty Gibbs held JRM's Noah Gragson — an eight-time race winner in 2022 — at bay over the final laps to take the race win and the title for the team owned by his grandfather, NASCAR Hall of Famer Joe Gibbs. JRM's three championship contenders — Gragson, Justin Allgaier, and Josh Berry — finished second, third, and 13th, respectively, but it was still a phenomenal season for the organization, which made it to Victory Lane 14 times in 33 starts thanks to the combined efforts of the trio that represented JRM in the Championship 4.
Meanwhile, JRM's other full-time driver — Xfinity Series rookie Sam Mayer — failed to win a race but enjoyed a respectable season nevertheless, as he made it all the way to the Round of 8 in the playoffs and finished seventh in the standings.
So to say JRM had a solid 2022 would be an understatement. The organization was downright dominant on multiple occasions and came up just short of the big prize: a championship.
Dale Earnhardt Jr. and his sister refused to bow down to an ignorant fan's false claim on Twitter
Despite all that JR Motorsports achieved in 2022, one fan couldn't resist the urge to troll Dale Earnhardt Jr. after the race at Phoenix, where the three JRM drivers couldn't quite match up with Ty Gibbs.
The fan's tweet came in the form of a reply to a tweet from JRM driver Sam Mayer in reference to the final lap of the race, when Mayer was running multiple laps down and had an opportunity to wreak havoc for race leader Gibbs but instead decided to take the high road with JRM's championship rival — a driver he'd personally butted heads with earlier in the season.
"With all due respect to you and your owners, what does Dale Jr. know about winning championships?" the fan asked Mayer, rhetorically.
The fan, who goes by the name "Chuck Moffat," was clearly alluding to the fact that Earnhardt Jr. never won a Cup Series championship over his 18 seasons as a full-time driver in NASCAR's top division.
Kelley Earnhardt Miller saw the tweet and quickly fired back to the tweet concerning what her brother knows about winning championships. "Quite a bit," she tweeted. "He is a two-time driver champ and three-time owner champion." 
Earnhardt Jr.'s big sis is indeed incorrect. JR Motorsports has won a trio of NASCAR Xfinity Series championships (2014, 2017, and 2018), each with a different driver. Earnhardt Jr. himself captured back-to-back Xfinity titles in 1998 and 1999 while competing for Dale Earnhardt Inc., the now-extinct organization that his late father founded and owned prior to his death in February 2001.
Along with that, Earnhardt Jr. claimed consecutive Xfinity Series owners championships in 2004 and 2005 with driver Martin Truex Jr. and Chance 2 Motorsports — a company he co-owned with stepmother Teresa Earnhardt. And, oh yeah, Earnhardt Jr.'s drivers at JRM have captured numerous Late Model Stock championships, too.
So to suggest Earnhardt Jr. knows nothing about winning championships is pure rubbish — as the man himself later joined his sister in pointing out to the trolling fan who called this fact into question. 
Well done, Earnhardt siblings. Well done.