Dale Earnhardt Jr. Sounds Off on NASCAR Drivers Being Compared to His Father: 'It Gets Under My Skin'
Motorsports legend Dale Earnhardt Sr. is and always will be one of the greatest drivers in NASCAR history. Before his tragic death in 2001, "The Intimidator" created one of the most memorable legacies in the history of the sport over the course of his 27-year Cup Series career, a legacy of which Dale Earnhardt Jr. is very protective.
Junior admits there was a time he was worried his father's legacy and impact on NASCAR would be forgotten and is thrilled that hasn't happened. But as he recently stated, he's not thrilled when parts of that legacy are challenged and certainly doesn't like other drivers being compared to his father.
The legacy of Dale Earnhardt Sr.
Dale Earnhardt Sr. made his official NASCAR Cup Series debut in 1975 but didn't join the series on a full-time basis until 1979. He captured one checkered flag that season while also recording 11 top-five and 17 top-10 finishes on the way to winning Rookie of the Year. The following season, he won five races en route to his first points championship, making him the first driver in Cup Series history to win Rookie of the Year and a Cup Series title in consecutive seasons.
In 1984, Earnhardt Sr. joined Richard Childress Racing and began driving the now-famous No. 3 Chevrolet, which he would take to Victory Lane 67 times from 1984 to 2000. During that span, Earnhardt would win six additional NASCAR Cup Series titles, tying him with Richard Petty for the most in history. Jimmie Johnson matched the record with his seventh points title in 2016.
In total, Earnhardt Sr. won 76 Cup Series races, good for eighth on the all-time list. He famously passed away on February 18, 2001, following a crash on the final lap of the Daytona 500.
Dale Earnhardt Jr. is afraid people will forget about his father
While it seemed at times that Dale Earnhardt Jr. didn't really want to discuss his famous father, especially early on following Earnhardt Sr.'s death, he's certainly had no problem opening up on "The Intimidator" in recent years. Whether it be on his own podcast, The Dale Jr. Download, or as a guest on others, Junior has consistently shared both funny and emotional stories about his father and has also discussed his legacy at length.
On a recent episode of The Artist and the Athlete, a podcast hosted by Fox Sports reporter Lindsay Czarniak that pairs up athletes and musicians, Junior discussed Dale Sr.'s legacy with Hootie and the Blowfish frontman and country star Darius Rucker and explained why he was afraid people would forget about it.
"I think when Dad died, my fear was that there would be a day where people would not remember his impact, and to me, he's this big, huge thing, right?

"But I was just always scared, like, 'Man, I hope they don't ever forget the essence of him and his personality and his impact, what it felt like when he walked in a room and what it felt like when he was out on the track.' And he just had this — he changed the mood. So I've kind of always been scared of that."

Dale Earnhardt Jr. on Dale Earnhardt Sr.
People obviously haven't forgotten about Earnhardt Sr. and likely never will. But Junior went on to explain why that fear is still there.
Junior doesn't like when other drivers are compared to Dale Sr.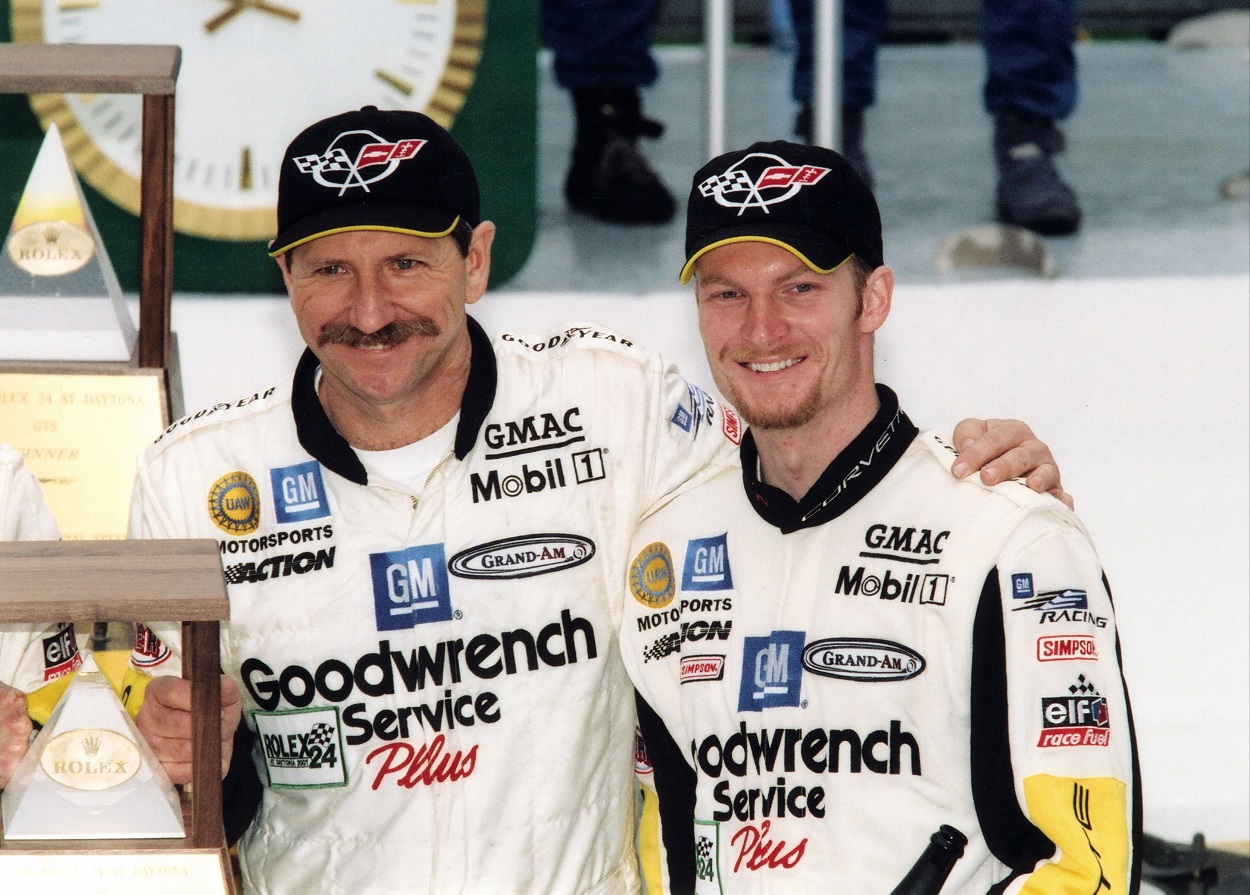 As Junior continued his conversation with Rucker, he went on to say that while he's thrilled that people still remember his father, he's not happy when any of his records are threatened and certainly doesn't like it when other NASCAR drivers are compared to Dale Sr.
"I don't want people to beat his records. I don't like when anybody's compared to him. It gets under my skin when somebody says, 'He's the next Dale Earnhardt.' There's no, no, no, no — never another Dale Earnhardt. I'm protective of it a bit, I think."

Dale Earnhardt Jr. on Dale Earnhardt Sr.
One of these scenarios actually just came up at Talladega Superspeedway, where Brad Keselowski recently won the Geico 500, his sixth NASCAR Cup Series win at the famed track, tying him with Earnhardt Jr. and Jeff Gordon for the second-most in history.
Dale Sr. leads the way with 10 victories at Talladega and Junior actually texted Keselowski afterward, saying he had no problem with him tying or even beating himself but told him "do not tie or beat my dad's 10 victories." Keselowski says there was a half-smile emoji attached to the message so there's certainly a chance Junior could have been joking. But after his recent comments, maybe not.
Stats courtesy of Racing Reference