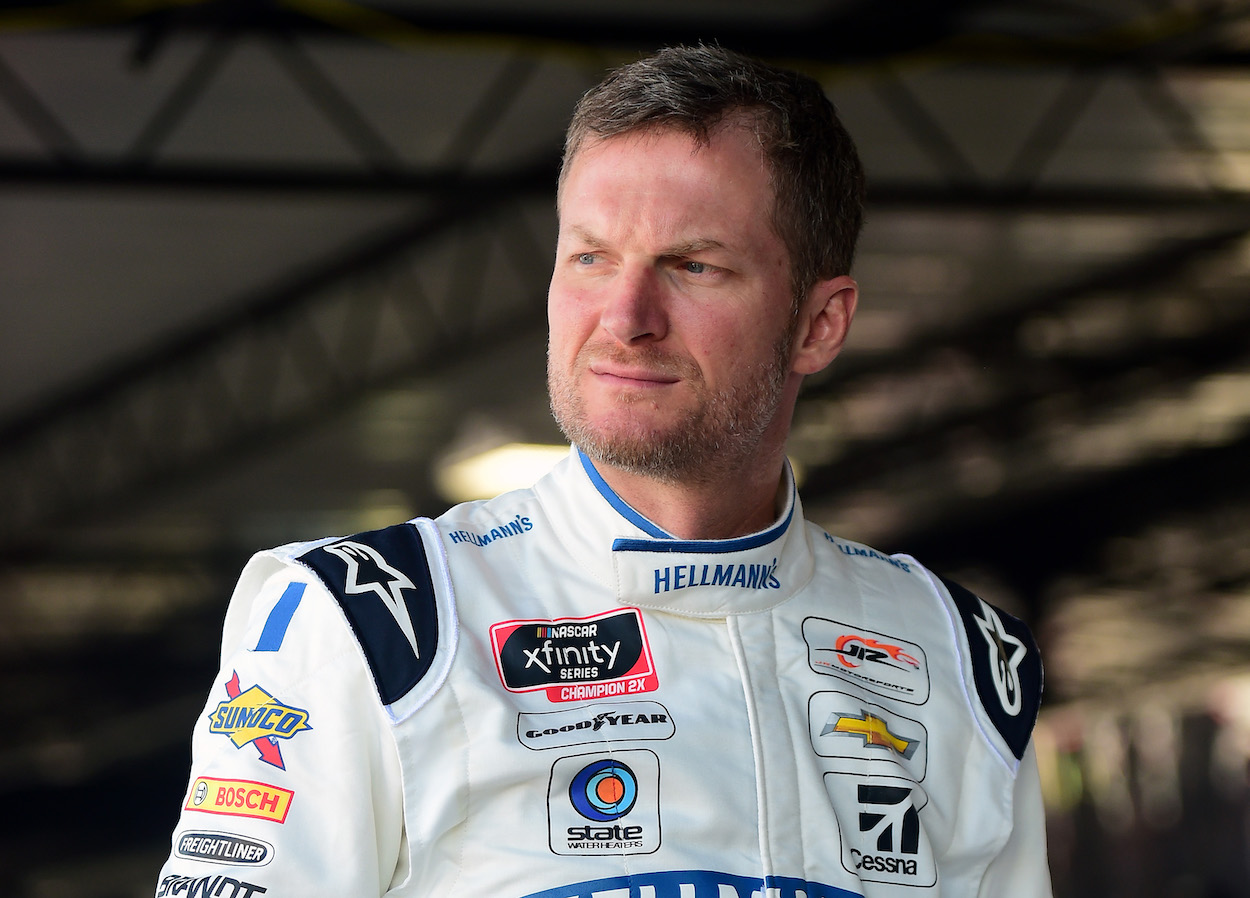 Dale Earnhardt Jr. Takes Eye-Opening Position on Atlanta Motor Speedway That Opposes Drivers, Supports Speedway Motorsports, and Reveals a Concerning Conflict of Interest
Dale Earnhardt Jr. takes a surprising stance on the latest episode of his podcast that opposes the drivers, supports Speedway Motorsports, and reveals a concerning conflict of interest.
Dale Earnhardt Jr. retired from full-time NASCAR Cup Series racing after the 2017 season but is still beloved by fans and respected by drivers. However, after revealing his position on the controversial reconfiguration of Atlanta Motor Speedway during the latest episode of his podcast, drivers might reconsider. 
Earnhardt took a stance completely opposite the drivers, which will come as a surprise to most. But when you listen to his explanation, and, more importantly, understand how one of his businesses was deeply involved in the overall process, it's not surprising at all and actually makes perfect sense. 
Drivers aren't happy with upcoming changes at Atlanta Motor Speedway
When Atlanta Motor Speedway officials announced last week that the track would undergo a major reconfiguration after the Cup Series race on Sunday, the drivers weren't happy. The consensus among drivers was the increase from 24 to 28 degrees of banking was acceptable, but the reduced track width on the 1.54-mile track from 55 to 40 feet in the turns was a bridge too far.
After an official from Speedway Motorsports Inc. (SMI), which manages the track, suggested that the changes would push groups together, create pack racing like you find at the superspeedways, and provide for better entertainment, the drivers responded. 
Kyle Larson, who has won four races this year, is not typically viewed as the loudest guy in the room, but he didn't shy away from sharing his thoughts on the changes and, more importantly, his concern that the drivers were never consulted about the reconfiguration. 
"I wish they would talk to everybody about it," Larson told reporters. "We have more experience than the fans, you know. I've raced hundreds of different racetracks. I feel like we have a better understanding of what really makes good racing. But, you know, fans like crashing, and a 40-foot wide surface is going to keep us tight together, so maybe that's going to accomplish the good racing that we think it is."
Three-time Daytona 500 winner Denny Hamlin agreed.
"With all due respect. This same group has reconfigured Texas, Kentucky, Bristol with 0 driver input," Hamlin posted on Twitter. "One of those lost a race, other one we don't race anymore, and last one we put dirt over it. But hey, what do the drivers know."
Dale Earnhardt Jr. takes a position opposite the drivers
With Atlanta still a hot topic for drivers and fans since the announcement, Dale Earnhardt Jr. jumped into the fray and took a surprising position during the latest episode of the Dale Jr. Download.
Earnhardt first admitted he, like most drivers, was always a fan of Atlanta.
"They love this race track, and rightfully so," Earnhardt said. "I loved racing there as well. Multiple grooves. Running all over the place. It's going to go all the way down to 40 feet. When I heard 40 feet, I thought that's a lot. 55 to 40. That sounds narrow. That's crazy."
Then Earnhardt explained, in detail, how SMI collaborated with iRacing to come up with the new changes — one of the main concerns of drivers who view their personal experience as more relevant than the virtual tool.
"This is a great idea because iRacing has helped the Chili Bowl. They had an irregularity in their race track…They fixed it. Drivers loved it," Earnhardt said. "That was the first moment when people went, 'Wow, this iRacing thing could be used as a tool.' California is using iRacing to try different options on how to reconfigure Fontana down to a half-mile. iRacing has been used in a lot of other ways as far as the Chicago Street course. 
"So iRacing builds SMI's vision. They allowed a few of the drivers, myself included, to drive on it. And I'm telling you, man, I couldn't tell the difference. I went out there, and I've raced on the Atlanta configuration in real life and in iRacing. They are absolutely identical to each other. So when I went and raced on this new version, yes, it's a little bit more narrow, but it's still really a lot of race track."
Earnhardt said he also did some research of his own and the drivers' concerns about the turns being narrowed to 40 feet wide are unfounded.
"I went and did a little digging and you don't have to do much. What tracks are 40 foot? Daytona is one. And Charlotte," he said. "I'm like ok, Charlotte is plenty wide for a mile and a half. That gives me a lot of comfort knowing, ok, we're not going to have a narrow, weird, two-wide, no room, can't go anywhere kind of race when they repave and reconfigure Atlanta. As far as width, banking, it should be fine." 
Dale Earnhardt Jr. has a conflict of interest
Dale Earnhardt Jr. talking about iRacing sounds like a promotion. And it should. That's because he's as involved with iRacing as he is with NASCAR. In fact, in November 2020, Earnhardt was named an executive director and part of the company's management committee.
Earnhardt and iRacing have a long history together, from playing sim racing back in the 1990s to 2008, when he set up the first meeting between NASCAR and iRacing officials at the JR Motorsports offices.
"I've been a sim racer for nearly three decades and a devoted iRacing member since its beginning," Earnhardt said when he joined the company. "Realizing iRacing's potential early, its success has always been important to me. Whether it was connecting iRacing with NASCAR in 2008, making other partner introductions, developing content, laser-mapping race cars, Beta testing new technology, it has been a privilege to be a small part of iRacing's expansion. Even more, it means the world to me to officially become part of the family. I'm excited to work with them on new partnerships and projects to continue iRacing's meteoric growth."
Earnhardt clearly views the use of iRacing for the Atlanta reconfiguration as another project that he believes is beneficial to NASCAR and good for the company's bottom line. The drivers view it simply as a tool to help guide decisions, but nothing comparable to feedback the drivers who've driven the track for tens of thousands of laps could have provided. That didn't happen, and they're not happy.
And now with Earnhardt taking the side of SMI, it just adds a little fuel to the fire.
Like Sportscasting on Facebook. Follow us on Twitter @sportscasting19.