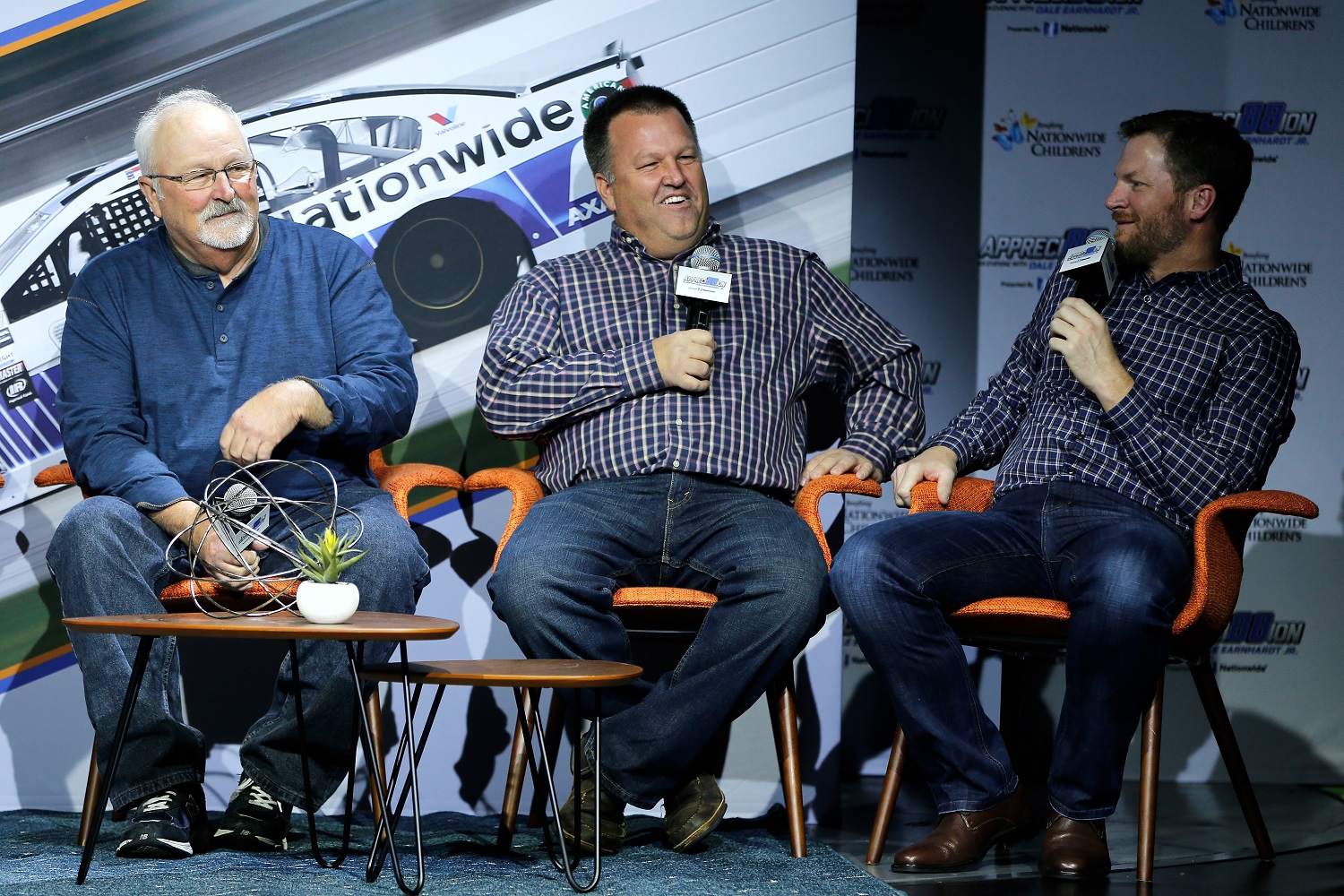 Dale Earnhardt Jr. Took Winning Advice Early in His NASCAR Career: 'Just Don't Hit Nothing'
Dale Earnhardt Jr. told some stories at his NASCAR Hall of Fame induction, and former crew chiefs Tony Eury Sr. and Tony Eury Jr. were happy to turn the tables.
Enshrining Dale Earnhardt Jr. into the NASCAR Hall of Fame to kick off the sport's 2022 calendar was a sure-fire winner. Besides being an accomplished driver and all-time fan favorite, Earnhardt has become a media personality. He summoned his broadcast skills and dropped some big names into his induction speech.
Just as Earnhardt spun stories about his past, some of the figures in those stories had their own recollections of Junior. The Eury family was front and center in that respect. Tony Eury Sr. and his son played big roles in Earnhardt's career and had stories to tell.
Dale Earnhardt Jr. has come a long way as a public speaker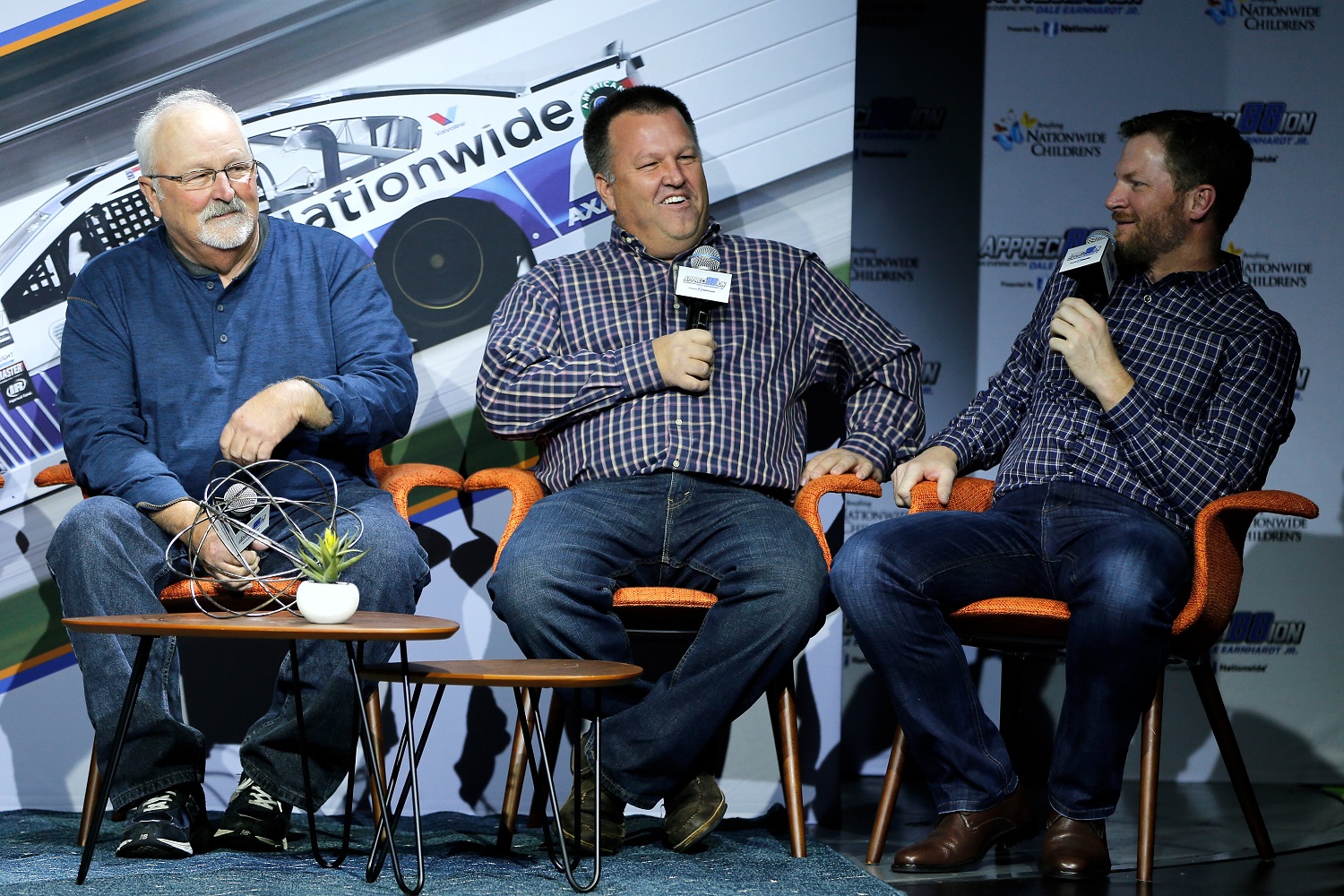 The fact that Dale Earnhardt Jr. does race analysis on NBC for the second half of the NASCAR Cup Series season and hosts a popular racing podcast and a cable TV documentary series must be a surprise to people who knew him 30 years ago. Whereas his father was "The Intimidator," Earnhardt Jr. was an introvert.
In a sport financed largely through sponsorship money, Earnhardt started out as anything but the prototypical pitchman confidently touting sponsors' goods and services.
"The media couldn't get him to talk to them, and (he) just gave short answers to everything," Tony Eury Sr. told NASCAR.com. "Real shy, didn't want to talk, wouldn't look at the cameras. Then, for him to turn into the TV guy that he is now, it's really kind of amazing how he's changed.
"I tell you, I'm really, really proud of him as a race car driver, but I'm really proud of him the way he's doing his TV stuff and his Download (podcast)."
He only competes once a year, but Earnhardt is at least as recognizable as any active driver, and he attracts fans and media wherever he goes. That translates into influence, even a bully pulpit, with the people running NASCAR, and Earnhardt used it to lobby on behalf of fellow Hall of Fame inductee Mike Stefanik's family.
"Stuff like that goes further than you can ever imagine with people," Tony Eury Jr. said. "Wins are great, titles are great, but the kind of person you are means more than anything."
Wise advice for Dale Earnhardt Jr.: 'Don't hit nothing and you'll have this championship'
Tony Eury Sr. recalled conversations at Dale Earnhardt Inc. when driver Steve Park left the Xfinity Series for the Cup Series after the 1997 season. Dale Earnhardt Jr. had only driven in a few Xfinity races to that point, mostly racing at Myrtle Beach Speedway in the Late Model Series. His father sought Eury's advice.
"Dale came to me and said, 'What do you think about Dale Jr.? Do you think he'll ever make a driver?'" Eury said. "And I said, 'I don't know. I haven't been to Myrtle Beach to watch him race and I don't have time to go to Myrtle Beach. But I see you spending a lot of money on some other people, why don't you spend it on your own kids?"
Why not, indeed. With Eury Sr. as the crew chief, the younger Earnhardt won 13 races en route to Xfinity championships in his only two full-time seasons.
 "I'd seen the talent that he had early, when we started the Xfinity stuff," Tony Eury Jr. said at the Hall of Fame induction. "Luckily we were in a position as a company where we were kind of finishing in the top five in points. … So, I told him, 'Look, just don't hit nothing and you'll have this championship in the bag. We'll do what we gotta do and you'll learn how to drive these cars and we'll go.'"
The Hall of Famer acknowledged a major mistake
In a move instigated by the driver, Tony Eury Sr. moved off Dale Earnhardt Jr.'s pit box after a six-win season in 2004 to take an upper-management role at Dale Earnhardt Inc. That opened the door for Tony Eury Jr. to take over as the crew chief. However, the team couldn't replicate the success of 15 victories over five seasons. Finally, after just two wins in 119 starts, Earnhardt replaced Eury Jr., too.
Earnhardt used his Hall of Fame speech to acknowledge that he should have never replaced Eury Sr. in 2005.
"One of the biggest regrets in my professional career was thinking that making a change in his position as a crew chief was what we needed to do," Earnhardt admitted. "Me supporting that decision is without question my biggest regret in my racing career because I was not only coming off a successful year in 2004, but I needed his leadership and so did the team."
All stats courtesy of Racing Reference.