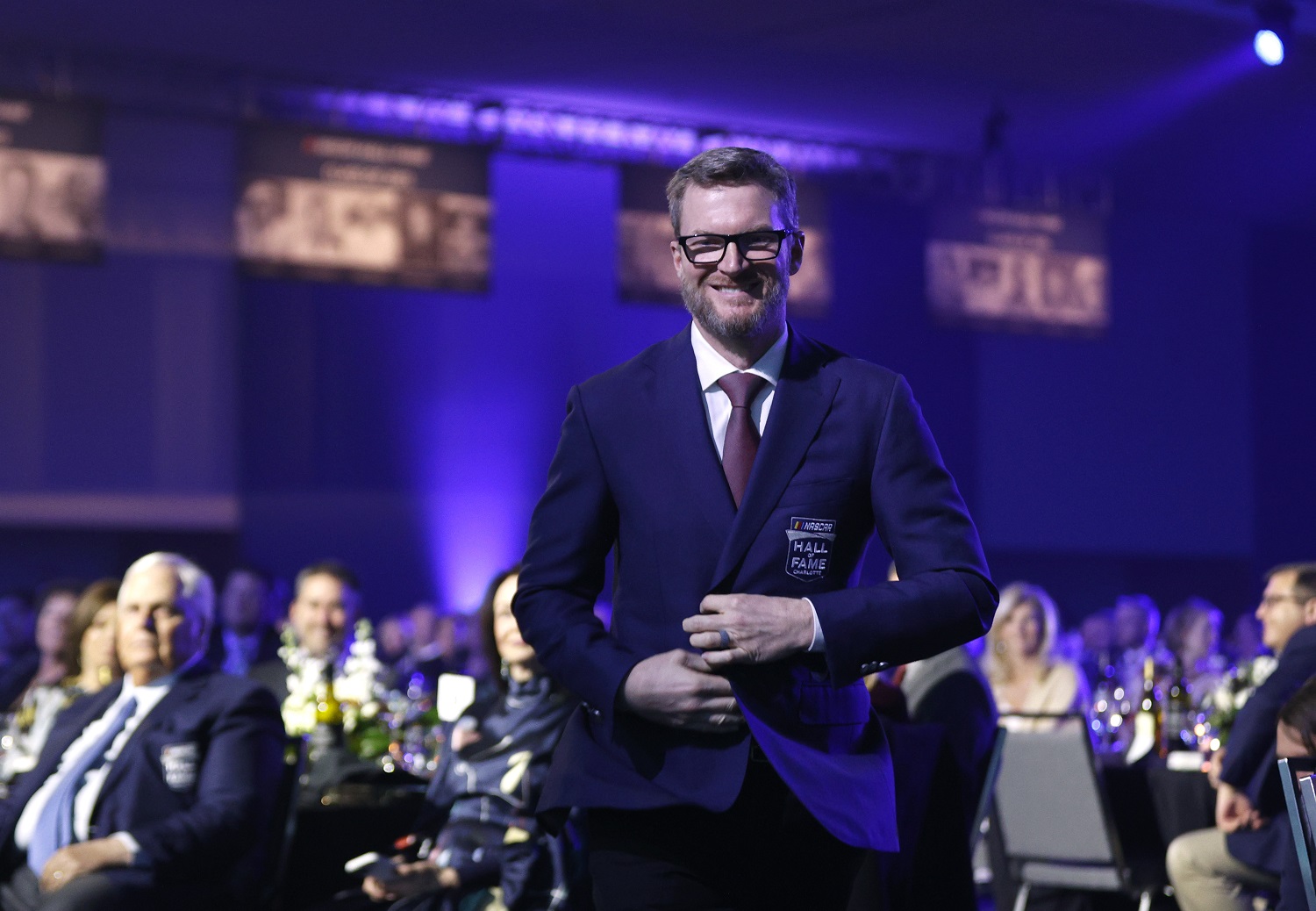 Dale Earnhardt Jr. Made a Stunning $1 Million Request to NASCAR Team Owner Rick Hendrick While the Country Battled a Recession
Dale Earnhardt Jr. recognized the devastating effect of the 2008 recession and offered to take a seven-figure pay cut to keep his Hendrick Motorsports team intact.
Dale Earnhardt Jr. deserves his place in the NASCAR Hall of Fame on performance alone, beginning with 26 Cup Series titles, two of which came in the Daytona 500, and a pair of Xfinity Series championships.
Earnhardt's induction reflects how he touched motorsports fans, too, and recognizes his character. Fifteen consecutive years as NASCAR's Most Popular Driver counts for something, and so does the shocking story Rick Hendrick told before the annual Hall of Fame induction ceremony.
Dale Earnhardt Jr. highlighted the new NASCAR Hall of Fame class
The pandemic delayed the honor by a year, but three new members entered the NASCAR Hall of Fame during a 75-minute ceremony Friday in Charlotte, North Carolina. Dale Earnhardt Jr., whose father was part of the first group enshrined in 2010, joined fellow drivers Mike Stefanik, inducted posthumously, and Red Farmer.
Earnhardt, 47, was the best-known of the group. As someone who still competes annually in the Xfinity Series, analyzes races on NBC, and hosts a popular podcast plus a TV documentary series, Earnhardt remains visible to his fans. He concluded his acceptance speech with a nod to "Junior Nation," which embraced him from the start and never let go.
"When I stumbled, you guys were right there ready to lift me back up," Earnhardt said. "There were times when I absolutely needed you — and you never let me down. We won together, and we lost together. … You should know that I don't go into this Hall of Fame alone. I go in with you, and I go in because of you."
Dale Earnhardt made a stunning $1 million request to Rick Hendrick
Dale Earnhardt Jr. began at Dale Earnhardt Inc., his father's racing team. He captured a pair of Xfinity championships, moved up to the top series, and won 17 NASCAR Cup Series races through 2007. At the end of that season, Earnhardt left DEI to sign with Hendrick Motorsports.
Earnhardt won once and finished in the top 10 another 15 times that first season with HMS, but the offseason brought dire problems. The housing market collapsed around the time of the election, precipitating the Great Recession. NASCAR teams, reliant upon sponsorships by businesses hawking goods and services, felt the effects. Several folded, cut back on cars, and otherwise streamlined.
Rick Hendrick took a hit on a second front: He made his millions selling cars, a big-ticket item no longer affordable for many. Earnhardt recognized the potential consequences for the team early in 2009, and Hendrick told the audience in a Q&A before the induction how the driver, 34 at the time, offered to step up.
"He came up to me and he said, 'Listen, I don't want any of my team to suffer. I'm going to take a million dollars out of my salary and I want to give it to the company to pay my people,'" Hendrick recalled. "And I said, 'Dale, I've never heard anybody say anything like that.'"
Hendrick decided not to accept the offer. However, Earnhardt soon noticed that money wasn't being deducted each week.
"So, he went to the office and said, 'Take it out of my check. I want to make sure I take care of the people.' So that's the heart of Dale Earnhardt that was taking care of the folks in the organization."
The driver connected with Rick Hendrick so quickly
The Q&A before Dale Earnhardt Jr.'s Hall of Fame induction began with the often-told story of the first contract negotiation he conducted with Rick Hendrick. Earnhardt brushed money talk aside and instead raised two issues. He wanted:
Helicopter access provided for races at Darlington and Martinsville, tracks that few relish trying to reach by plane or land transportation.
The black plastic skirts on his cars painted to match the paint scheme.
The two-hour meeting demonstrated just how quickly owner and driver hit it off, and the relationship only got better from there.
When Hendrick needed a Next Gen car test driver at Daytona in January while Kyle Larson, Alex Bowman, and Chase Elliott competed at Chili Bowl Nationals, any of 20 other worthy candidates would have jumped at the chance. Hendrick gave the keys to Earnhardt, who hadn't sat in a Cup Series car in four years.
Earnhardt couldn't resist helping one of the mentors in his life.
"You're a product of the people that you spend time with, in the environment that you spend time in," he explained to Hendrick. "So, I was just thinking about this. I've seen you do so many things. A lot of people in this room know about some of them, but there's a lot of things that you do that don't get publicized, how you help people. … It's such a great example for people like me."
On Friday, the Hall of Fame had a message for Earnhardt: Thanks a million for being the representative of the sport that you are.
Like Sportscasting on Facebook. Follow us on Twitter @sportscasting19.