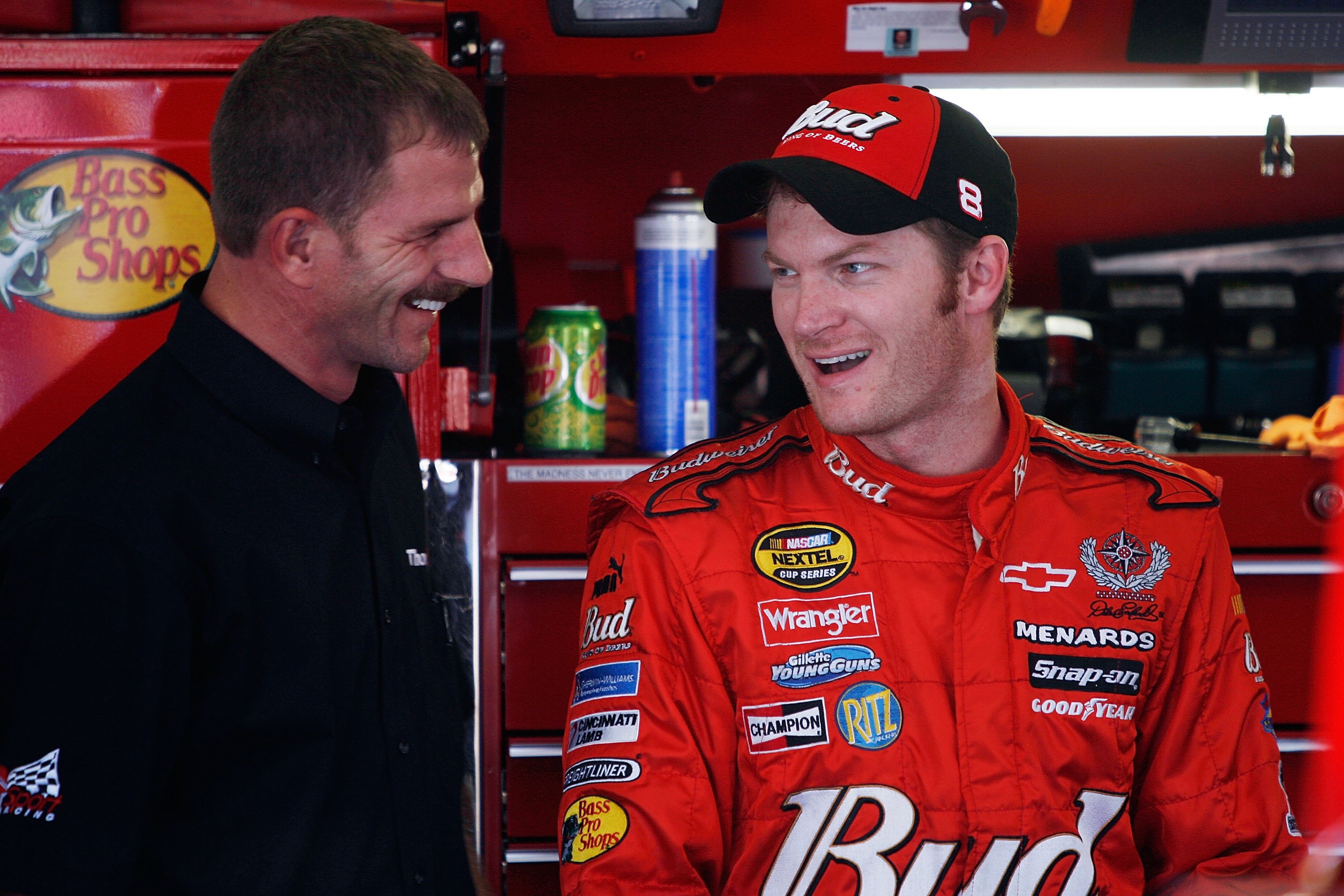 Dale Earnhardt Jr. Was Eager to Meet His Brother Kerry to Help Change the Vibe in the House
Dale Earnhardt Jr. remembers being excited to meet his brother Kerry for the first time because the vibe in the house wasn't good.
As if there wasn't already enough going on in the Earnhardt house. Dale Earnhardt Jr. recently revealed what it was like to meet his older half-brother, Kerry Earnhardt, for the first time back in their younger days. The NASCAR Hall of Famer had Kerry on his Dale Jr. Download podcast, and the two talked about old times, including that meeting that Junior hoped would change the vibe in the house.
Dale Earnhardt Jr. never knew much about his brother Kerry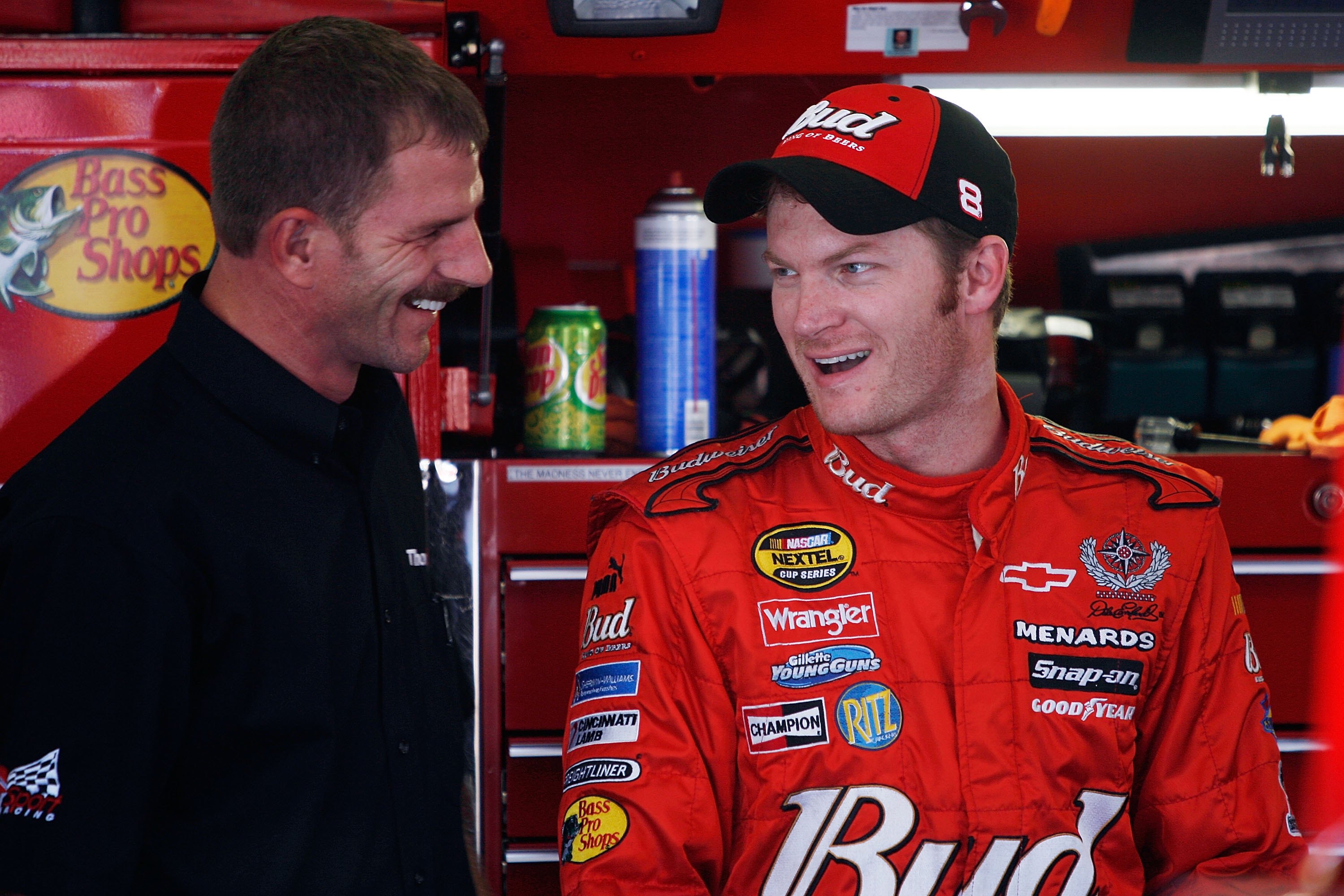 Kerry Earnhardt is Dale Earnhardt's oldest son. The late Hall-of-Fame NASCAR driver and his first wife, Latane Brown, had Kerry when Dale was 18. The couple split when their son was a year old.
Brown then married Jack Key, who later adopted Kerry. Kerry assumed Key's last name for most of his childhood. Meanwhile, Earnhardt remarried and had a daughter Kelley and Dale Jr. with his second wife, Brenda Jackson. Earnhardt and Jackson split up, and Kelley and Dale Jr. spent most of their time living with their mother.
When Junior was 6, he woke up to a fire in the house. That changed everything. His mother was forced to move to Virginia to be closer to family as she couldn't afford to support the kids. Kelley and Junior moved in with their father, who was hardly home as he was focused on his racing career. For quite a while, it was Kelley and Dale Jr. learning to grow up on their own.
Kerry Earnhardt always wanted to meet his biological father
Kerry Earnhardt never really knew who his biological father was. When he was about 13 years old, his mother helped him arrange a phone call with his father. The two spoke for the first time in years.
"I said, 'Hello, this is Kerry,'" Kerry said. "He said, 'hello son.' I don't remember the whole conversation. We talked about how we missed growing up. How he missed me growing up, and I missed being with him. Maybe we could work it out someday."
The two agreed to set up a face-to-face meeting at a later time. It took three years for that meeting to happen.
When Kerry, a spitting image of his father, got his license, he took a drive to see his dad. The two went for a drive and caught up a little. "He explained why he left, you know, chasing his dream," Kerry said on the Dale Jr. Download podcast. "He regretted every minute of it."
Dale Earnhardt Jr. was very eager to meet his brother
According to Kerry, his father wanted to move things slowly when introducing Junior and Kelly to their brother. He didn't know how they'd react. On the Dale Jr. Download podcast, Junior jumped in and said he remembers being ready and excited for the meeting.
"We were pumped," Earnhardt Jr. said. "I remember being excited because the vibe in that house wasn't all that fun. I was like what does this mean? What could this mean, introducing this new person into the whole dynamic? You saw how Kelley did nothing but want to talk to you all day. She was thinking this has got to make things better."
After that family reunion, Kerry began coming around more often. He felt more at home.
"I just started coming to the race shop and hanging out," Kerry said. "Getting to be around the guys and knowing them. Y'all would be in and out of there some. I didn't come and hang out in the house, like you would think, after that. After that visit, it was the following Christmas when I was invited back to the house."
He stayed the night for the first time.
"It was really cool to wake up and spend Christmas with y'all."