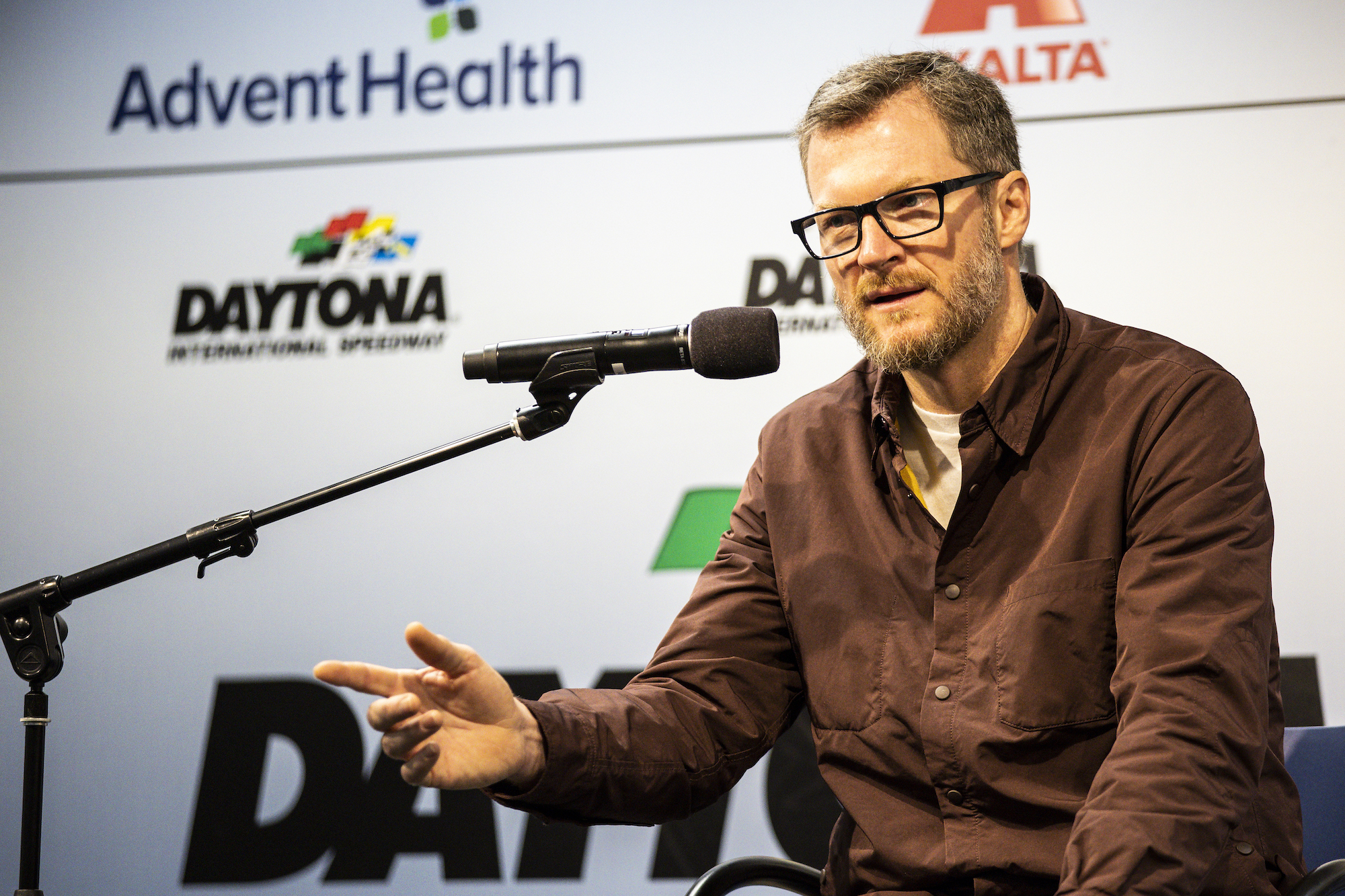 Dale Earnhardt Jr. Warns Fans About Expected Problems With Next Gen Cars in Coming Races: 'Don't Everybody Get All Alarmed'
Dale Earnhardt Jr. warned fans to expect more problems with the Next Gen car in upcoming races.
Dale Earnhardt Jr. has talked about the Next Gen car for years in the run-up to its official race debut at Daytona last weekend. He's driven it multiple times. He watched with fans over the last month as the car revealed some major issues in its first two races.
This week on the Dale Jr. Download, the two-time Daytona 500 winner addressed the wheel concerns that happened in the Great American Race and surprisingly admitted that fans should expect more problems with the car in the coming races. 
Dale Earnhardt Jr. has spent considerable time with Next Gen car 
Since NASCAR announced the development of the Next Gen car more than two years ago, Dale Earnhardt Jr. has regularly talked about the car on his podcast. He's invited those close to its development on his podcast, including an episode late last year when he talked with Austin Dillon, who had tested the car multiple times.
Earnhardt, however, was fortunate and didn't have to solely rely on second-hand information on the car to completely understand it. That's because the NASCAR Hall of Famer had multiple opportunities himself to drive the car.
Earnhardt, Clint Bowyer, and Tony Stewart all tested it at Bowman Gray Stadium. He then joined the Cup Series teams at Daytona and tested it, including some nervy moments racing right in the middle of the pack. He last drove it at the LA Memorial Coliseum, where he was part of a promotional piece filmed for NBC's Super Bowl pregame show.
Earnhardt predicts Next Gen problems in upcoming races
Earnhardt watched the Clash at the Coliseum and saw the mechanical failures that ended the days of Chase Briscoe, Tyler Reddick, and Denny Hamlin. He watched last weekend's Daytona 500 and saw the teams of Kaz Grala and Justin Haley encounter wheel problems. 
On the "Ask Jr." portion of the latest Dale Jr. Download episode, he talked about the wheel issues and surprisingly admitted it's just the beginning, and fans should prepare to see more problems with the car in the coming races.
"We're going to see completely different loads and the car will be stressed in different ways when we go to these next several race tracks than what we saw at Daytona," Earnhardt said. "So I think we all need to be prepared for this to be a little bit of a process. Working the bugs out of this car and finding flaws in it that need fixing. So don't everybody get all alarmed when something does become a reoccurring issue. I think it might be too much for us to expect them to design a car that is completely flawless right out of the gate. It's going to have its problems."
Wheel issues must be addressed
The future issues Earnhardt refers to and what exactly they might look like are unclear at this point. But one thing that NASCAR needs to make abundantly clear is wheel issues like the ones seen at Daytona aren't acceptable. Wheels bouncing down the track might be an amusing fan talking point, but there's nothing funny about them. They can be deadly. 
The 1987 Indianapolis 500 proved that when a 41-year-old man was killed by an airborne wheel that bounced up into the stands after being hit by another car. It struck him while sitting in the top row of the grandstands. 
The Next Gen car has created a buzz in NASCAR. The on-track racing product has been entertaining in the first two races. Hopefully it will stay that way and, not if, but when there are part failures, they're not of the catastrophic kind where drivers or fans could potentially find themselves in harm's way. 
Like Sportscasting on Facebook. Follow us on Twitter @sportscasting19.