Dale Earnhardt Jr. Went Above and Beyond in a Discussion of NASCAR's 5 Greatest Drivers
One sure way to start a NASCAR argument is to ask someone to choose the best driver among the seven-time Cup Series champions. Richard Petty, Dale Earnhardt, and Jimmie Johnson all have credentials aside from their titles, so the question never gets a definitive answer. Challenged to go beyond the Big Three, driver Corey LaJoie set off a debate over NASCAR's five greatest drivers.
By the time it was over, Denny Hamlin, Dale Earnhardt Jr., and a leading racing writer got involved. Nothing got settled, but it sure was fun.
The discussion of NASCAR's five greatest drivers is off and running
Fresh off last week's NASCAR awards banquet in Nashville, driver Corey LaJoie got an out-of-the-blue question on Twitter: Who are NASCAR's five greatest drivers of all time, in order?
We all play that game from time to time. NFL fans rank quarterbacks, and basketball fans rank NBA stars. And it doesn't even have to be related to sports. Politics junkies rate U.S. presidents, movie fans rank Oscar-winning motion pictures, etc.
LaJoie, a podcaster also active on social media, accepted the challenge to identify NASCAR's five greatest drivers. He responded on Twitter with Jimmie Johnson, David Pearson, Richard Petty, Jeff Gordon, and Earnhardt.
As lists go, what LaJoie came up with qualifies as rock-solid. Gordon was a four-time Cup Series champion, and Pearson won three titles despite rarely driving full-time during a stellar career. One might quibble with the order in which he ranked them, but LaJoie came up with five great choices, so much so that Denny Hamlin congratulated him for a "really solid list."
Denny Hamlin offered up his opinion on NASCAR's five greatest drivers
In a follow-up, Denny Hamlin took his shot at putting NASCAR's five greatest drivers in order. "Ooof," Hamlin responded. "Really tough because decades ago someone could have a car far superior to the field."
Nevertheless, Hamlin played along and rated Dale Earnhardt No. 1, followed by Jimmie Johnson, David Pearson, Jeff Gordon, and Richard Petty.
By then, quite a few followers of Corey LaJoie's Twitter account were chiming in. Jenna Fryer, who covers racing for The Associated Press, looked at the responses of the two NASCAR drivers and wondered why Cale Yarborough, a contemporary of Petty and Pearson with three championships, didn't rate a mention.
Fryer deferred when asked for her list, saying she didn't feel qualified to judge because she never drove against any of them. Considering that respected drivers were now responding, her reluctance was understandable.
"Being that I never raced against half of them, it really makes it hard for even me to judge them," Hamlin responded. "That's what makes lists fun. It's all speculative."
That drew a 100% emoji from Dale Earnhardt Jr.
Dale Earnhardt couldn't contain himself and went 10 names deep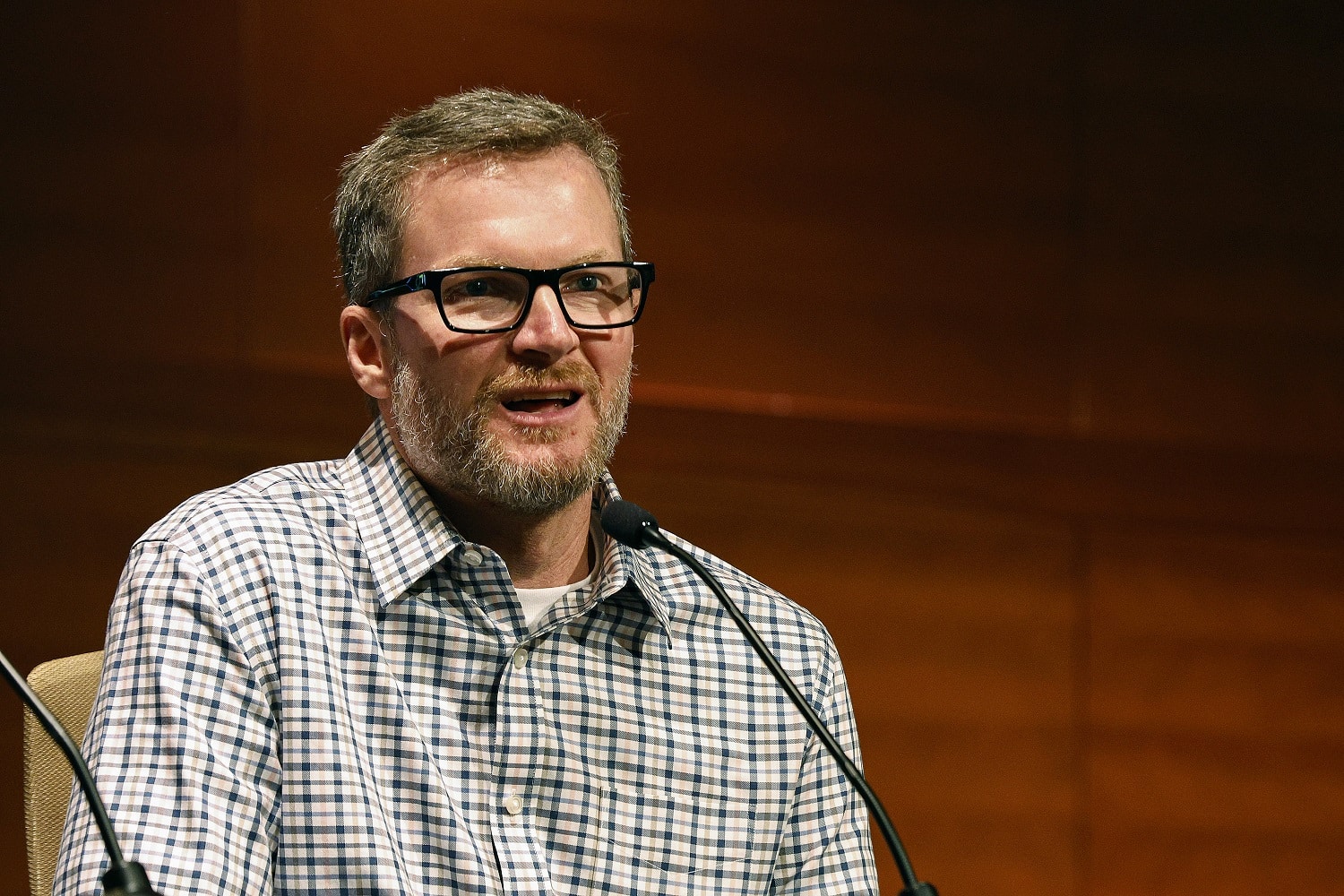 Now that the discussion of NASCAR's five greatest drivers had piqued the interest of Dale Earnhardt Jr., a member of the sport's most recent Hall of Fame class and the son of a consensus top-five pick, everyone wanted to hear more from The Intimidator's son.
Corey LaJoie asked Earnhardt for his list, and Junior responded. He went beyond just five, which opened the door for a pair of active Cup Series competitors:
Dale Earnhardt Sr.
Cale Yarborough
David Pearson
Jimmie Johnson
Richard Petty
Jeff Gordon
Kyle Busch
Bobby Allison
Darrell Waltrip
Kevin Harvick
Obviously, including Yarborough above two seven-time champs is the big takeaway, but there's a pretty good case to be made. Yarborough won his three championships from 1976-78 while driving for Junior Johnson. He left two years later, and Darrell Waltrip took over the No. 11 car and won three championships in the next five years. Had Yarborough stayed, one or more of Waltrip's championships could have been his.
That's admittedly speculative, but Gordon fans believe their guy would have snared some of Jimmie Johnson's championships had NASCAR not changed to a playoff format.
That's just another layer contributing to fun debates to keep interest going during NASCAR's offseason.
Got a question or observation about racing? Sportscasting's John Moriello does a mailbag column each Friday. Write to him at [email protected]