Dale Earnhardt Made Eerily Prophetic Comments About His Helmet Before His Fatal Crash
In the years following Dale Earnhardt's tragic passing, there has been much discussion around his helmet choice. Earnhardt stuck firm with his belief that he always wore the proper gear inside his motorsports car. Before his fatal accident, the legendary NASCAR driver made some chilling remarks about his helmet.
Dale Earnhardt refused to wear the HANS helmet
RELATED: Dale Earnhardt Sr.'s Mom Hopes NASCAR Will Honor an Emotional Request She Made for Her Son
In the months ahead of Dale Earnhardt's tragic death, he had made it quite clear that he wasn't a fan of the HANS device.
Several of his colleagues, such as Kyle Petty, Brett Bodine, Matt Kenseth, Dale Jarrett, and Andy Houston, wore it. He claimed that it restricted his freedom of motion and view, making him feel uncomfortable on the track.
Earnhardt even went to the point of poking fun at Bodine, who was the first driver to use the gear. (H/T Autoweek)
"In our last conversation, Dale came up to me (prior to the 500) and ridiculed me for wearing it," said Bodine. "He said, 'What are you, some kind of pu**y?' He said he didn't know if he'd feel comfortable racing around me if I had it on.
"He said he'd tried one and didn't feel good in it, that it limited his vision and he couldn't turn his head. But none of that bothered me because that was just Dale being Dale. You know, the Intimidator, the guy who was always going to do things his own way."
His strong feelings concerning the device led to him make chilling remarks before his fatal crash.
Dale Earnhardt made eerily prophetic comments about his helmet before his fatal crash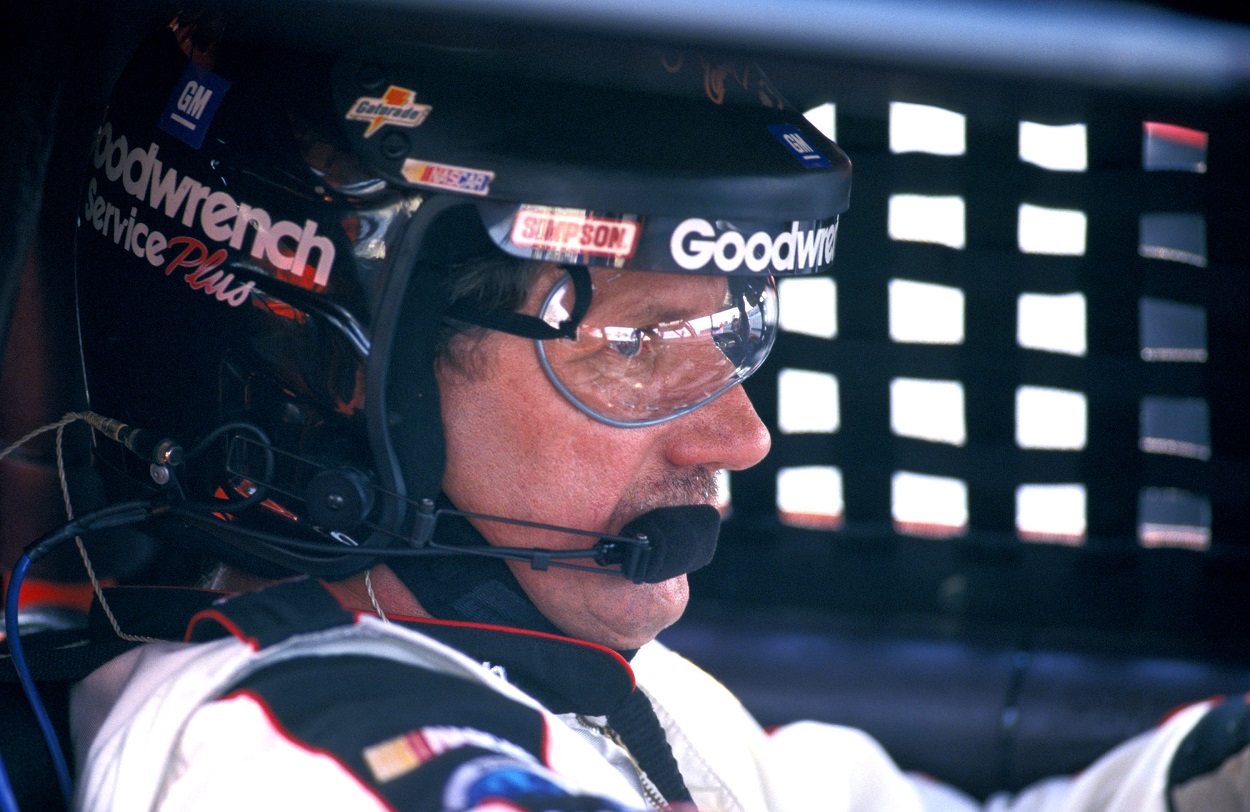 RELATED: Dale Earnhardt Jr. Helplessly Can't Escape His Worst Fears From Haunting Him
The steady change to use the HANS device was one that Dale Earnhardt didn't feel he needed to do.
The seven-time Cup Series champion remained stubborn with his decision to wear his open-face helmet. During an interview with Fox Sports ahead of the 2001 season, Earnhardt made some chilling comments to Darrell Waltrip regarding his protective gear choice.
"You shouldn't be talking about the helmet deal," Earnhardt remarked. "It's the safest helmet in Winston Cup racing today."
Earnhardt stuck firm with his decision to use the helmet instead of the device that many of his colleagues embraced. It's a move that HANS investor Jim Downing is convinced that it would have saved the legendary driver's life.
Earnhardt's strong personality contributed significantly to helping him find much success on the NASCAR track. However, this one choice could have played a pivotal role in avoiding that tragic route.
Legacy remains forever intact
RELATED: Dale Earnhardt Jr. Secretly Stashed Notes on His Phone In Case the Unthinkable Happened
It's been over two decades since Dale Earnhardt lost his life on the Daytona 500 track.
Earnhardt's stubbornness to not embrace a helmet change will forever be linked to his death. However, it doesn't impact his legacy in any regard. He was arguably the most popular driver in NASCAR behind his legendary career.
He remains tied for the all-time mark with seven NASCAR Cup Series championships while earning 76 Cup Series wins. His strong personality and aggressive racing style earned him the legendary nickname of "The Intimidator."
There will always be lingering chatter around his fatal crash, but it's simply a moment that is part of his life story. Beyond that, his passing improved the safety in the sport and saved many drivers' lives after his death