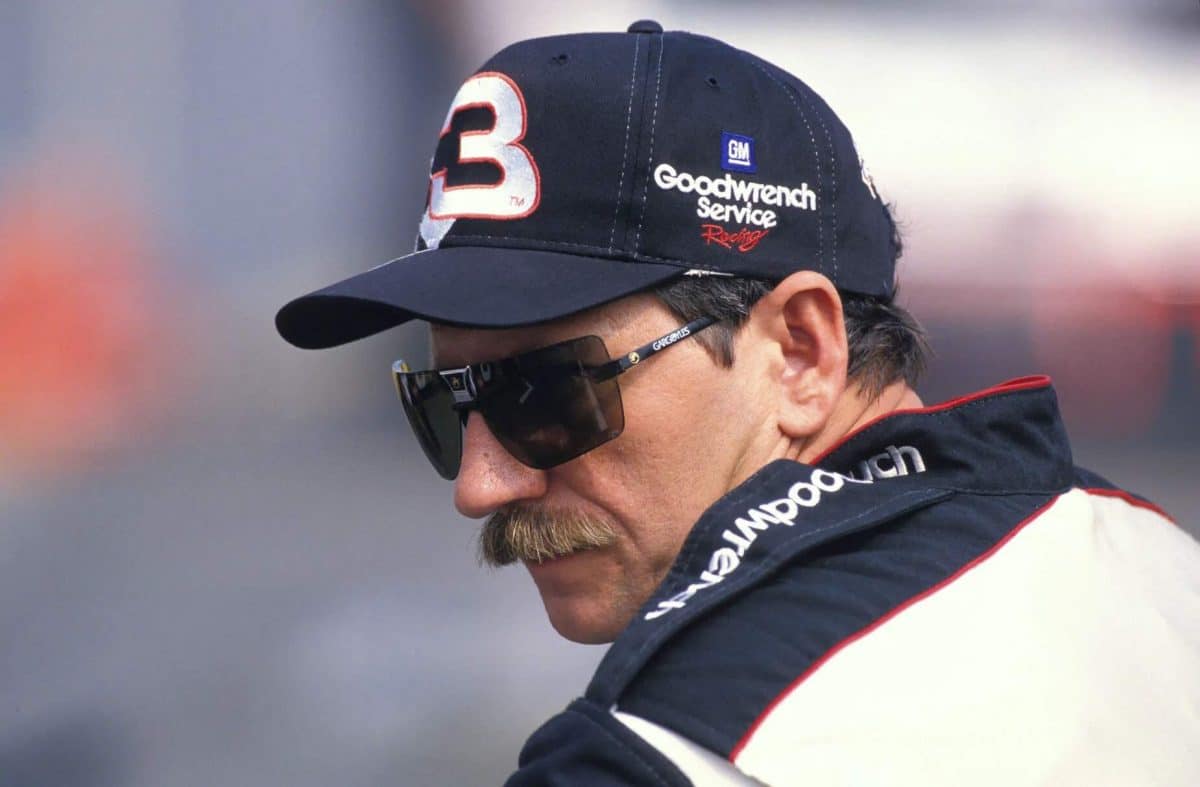 Dale Earnhardt Sr. 'Would Mess With' Mark Martin Until He Finally Stood Up for Himself: 'I Was Going to Be a Man'
Dale Earnhardt Sr. left quite the lasting impression on Mark Martin after messing with him on the track.
While he stands tall in history as a motorsports legend, Dale Earnhardt Sr. wasn't everyone's favorite driver. As his title of 'the Intimidator' would lead you to believe, Earnhardt had no problem throwing his weight around on the track. At one point, Mark Martin experienced that reality firsthand.
According to Martin, Dale Earnhardt Sr. apparently decided to "mess with" him and started "pushing [his] buttons" whenever they crossed paths. Everything changed, however, after Martin stood up for himself and put the Intimidator in his place.
Dale Earnhardt Sr. was a NASCAR legend
No matter your preferred sport, there will always be a handful of legends who tower over the landscape. In the world of NASCAR, though, few stand taller than Dale Earnhardt Sr.
While his father hoped that he'd do something other than racing, Earnhardt Sr. eventually found his way behind the wheel. He dropped out of high school, made his Winston Cup debut in 1975, and, in 1979, earned NASCAR Rookie of the Year honors. That early success, however, was only the beginning.
Earnhardt captured his first Cup Series championship in 1980 and only continued to thrive after that. By the time of his tragic death, the Intimidator had won 76 races across 27 campaigns. He took home a total of seven Cup Series crowns and, along the way, built up a $70 million net worth.
As all NASCAR fans will remember, though, Dale Earnhardt Sr.'s career came to an untimely end at the 2001 Daytona 500. While that crash has shaped his legacy, it shouldn't overshadow his on-track success.
The Intimidator had no problem throwing his weight around on the track
By and large, Dale Earnhardt Sr. is a pretty popular guy in the world of NASCAR. His appeal, however, wasn't completely universal. He was, after all, the Intimidator.
During his time on the track, Earnhardt had no problem being the bad guy. He drove an all-black car, scowled from behind his sunglasses, and was ready to trade paint at any opportunity. Incidents like the famous 'Pass in the Grass' only enhanced that reputation.
Although those actions rubbed some the wrong way — Earnhardt received at least one death threat during his career — they were part of what made him a NASCAR legend. The Intimidator probably wouldn't have won as many races as he did, not to mention becoming a larger-than-life figure, without his willingness to don the metaphorical black hat.
Dale Earnhardt Sr. made quite the impact on Mark Martin
Even though his career came to an untimely end, Dale Earnhardt Sr. made quite an impact on NASCAR. He also gave Mark Martin some additional, more personal memories.
"I had some issues with Earnhardt,'' Martin explained on his podcast, according to Dustin Long of NBC Sports. "The stories on Earnhardt are Dale really respected me before I got to NASCAR. He knew who I was. He treated me with great respect until one day in the mid-'90s, he wakes up and he just thinks, 'Boy, I'll just mess with Mark, see how much he will take.' He started pushing my buttons just for the fun of it."
After Earnhardt wrecked him during practice, however, Martin decided that he had to stand up for himself.
"So, the next weekend on Friday, first thing we rolled out at New Hampshire, I go out, and here he is. He does the same thing, and I put the wheel on him in practice," Martin continued. "He comes in after practice, and he looks at his PR guy, and he said, 'I think Mark has had enough.'"
With that remark, the conflict was officially over.
"I wasn't going to cry to the media, I wasn't going to complain, I was going to be a man," Martin concluded. "I wasn't going to be a baby. Some of the other people, their reactions … Dale didn't like the way they reacted, he didn't respect it, and he made their life miserable."
Going up against Dale Earnhardt Sr. could certainly be intimidating. As Mark Martin learned, however, he also respected those who could give him a taste of his own medicine.