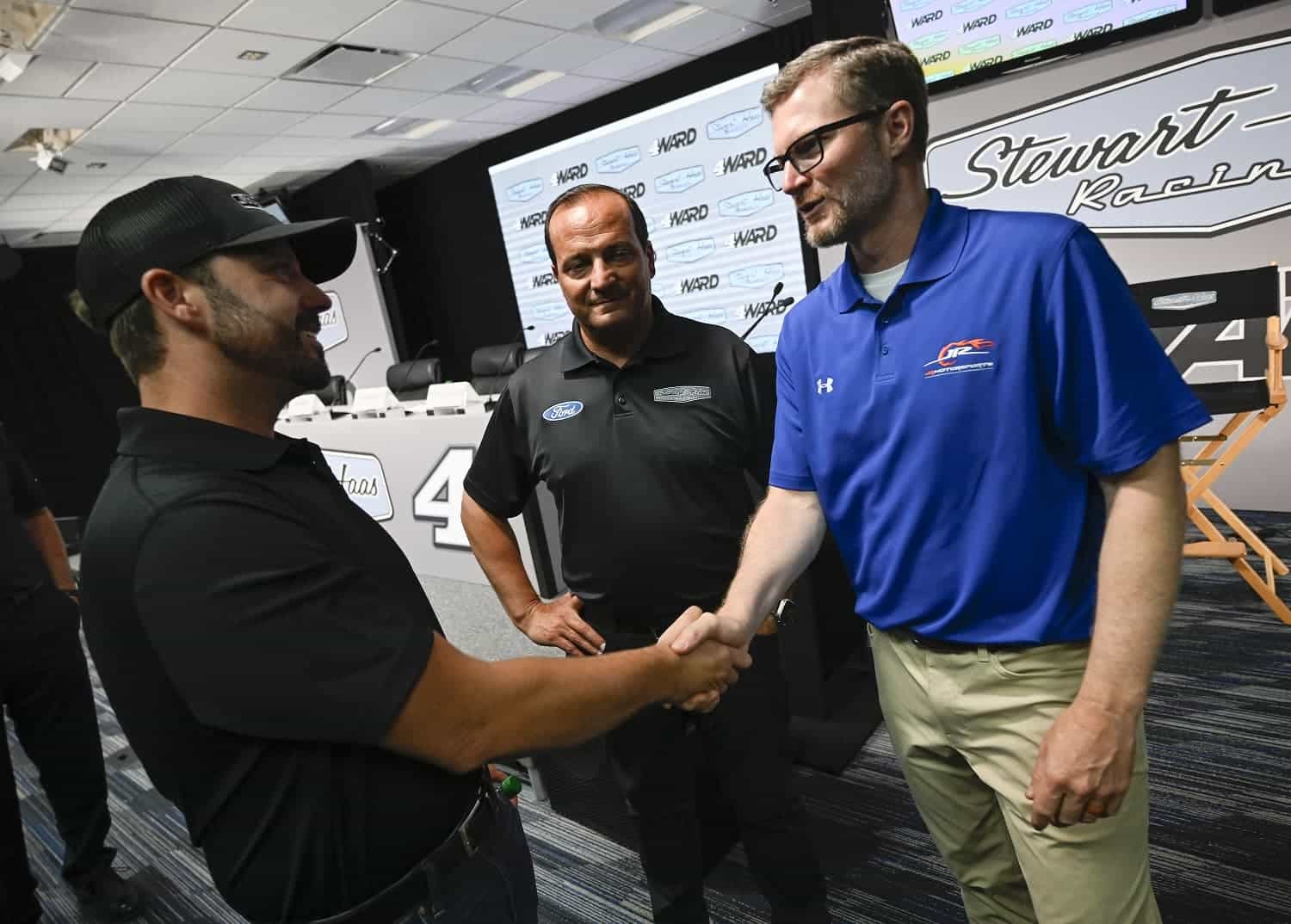 Dale Jr.: Stewart-Haas Racing's Latest Move Is 'Almost Kind of Like Cheating'
Dale Earnhardt Jr. is only joking when he suggests Stewart-Haas Racing cheated by signing Josh Berry, but his point is well taken.
In a sport in which crew chiefs and engineers spend countless hours looking to shave hundredths of a second off lap times, Dale Earnhardt Jr. thinks Stewart-Haas Racing has trimmed years off how long it takes to win in the NASCAR Cup Series.
Stewart-Haas Racing brings Josh Berry aboard
Stewart-Haas Racing signed Josh Berry, 32, to drive the No. 4 Ford in the 2024 NASCAR Cup Series, the team announced at Charlotte Motor Speedway on Wednesday.
Berry's first full-time opportunity in the top-tier series comes as the replacement for 2014 Cup Series champion Kevin Harvick, who is retiring to join the Fox Sports booth. Crew chief Rodney Childers will remain atop the pit box.
Berry is an accomplished Late Model racer who joined JR Motorsports in 2010. He is in his second full-time Xfinity Series season with JRM but has filled in for Hendrick Motorsports in eight Cup races this season while Chase Elliott and Alex Bowman recovered from injuries. He posted his career-best Cup finish by placing second at Richmond Raceway on April 2.
Berry has won more than 100 races for JRM in a variety of series and captured a CARS Late Model Stock Tour championship and the NASCAR Weekly Racing Series championship. He finished fourth in the 2022 Xfinity Series.
Dale Earnhardt Jr. jokes SHR's move is almost like cheating
Josh Berry's first full-time Cup Series job will be a somewhat unenviable assignment. Rather than replacing an underperforming 20-something who's at the end of his contract, Berry is taking the No. 4 Ford of Kevin Harvick, a past series champion and a veteran of more than 800 starts since replacing the great Dale Earnhardt.
Stewart-Haas Racing has struggled in recent years. Harvick has been its only reliable winner since Tony Stewart retired, Ford wasn't interested in putting Kyle Larson into the No. 14 car after Clint Bowyer left, and the manufacturer hasn't produced a deep pipeline of prospects for its Cup teams.
While interviewing Berry on his Dale Jr. Download podcast, Dale Earnhardt Jr. gave props to SHR for not being scared off by its new recruit's minimal Cup experience at an advanced age and instead valuing his body of racing work.
"You're not gonna get in this '4' car and need five years to become a winner," Earnhardt told Berry. "You're not gonna need four years to become a winner. You're a winner now, you're ready to go win Cup races today. I know you won't say that, but I feel that. I think that that's almost kind of like cheating for Stewart-Haas guys to be able to plug a guy in there that's ready to go."
SHR hasn't seen the anticipated results from Ryan Preece yet
Kurt Busch's departure after the 2018 Cup Series season started a period of flux at Stewart-Haas Racing. Daniel Suarez lasted one season, then it was Clint Bowyer's turn to retire in 2020. Chase Briscoe arrived in 2021, then SHR demoted Cole Custer at the end of last season and replaced him with Ryan Preece.
Now, Josh Berry is stepping in as Kevin Harvick's replacement, and we still don't know if Aric Almirola will return in 2024.
Preece served as SHR's reserve driver in 2022, picking up some races in other series and training on the simulator. He's been a disappointment this season, with a best finish of 12th at Phoenix. That may speak more to the issues at SHR rather than to problems with Preece, given that Harvick is the only driver having much of a season.
"I think Preece is struggling to get the results this year," Dale Earnhardt Jr. observed, "but I think he was a guy they plugged in that had so much racecraft and development, short track racing and just weathered. (He) would be able to get in there, and when the car is right, get it right to Victory Lane and know exactly what needs to happen."
If Preece and Berry are both moving in that direction next spring, then there'll be a reason for optimism at Stewart-Haas Racing.
Got a question or observation about racing? Sportscasting's John Moriello does a mailbag column each Friday. Write to him at [email protected].