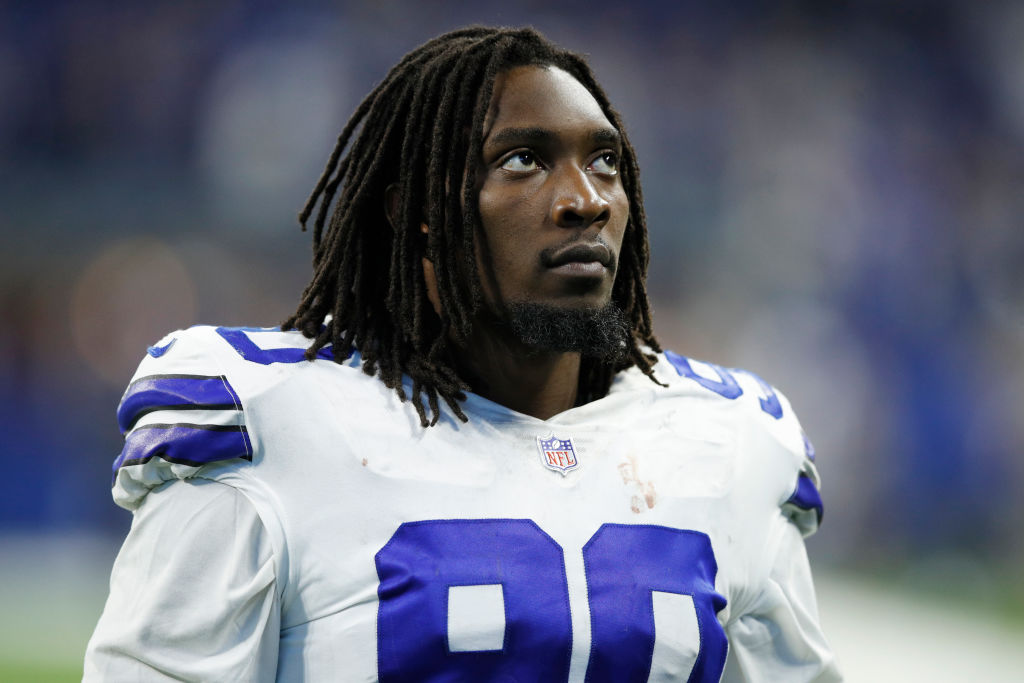 Dallas Cowboys DE DeMarcus Lawrence Once Snubbed a Kid for an Autograph Because of His Shirt
Dallas Cowboys star DE DeMarcus Lawrence once snubbed a young fan asking for his autograph because of the shirt he was wearing.
It's understandable when a professional athlete has to turn down an autograph request because of numerous requests. At some point, the athlete will have to get back to work and leave fans' requests unfilled. What isn't understandable is when an unprovoked professional athlete is rude to a fan, especially when that fan is a young kid. Meet DeMarcus Lawrence of the Dallas Cowboys.
DeMarcus Lawrence has spent six years with the Dallas Cowboys
DeMarcus Lawrence is a six-year NFL veteran defensive end with the Dallas Cowboys. Drafted in the second round of the 2014 NFL draft out of Boise State, Lawrence has come on strong for the Cowboys the last few seasons as he has made the Pro Bowl two out of the last three years.
Lawrence had a breakout season in 2017 when he finished the season with 14.5 sacks along with four forced fumbles. He followed his 2017 campaign with another strong season as he collected double-digit sacks once again, finishing with 10.5. He also added his first career interception and two forced fumbles.
In April of 2019, the Cowboys and Lawrence agreed to terms with Lawrence on a five-year extension worth $105 million. The deal featured $65 million in guaranteed money. That is the most guaranteed money ever given to a player who wasn't a quarterback.
Last year, Lawrence snubbed a young fan asking for an autograph

With money comes fame and DeMarcus Lawrence has become the face of the Dallas Cowboys defense. He's become a legitimate star in the league and with that comes the autograph requests.
Last September, a video went viral of a young kid dressed in a Saquan Barkley Giants jersey who excitedly went up to Lawrence and asked for his autograph. Lawrence looked at the child as he kept walking away from him and eventually told the kid to "get the right jersey."
After catching some flak on social media, Lawrence defended his decision to not sign the autograph, telling the haters to "suck it up" in a since-deleted tweet.
"It's crazy how you fans want to attack me for not signing for a kid," Lawrence tweeted. "It's more than one kid that come to the game with Cowboys jerseys and never get to meet any player. So if I'm honest with my own kids I will never treat your kid better than mine so suck it up. #SorryNotSorry."
Lawrence later said he felt bad about the situation, saying "It hurt. That ain't me. If I need to be me 24/7 to have my persona on the field and off the field, trust me, I would love to take it all back," he said, per NJ.com. "I can't have my persona on the field and off the field … Sometimes, I can't click it off fast enough. I ain't even get one hit on Saquon Barkley in the game, so seeing that jersey, I kinda wanted to give him a little tackle."


Saquon Barkley to the rescue
When New York Giants running back Saquon Barkley heard about DeMarcus Lawrence refusing to sign the autograph for a kid wearing a Giants jersey, Barkley stepped in.
Barkley invited the child, 11-year-old Kamil Bautista, and his family to the Giants game against the New York Jets later in the year. The Giants running back offered to fly Kamil's family to the game and give him a meet-and-greet experience.
Barkley and Kamil met before the November game and Kamil and his family were given field passes by Barkley.