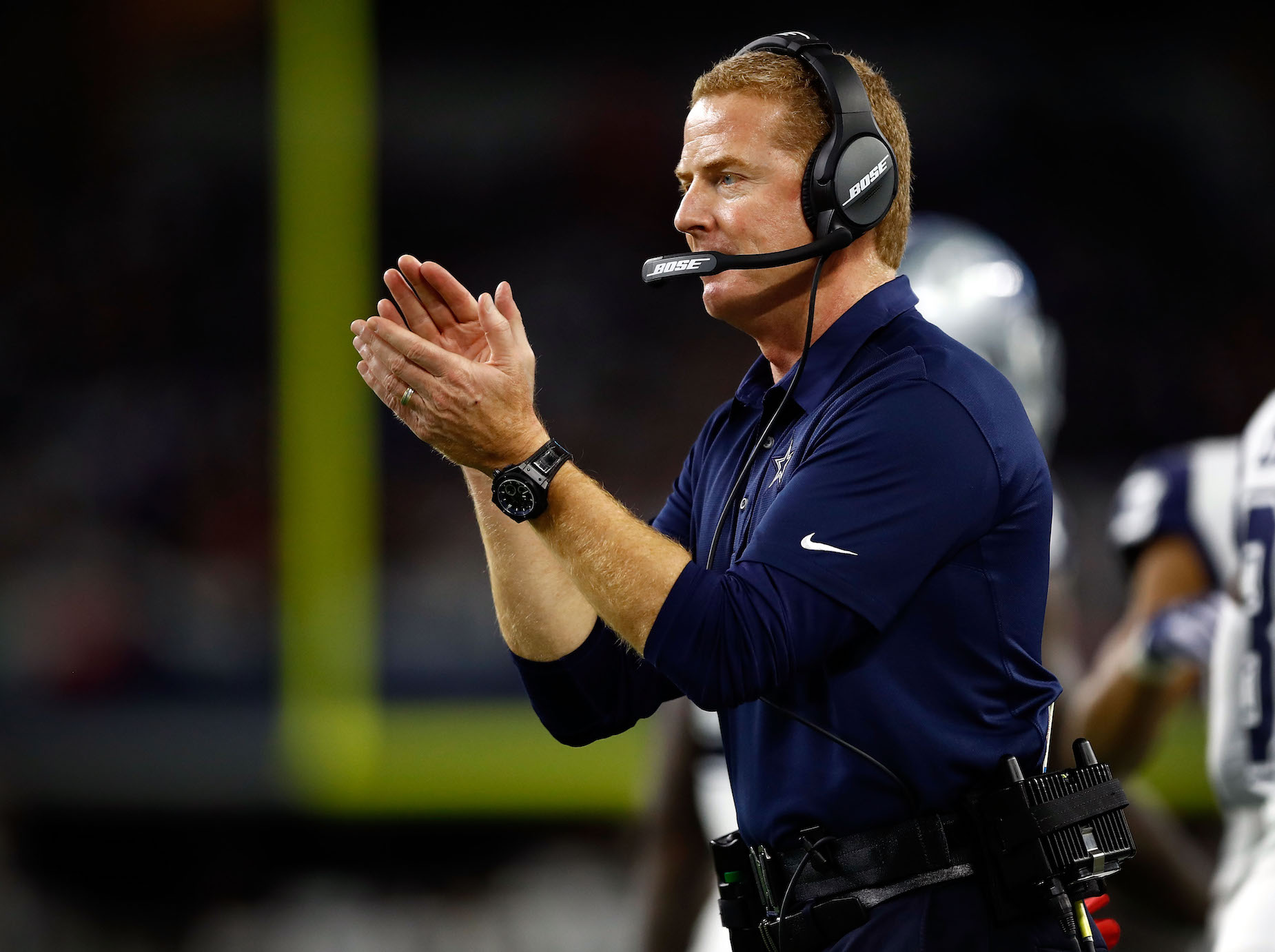 Dallas Cowboys Fans Might Finally Say Goodbye to Jason Garrett's Clapping in the NFC East
Last offseason, Jason Garrett left the Dallas Cowboys and joined the New York Giants. This year, his clapping may finally leave the NFC East.
It's safe to say that the 2020 NFL season didn't go according to plan for the Dallas Cowboys. Between Dak Prescott's injury, Mike McCarthy's struggles, and some incredible defensive struggles, America's Team missed the playoffs and finished third in a weak NFC East. The offseason, however, has already included a bit of good news.
After finally saying goodbye to Jason Garrett, the Dallas Cowboys still had to see their ex-head coach twice a year as a member of the New York Giants. He and his clapping, however, could finally be on the way out of the NFC East.
Jason Garrett played and coached for the Dallas Cowboys
In pro sports, loyalty can vanish in the blink of an eye; all it takes is one trade or free agency deal to change everything. While he moved around a bit during his career, Jason Garrett was pretty devoted to the Dallas Cowboys.
During his playing days, Garrett bounced around the league as a backup quarterback; his father worked for the Cowboys organization, and Jason spent seven seasons with the team. Even in retirement, it seems, he was destined to return to Big D.
After two years with the Miami Dolphins organization, Garrett rejoined the Cowboys as the team's quarterbacks coach. He eventually became Dallas' organization and, after Wade Phillips' firing, took over as the head coach. He spent nine full seasons leading the team—plus eight additional games in the interim role—before ultimately parting ways with the club.
Despite that lengthy tenure, Garrett was never the most popular man in Dallas. Many Cowboys fans felt that he didn't do enough with the team's talented offense; he also only had four winning seasons and failed to advance past the NFC Divisional Round during his time in Dallas.
Staying in the division with the New York Giants
After a painful break-up, both parties usually want to stay as far apart from each other as possible. For Jason Garret and the Dallas Cowboys, however, that didn't exactly happen in 2020.
When the 2019 campaign ended, Jerry Jones decided he wouldn't offer Garrett a new contract; looking for work, the coach took a job with the New York Giants as an offensive coordinator. That reality, of course, meant that the coach would face his former team twice each season for the foreseeable future.
Garrett's first season in the Big Apple, however, was a bit of a mixed bag. In addition to splitting the season series with the Cowboys, the Giants' offense struggled; while an offensive coordinator can only work with the tools he's given, it's still not a great look to preside over the league's second-worst offense.
With that being said, though, quarterback Daniel Jones did have high praise for Garrett.
"I've certainly enjoyed learning from Coach Garrett," Jones explained, according to John Fennelly of USA Today. "I've learned a ton of football, I've learned a ton of philosophy on offense, how he sees the game, what he's learned in his time in the NFL as a player and a coach. I've really enjoyed working with him. I look forward to continuing that. I really enjoyed it."
Dallas Cowboys fans might finally be able to say goodbye to Jason Garrett
After his time in Dallas ended, Cowboys fans were probably ready to watch football without seeing Jason Garrett. While it may have taken an extra year, everyone in Dallas could finally be getting their wish.
As reported by Ian Rapoport, the LA Chargers have asked the Giants if they can interview Garrett for their head coach opening. In theory, their interest would stem from the coach's reputation for developing young quarterbacks; it's open to debate, however, whether that reputation is deserved or not.
At this point in the offseason, it's unclear what the future holds for Jason Garrett. Between the Chargers' interest and the rumors that he could be under scrutiny in New York, though, he might finally be leaving the NFC East.