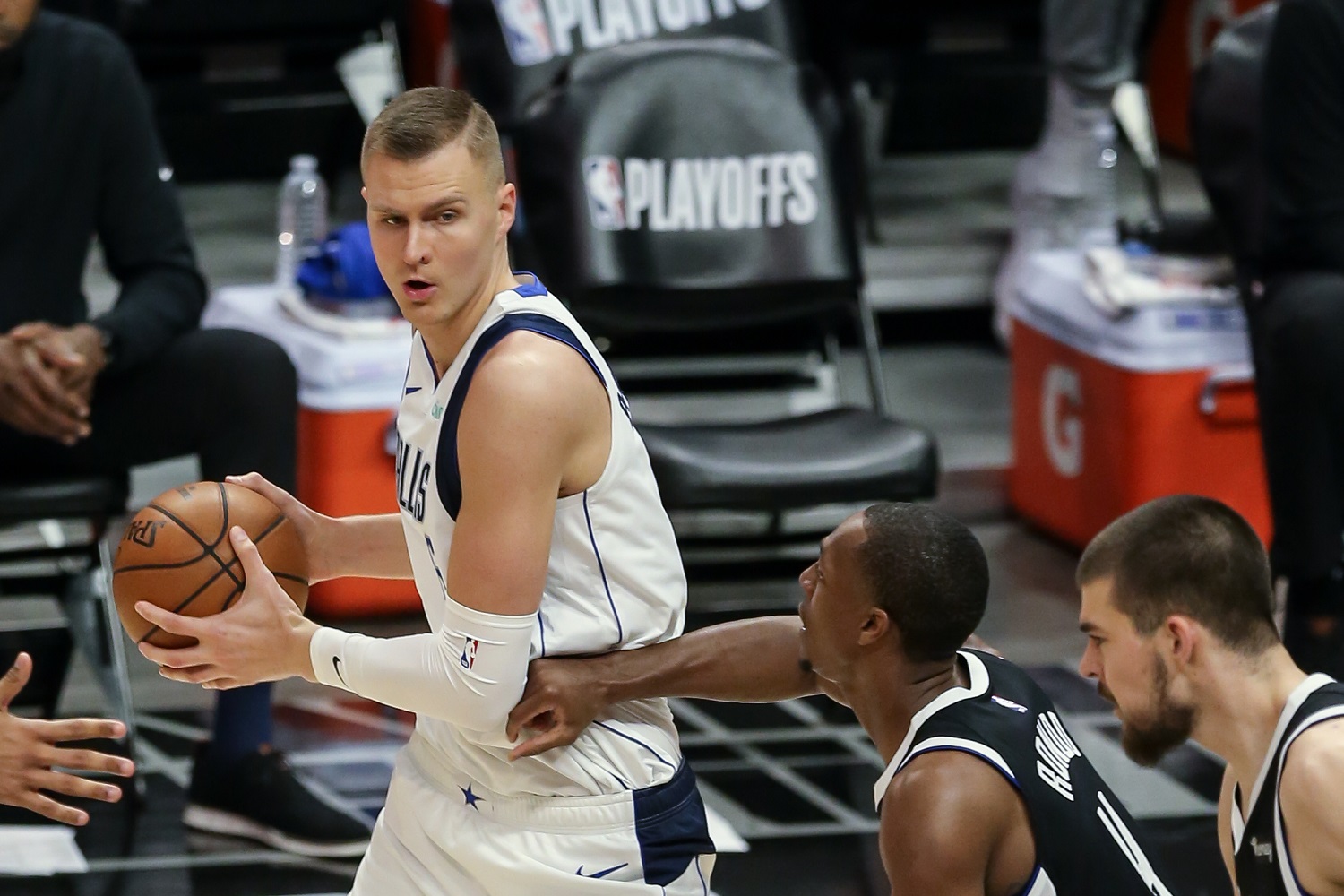 The Dallas Mavericks Think They've Solved Their Kristaps Porzingis Problem
New Dallas Mavericks GM Nico Harrison believes center Kristaps Porzingis has a future with the organization despite a flameout in the recent playoffs and a testy relationship with Luka Doncic.
Luka Doncic and Kristaps Porzingis should be the foundation for Dallas Mavericks championship-contending teams for the next decade, but they have added up to less than the sum of their parts thus far.
Opinions vary as to what the problem is. One popular take is that Doncic is the alpha while Porzingis thinks he's the alpha. The flaw in Porzingis' perspective is that his body is even more fragile than his ego. He's not on the court enough to be the co-star, let alone the star.
Just like any self-respecting new hire in an organization filled with too many questions at the moment, general manager Nico Harrison thinks he has an answer that will make the most of the team's two big names.
Luka Doncic and Kristaps Porzingis, by the numbers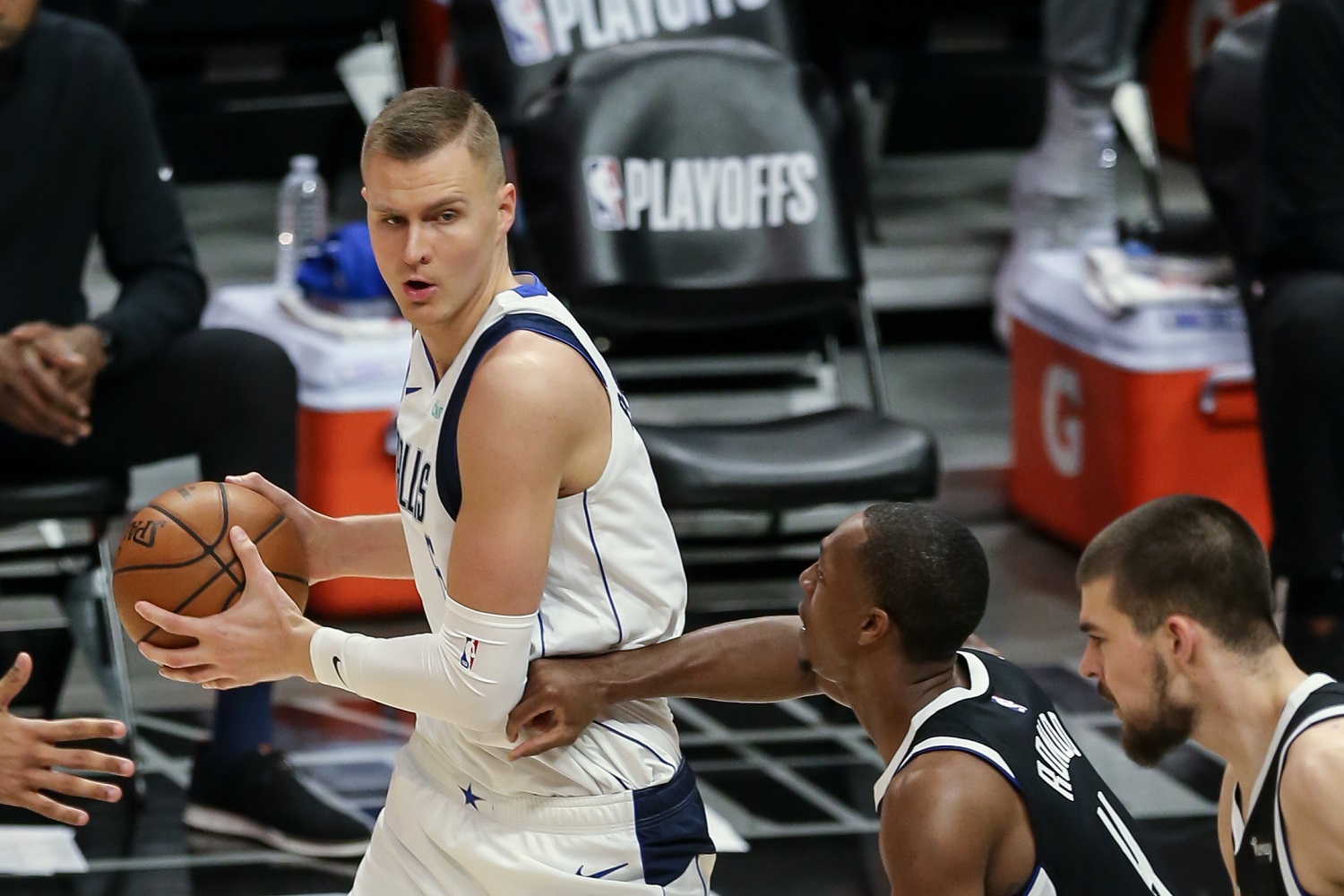 Doncic is on track to be an elite NBA player for many years to come. At just 22 years old, he has logged three outstanding seasons with the Mavericks. He shot 47.9% overall and 35.0% on 3-pointers this past season to log career bests in both, and he did so while averaging 8.6 assists and 8.0 rebounds a game.
He's still turning the ball over too much, but that's largely a function of taking the ball hard at defenses. The draft-night trade Dallas made to acquire Doncic cost them Trae Young, but it is hard to argue that the Mavs didn't break even at worst.
Porzingis' numbers are harder to assess out of the sheer number of games he has missed, including more than a third of the 2020-21 regular season. He, too, posted a career-best shooting percentage during the regular season while averaging 20.1 points, but Porzingis all but disappeared in the postseason. And that is where the issues really began; observers previously on the fence about Porzingis through his first 100 games in Dallas abandoned him en masse over the flameout in the playoffs.
Enter Harrison.
Mavericks GM Nico Harrison thinks Porzingis is salvageable
As recently as a month ago, observers assumed Porzingis would not return to the Mavericks this fall. The head coach (Rick Carlisle) left with time remaining on his contract, the Mavericks fired their general manager (Donnie Nelson), and it was apparent that Doncic and Porzingis were not getting along.
Hiring Jason Kidd, a quality point guard in his own right back in the day, as the new head coach theoretically solves issues with Doncic, whose relationship with Carlisle had slowly deteriorated.
Harrison thinks the Mavericks can make things work with Porzingis, too. In an interview with KRLD-FM in Dallas, Harrison appeared to take trading the 7-foot-3 native of Latvia off the table.
"I'm actually excited about Kristaps. I think he's finally healthy," he said, as transcribed by Audacy.com. "I think what Jason Kidd is going to bring, in terms of communication and really wrapping his arms around people, I honestly think he's really going to flourish in the system Jason Kidd is going to bring."
There's more work ahead for Dallas
The Mavericks haven't made it out of the first round of the playoffs since winning the NBA championship in 2011, so merely making the Doncic and Porzingis pieces of the puzzle fit isn't going to get them to a conference final.
Then again, there's no guarantee that Harrison isn't just blowing smoke in expressing optimism about Porzingis to try to improve his trade value. If it comes down to letting go of one or the other, the Mavericks have to keep Doncic.
Regardless, they must get more out of the current roster and/or make smart acquisitions.
"We have a lot of opportunity." Harrison insisted. "There's a lot of good free agents out there. There's so much potential."
Ironically, potential is a word frequently used regarding Porzingis. Above all else pertaining to the Mavericks, it's time to turn that potential into reality.
All stats courtesy of Basketball Reference.