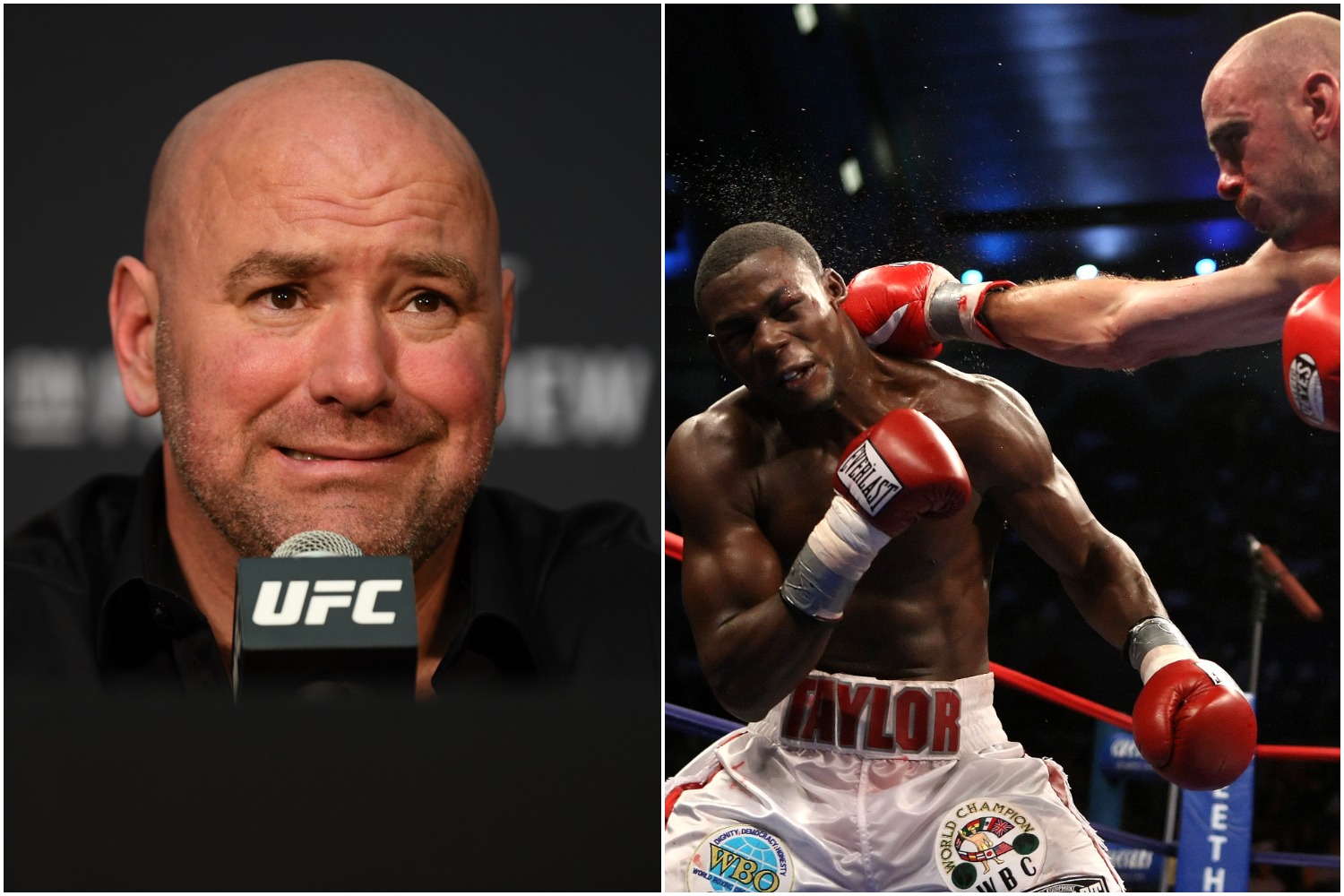 Dana White is Missing $1 Million Because of Former Boxing Star Jermain Taylor
UFC president Dana White is missing $1 million from his bloated bank account all because of former boxing champion Jermain Taylor.
As the man responsible for taking the sport of MMA in a new direction, UFC president Dana White has become not only incredibly popular but also enormously wealthy. Although he doesn't have to step into the cage and fight for a living, the 51-year-old has done well to turn the brutally competitive sport into a multi-billion dollar business.
However, even though he can afford just about anything he wants, White does have a small reason to be upset about his finances.
After all, he's missing $1 million because of former boxing star Jermain Taylor.
Jermain Taylor dominated in the boxing ring for over a decade
An Arkansas native, Jermain Taylor competed as a professional boxer from 2001 to 2014. Along the way, he made a habit of defeating whoever squared off against him inside the ring. The 6-foot-1 middleweight known as "Bad Intentions" had 20 of his 33 career victories end by knockout.
Taylor really put himself on the map by defeating Bernard Hopkins on July 16, 2005. In doing so, he ended the legendary boxer's 12-year run as middleweight champion.
His sustained success shouldn't have come as a surprise. After all, before he turned pro, Taylor represented his country at the 2000 Summer Olympics in Sydney. He earned a bronze medal in the light middleweight division and became the first boxer from Arkansas to ever compete in the Olympics.
However, while most of Taylor's fights ended with the referee raising his arm in the air as the victor, the gifted athlete did suffer a handful of losses during his decorated boxing career.
And his first defeat cost Dana White a stunning amount of money.
Dana White is missing $1 million because of the former undisputed middleweight champion
With a 27-0 record to his name, Jermain Taylor finally ran into an opponent he couldn't knock out.
On Sep. 29, 2007, Taylor took on Ohio native Kelly Pavlik in a matchup that turned out to be a painful one for the decorated champion.
In a highly-anticipated showdown in Atlantic City, N.J., Pavlik stunned his opponent with a well-placed left hook in the seventh round that ultimately proved too much to overcome.
The boxer dubbed "The Ghost" defeated Taylor by TKO.
And by suffering a surprising loss to Pavlik, Taylor not only added an unwanted blemish to his pristine resume but he also cost Dana White $1 million in the process.
In a recent ESPN interview, the UFC president talked about sports betting. And as it turns out, the wealthy businessman is missing quite a few bucks because of Taylor.
"I bet $1 million on Taylor, and he got destroyed," White revealed on the four-letter network's Daily Wager show. "It was the first time I ever bet $1 million because I was so confident Taylor was going to win that fight."
Unfortunately for White, his faith in Taylor did not pay off. Instead, it resulted in a seven-figure loss for the longtime face of UFC.
Still, it's safe to say that he has more than made up for that wrong wager back in 2007.
The UFC president still has a ridiculous net worth despite his expensive bet
Despite the fact that Jermain Taylor cost him $1 million, Dana White has managed to do just fine after missing big on what seemed to be a surefire bet at the time.
According to Celebrity Net Worth, the Connecticut native has an estimated net worth of $500 million.
In 2016, UFC got sold to WME-IMG for a whopping $4 billion. Given his 9% ownership stake, the transaction certainly helped make White a rich man.
At that rate, he should have received $360 million (before taxes, of course) for the sale. However, he returned an undisclosed portion of his 9% stake in UFC to continue working as president, minority owner, and the day-to-day promotor of the sport, per the LA Times.
Ultimately, his gamble on Taylor cost him a staggering amount of money for most people. But when you're worth an estimated half-billion dollars, that's just a drop in the bucket.
Like Sportscasting on Facebook. Follow us on Twitter @sportscasting19.