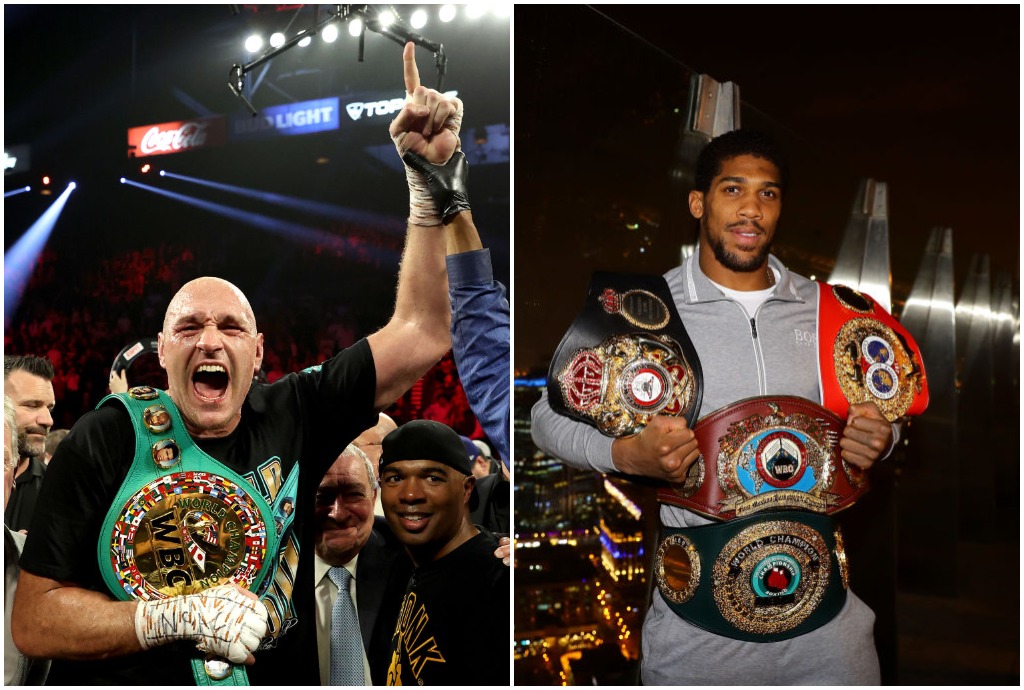 Tyson Fury Went From Contemplating Suicide to Potentially Earning $70 Million Against Anthony Joshua
Tyson Fury once contemplated suicide. Now, the championship boxer stands to cash in big time by fighting Anthony Joshua in 2021.
Tyson Fury ranks as one of the biggest personalities in boxing. Of course, he's also one of the most physically imposing. The 6-foot-9 heavyweight slugger has never lost a professional fight. Yet, just a short time ago, he considered ending his own life.
Overcoming adversity has been a hallmark of Fury's life. He worked tirelessly to come back from the darkest depths of the human mind. And in 2021, Tyson Fury will have the chance to make $70 million by taking on Anthony Joshua.
Tyson Fury's boxing career
They don't come much bigger than Tyson Fury. The two-time heavyweight champion hails from England and has provided entertaining fights since breaking into the pro boxing business at the age of 20. More than a decade later, he has accomplished some incredible feats.
Besides remaining undefeated, Fury has taken down a slew of impressive opponents over the years. In 2015, he went 12 rounds with Wladimir Klitschko. Fury won by unanimous decision to take home the world heavyweight title.
More recently, he has squared off with a much younger star in Deontay Wilder. The Bronze Bomber and Gypsy King fought for the WBC heavyweight title in December 2018. The 12-round affair ended in a draw. However, Fury and Wilder fought again in February 2020. This time, the towering UK native shocked everyone.
Wilder vs. Fury II turned out to be arguably the best fight of Fury's career. He landed a thunderous right to Wilder's temple, which caused him to bleed. Eventually, Fury won by technical knockout in the seventh round.
Back at the top of his game, Tyson Fury certainly has a bright and lucrative future ahead. But you can't tell his comeback story without exploring some of his past demons.
Fury once contemplated suicide
While he's become a star in the boxing ring, Tyson Fury hasn't had the easiest life. Over the years, he's abused drugs and alcohol. In addition, he's spoken about his mental health issues. Along the way, he's seen massive weight fluctuations and even stayed away from the sport for several years.
Fury may be back in the spotlight now, but that took a ton of work. In a 2019 appearance on The Rich Eisen Show, he revealed how he once contemplated suicide.
"I was on the verge of suicide. That's when I'd have quit. But I didn't quit on myself and I didn't quit on the world. That's why I'm back here to tell the story. … Life's hard. Nothing's ever going to hit you as hard as life will. And anyone who suffers from mental health problems, it is a silent killer. It kills more people every year than most other things."
He went on to state that just because of his status as a heavyweight champion, most people would assume he'd be happy. Fury also said there wasn't a day he woke up when he didn't pray for death. Ultimately, he's come a long way in battling his mental health issues. And that has set Fury up for a massive potential payday in 2021.
Heavyweight champion can break the bank against Anthony Joshua
Following his epic win over Deontay Wilder, Tyson Fury showed the boxing world he's back. He recently agreed to two fights against Anthony Joshua in 2021. And according to Forbes, that could lead to some massive paydays for the two stars.
According to Frank Warren, Fury's co-promoter, Fury and Joshua could earn between $60-$70 million for their first bout next year and then double that for a rematch later in 2021.

Fury made at least $50 million for his two fights against Wilder. Joshua totaled $100 million for his two-fight series against Andy Ruiz.
Considering the state of sports, there's no guarantee the Fury-Joshua fights will happen. But if all goes according to plan, Tyson Fury will have a chance to earn millions and continue writing his sensational comeback story.