Danica Patrick, Clint Bowyer, and Mike Joy Make Multiple Head-Scratching Comments in Las Vegas 
Danica Patrick made her first appearance in the Fox NASCAR broadcast booth for the 2023 Cup Series season this past weekend at Las Vegas Motor Speedway. She returns for her second stint this coming weekend at Phoenix. 
But before she does, we wanted to take a look back at the former driver's performance in Sin City, compare it to her appearances last year, and highlight a couple of comments she and her boothmates made that left viewers at home scratching their heads. 
Danica Patrick referenced IndyCar during her Fox NASCAR appearances in 2022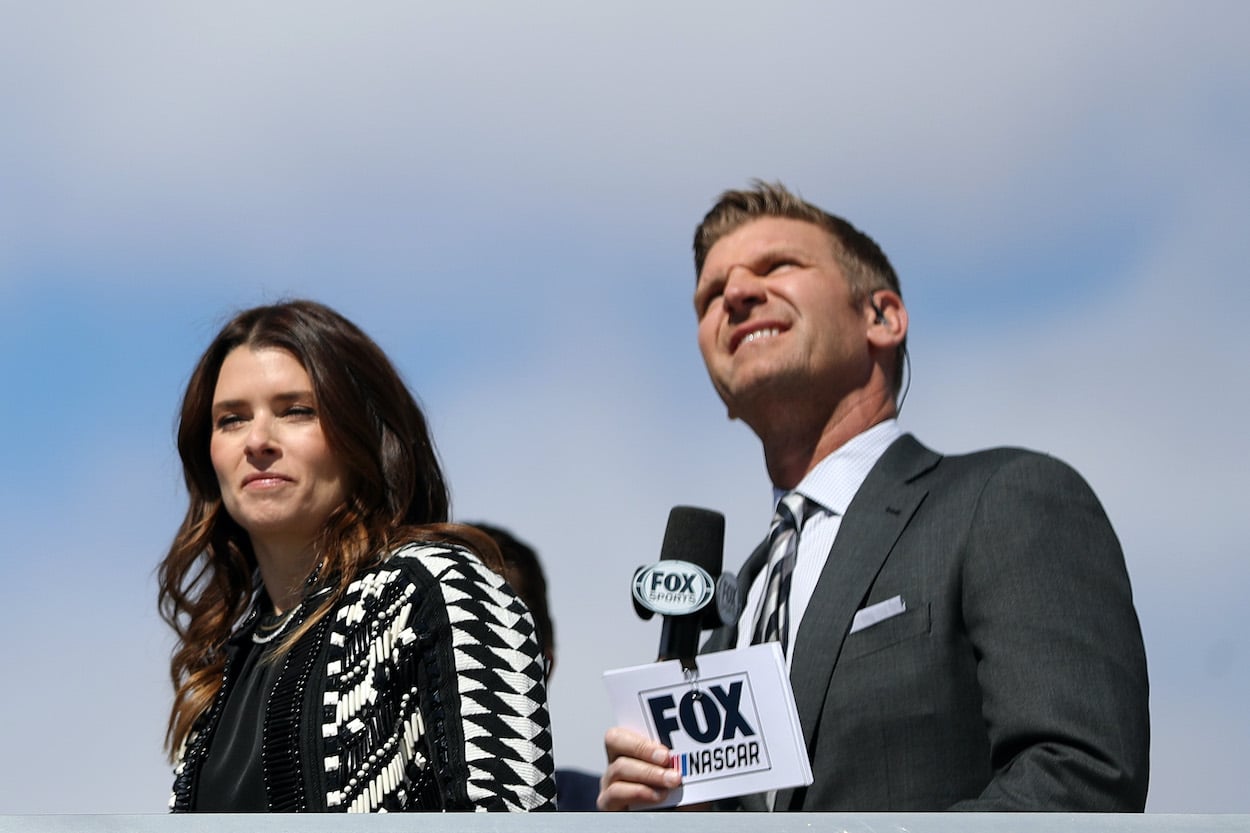 Danica Patrick debuted in the Fox NASCAR booth in 2022, first appearing in Las Vegas and then a week later in Phoenix. She's following that same schedule this year. 
Given that her career included driving in both IndyCar and NASCAR, it wasn't surprising to hear Patrick draw comparisons between the two series, but during her second appearance in Phoenix, after numerous references to IndyCar, Clint Bowyer had heard enough.
"I used to pull this move in IndyCar every now and again at short tracks where I'd come out of the corner, and I'd get a little bit of a run, but I dart out so that in the mirror I'd fill their mirror real quick and it looked like I got a better run on them than I really did and they gave me a lane," she said.
"Those space shuttles over there. I don't know. That doesn't work over here in this good – this real racing of NASCAR. How 'bout that? Huh? IndyCar," Bowyer paused. "No. I love it. I'm teasing."
Patrick makes puzzling remark about Joey Logano
This year at Las Vegas, Patrick, to her credit, didn't annoy Bowyer because she didn't mention IndyCar a single time in the almost four-hour broadcast. However, they did disagree during one point in the race about an accident that ended Joey Logano's day. 
"Logano come down," Bowyer said. "I'm going to say he didn't stay on that wall. I don't want to put blame on him. That's three cars going for the same spot."
"I saw Brad (Keselowski) come up," Patrick countered. "I differ. It looked like Brad came up in the corner." 
"Well, we'll look again," Mike Joy jumped in as the broadcast showed a replay from inside Logano's car. "I saw Joey come off the wall down toward him."
Several minutes later, when cameras showed the No. 22 pulling into the garage after running out of time on the damaged vehicle policy clock, Patrick made her head-scratching remark.
"Tough day, but man, he might not be so bummed after what's been happening," she said. 
Might not be so bummed? The two-time champion, who won the last time the Cup Series visited Vegas in October and admitted that win was crucial to his team focusing on prepping the car for the championship, which it won, was definitely not bummed. He was pissed. 
Mike Joy and Clint Bowyer make inane comments of their own
But Patrick wasn't alone in her baffling remarks. Both Joy and Bowyer joined in with puzzling comments of their own in the final moments of the race. 
Joy's came during the final pit stop when all the teams running up front, except Martin Truex Jr., came down pit road for tires. The consensus was all cars would take two in an abbreviated stop. During the stops, the broadcast showed four screens with Kyle Larson, Denny Hamlin, William Byron, and Alex Bowman all taking two tires. 
Byron won the race off pit road. 
"Was that fuel only for Byron?" Joy bizarrely asked, just seconds after cameras showed the No. 24 pit crew putting on two tires.
While Joy's question and Patrick's comments were bad, the winner for most inane comment of the broadcast belonged to Bowyer, who capped off the day's work with this gem moments after Byron crossed the finish line.
"And honestly, I said it earlier, it was going to come down to whoever was in front at the end and that's who won the race," he said. 
Broadcast brilliance.
Patrick returns to the booth this weekend in Phoenix. Stay tuned.
For the latest breaking news and information about NASCAR's three national series, check out @kdsportswriter on Twitter.